Dave the Spazz' Playlists and Archives

Thursdays 9pm - Midnight (

EDT

) | On WFMU | 91.1, 90.1, 91.9 FM & wfmu.org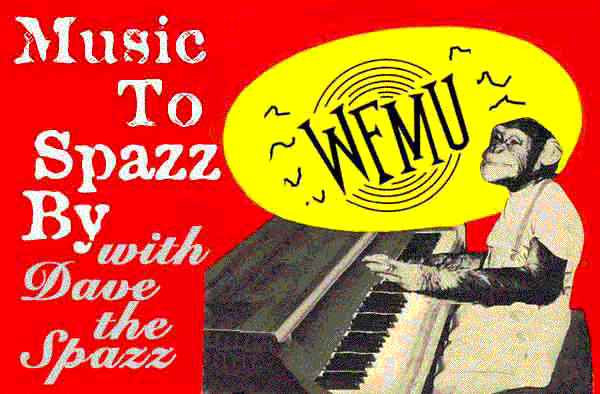 E-mail Dave the Spazz
---
Upcoming events:
Thursday, October 23rd, 9pm - Midnight: All B-Sides All Night Long

In celebration of WFMU's annual Singles Going Steady Week, Dave the Spazz flips out and only plays B-sides all night long! Expect killer oddball and rockin' sides that historically DJs were expected NOT to plug.



Thursday, October 30th, 9pm - Midnight: Mischief Night Halloween Spooktacular!

Join Dave the Spazz and Bingo the Chimp for scary songs all night long!


April 24, 2014 Amanda filled in.

May 28, 2009 No show due to the Primavera Sound Fest in Barcelona which aired live tonight

October 16, 2008 Live from the Tip Top Bar & Grill where FMU rock & roll radio stars Gaylord Fields, Debbie D, Rex, Michael Shelley, Mr. Finewine and Todd-a-Phonic Todd joined Spazz in a battle for turntable supremacy! |

October 9, 2008 No show due to the Wire Concert aired live on WFMU this evening.

February 22, 2007 Monicia filled in.

October 26, 2006 Debbie filled in.

---
RSS feeds for Music To Spazz By with Dave the Spazz:

Playlists feed |

MP3 archives feed

Other WFMU Playlists | Listen on the Internet | Contact Us | Music & Programs | WFMU Home Page | Blog | Support Us | FAQ

Live Audio Streams: Flash | 128k MP3 | 32k MP3 | 20k Real | 20k Windows
---
(C) 2014 WFMU
Generated by KenzoDB, (C) 2000-2014 Ken Garson