Vocal Fry with Dan Bodah: Playlists and Archives
Music with vocals weird & wonderful -- beatboxing, yodels, auction chants, Tuvan throatsinging, & eerie polyphonies.
Mondays 7 - 8pm (

EST

) | On WFMU | 91.1, 90.1, 91.9 FM & wfmu.org

Playing everything from country yodels to jazz scat
to Tibetan throat singing. So this chart provides a
partial explanation of what the hell is going on here...
Twitter:
@vocalfrier
Tumblr:
@vocalfrier
Facebook:
Vocal Fry on WFMU
Instagram: @vocalfrier
---
March 28, 2016: Kurt Gottschalk filled in.

March 21, 2016: Grateful Fruit | See the playlist | Listen:

March 14, 2016: Will play weird vocals for cash: Kurt Gottschalk joins us for 2016 Marathon Week 2 | See the playlist | Listen:

March 7, 2016: Throatsinging for change: 2016 WFMU Marathon week #1! | See the playlist | Listen: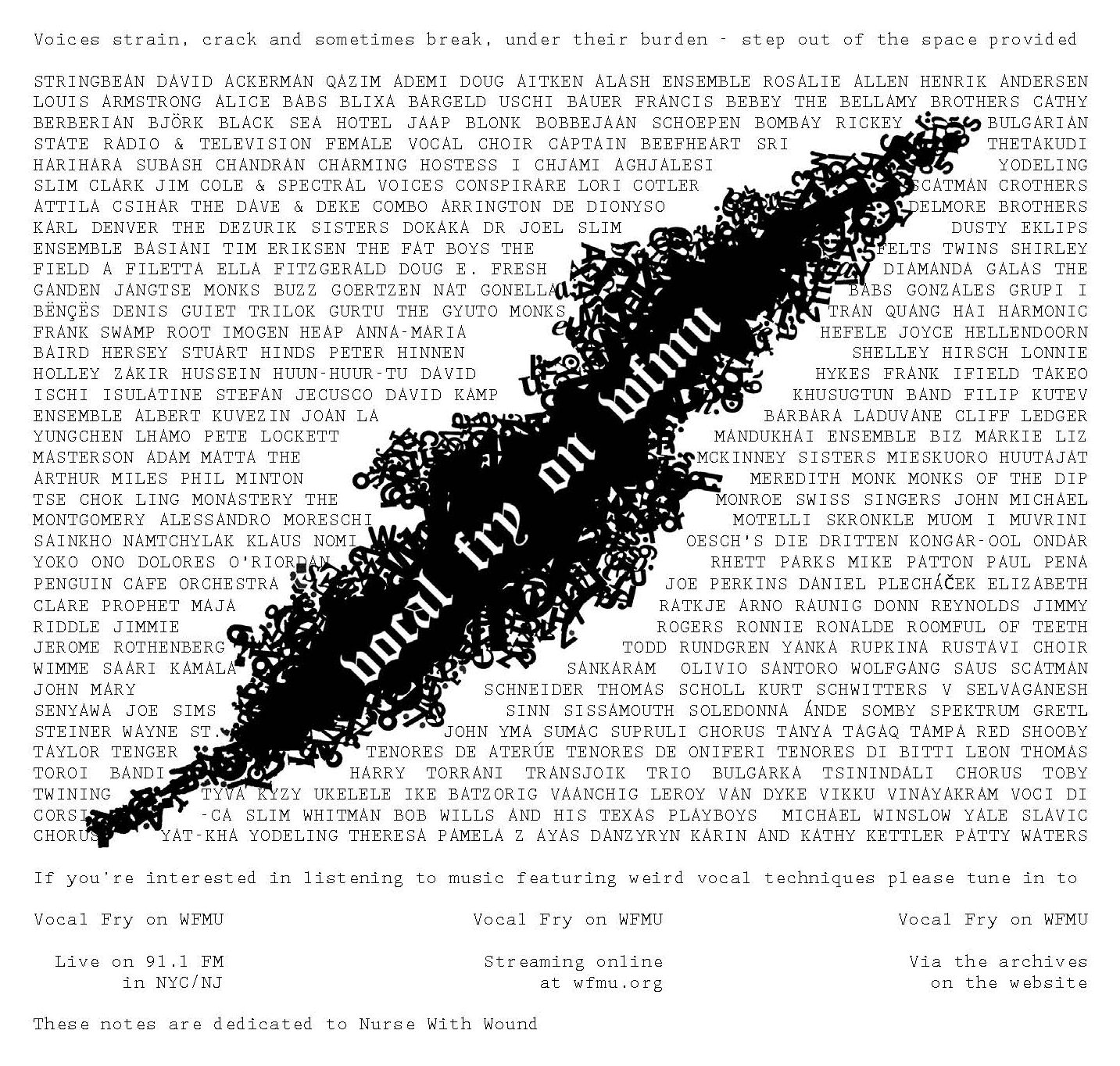 RSS feeds for Vocal Fry with Dan Bodah:

Playlists feed |

MP3 archives feed

| E-mail Dan Bodah | Other WFMU Playlists | All artists played by Vocal Fry with Dan Bodah |
---
Listen on the Internet | Contact Us | Music & Programs | WFMU Home Page | Blog | Support Us | FAQ

Live Audio Streams: Flash | 128k MP3 | 32k MP3 | 20k Real | 20k Windows
---