November 25, 2019: Voices in tech: Sacha Baron Cohen, Aral Balkan, and Dr. Chris Gilliard

Listen to this show: MP3 - 128K |

Pop‑up player! | Add or read comments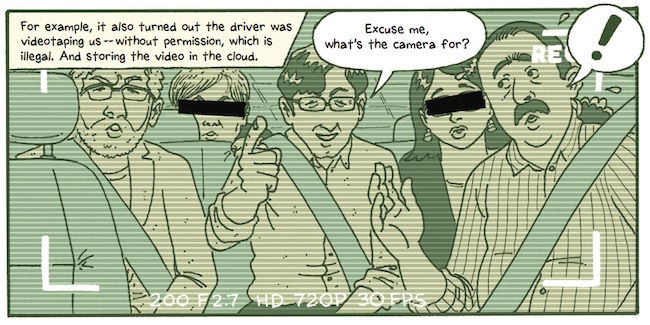 Image above from Fare Game comic, by Michael Keller and Josh Neufeld.
See also Uber plans to start audio-recording rides in the U.S. for safety (WaPo, Nov 20)
Tonight, voices in tech
- featuring Sacha Baron Cohen, Aral Balkan, and Dr. Chris Gilliard.
•
Sacha Baron Cohen's Keynote Address at ADL's 2019 Never Is Now Summit on Anti-Semitism and Hate
(Nov 21, 2019)
•
Aral Balkan at the European Parliament
(Nov 20, 2019). See also
Aral's slides
.
•
Dr. Chris Gilliard on the Role of Big Data in Financial Services
(Nov 19, 2019), a
House Financial Services Committee hearing
: "Predatory inclusion reproduces inequality and insecurity for some, while allowing already dominant social actors to derive significant profits." On the Apple/Goldman Sachs credit card: "Opaque algorithms affect marginalized populations all the time. . . For rich folks, it may mean being denied a larger credit limit; for the poor this may mean paying for medicine, shelter or food."
•
Deepfake Roundtable
featuring (all fake!) Tom Cruise, George Lucas, Robert Downey Jr., Ewan McGregor, and Jeff Goldblum. Unfortunately it's on toxic YouTube but worth seeing the state of deepfake audio and video. (See also:
Internet Companies Prepare to Fight the 'Deepfake' Future
, NYT, Nov 24: "Researchers are creating tools to find A.I.-generated fake videos before they become impossible to detect. Some experts fear it is a losing battle.")
•
PBS Frontline: In the Age of AI
: excellent documentary.
Also in tech news:
• Speaking of whistleblowers in tech (see
last week's episode
), Dr. Sarah Taber summarizes
this week's Tesla news
. No, not their ridiculous armored truck. Instead, Taber writes, it's this:
Police records showing:

1. a Tesla employee found a lot of serious safety problems

2. he told Tesla & they did nothing

3. so he talked to the press

4. and it seems Tesla not only fired him, but SWATted him in retaliation.
See the
police report
.
• Oh and see also how
Elon Musk's Starlink is starting to fill the night sky, affecting astronomers' work
(Nov 19).
•
Police can keep Amazon Ring camera video forever and share with whomever they'd like
(WaPo, Nov 19)
•
Facebook And Google's Pervasive Surveillance Poses An Unprecedented Danger To Human Rights
(Amnesty International, Nov 20): "Despite the real value of the services they provide, Google and Facebook's platforms come at a systemic cost. The companies' surveillance-based business model forces people to make a Faustian bargain, whereby they are
only able to enjoy their human rights online by submitting to a system predicated on human rights abuse.
"
•
Scott Galloway
(Nov 15): "The S&P is up 23% YTD, and the number of girls that decide to take their own life is up 151%. Three times more of them self-harm.
The pursuit of money at the expense of girls' wellbeing is the ultimate perversion of our society.
We ignore injury to our daughters in exchange for the promise of economic growth. . . .
Facebook is species failure.
"
- - -
Get off Facebook and Instagram
- if you can!
Get off Google
(and Gmail, Waze, Google Maps, Android, and Chrome) - if you can!
Shop local and avoid Amazon
- when you can!
And
stay off TikTok
unless you enjoy being surveilled by the Chinese Communist Party!
Sites to use:
-
StopUsingFacebook.co
: why to stop using Facebook and what to replace it with
-
DeleteFacebook.com
-
NoMoreGoogle.com
-
Ethical.net resources
- - -
Check out
techtonic.fm
for recent Techtonic interviews and Little Slice of Tech Pie segments.
PODCAST: Subscribe to the Techtonic podcast