February 19, 2014: RIP Marty Thau

Listen to this show:

Pop‑up player! | Add or read comments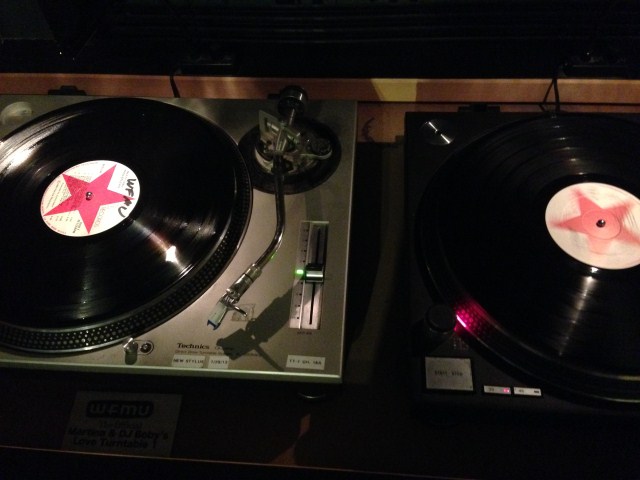 Marty Thau had a long and influential career in the music business, most notably as the manager of the New York Dolls and the founder of the Red Star record label. He passed away on February 13 at the age of 75. Joe Bonomo, author of Sweat: The Story Of The Fleshtones, America's Garage Band has an excellent remembrance posted on his site; Andy Schwartz, longtime New York Rocker editor, also shared his thoughts. You can also read Roy Trakin's obit for Billboard. From bubblegum to punk and beyond, Marty Thau made a huge impact. I hope the opening set of this show helps to convey that in some way.

Social Media Promotion Alert! Please take a moment to Like The Evan "Funk" Davies Show on Facebook and follow me on Twitter! Thank you.
Artist
Track
Album
Label
Year
Comments
New
Approx. start time
suicide
rocket u.s.a.
s/t
red star
1977
co-produced by Marty Thau, on his own Red Star label
0:00:00 (Pop‑up)
the real kids
do the boob
s/t
red star
1977
co-produced by Marty Thau, on his own Red Star label
0:04:04 (Pop‑up)
new york dolls
looking for a kiss
lipstick killers: the mercer street sessions 1972
roir
2000
produced by Marty Thau, who also managed the band
0:06:11 (Pop‑up)
ohio express
yummy yummy yummy
va-bubblegum classics vol 1
varese sarabande
Marty Thau worked at Buddah Records before managing the Dolls and starting Red Star
0:09:44 (Pop‑up)
dirty angels
rock and roll love letter
7"
sire
1975
produced by Marty Thau, via
0:12:36 (Pop‑up)
ramones
i wanna be your boyfriend (demo)
7"
norton
1997
original 1975 demo version, produced by Marty Thau
0:15:23 (Pop‑up)
the fleshtones
shadow line
va-marty thau presents 2x5
red star
1980
compilation LP with the Fleshtones, Revelons, Comateens, Bloodless Pharaohs and Student Teachers
0:17:45 (Pop‑up)
the fleshtones
soul struttin'
blast off!
roir
written and produced by Marty Thau, originally recorded for Red Star
0:21:36 (Pop‑up)
new york dolls
who are the mystery girls?
a hard night's day
norton
1973 demos, recorded for Red Star. Liner notes by Mary Thau
0:24:11 (Pop‑up)
richard hell and the voidoids
i can only give you everything
destiny street
red star
1982
Produced by Alan Betrock; executive producer Marty Thau
0:26:51 (Pop‑up)
the real kids
all kindsa girls
s/t
red star
1977
0:30:38 (Pop‑up)
doug gillard
ready for death
parade on
nile mile
admittedly not the best song title choice here...
*
0:46:47 (Pop‑up)
cheap time
8:05
exit smiles
in the red
*
0:50:01 (Pop‑up)
greg mccarley
if you're thinking
va-feeling high: the psychedelic sounds of memphis
big beat
2012
0:54:23 (Pop‑up)
morgan delt
mr. carbon copy
s/t
trouble in mind
*
0:56:18 (Pop‑up)
the bongos
river to river
phantom train
jem
*
0:59:06 (Pop‑up)
the lower 48
that's what i'll say
s/t
self-released
*
1:09:29 (Pop‑up)
epicycle
pull your socks up
you're not gonna get it: 1978-'81
hozac
*
1:13:05 (Pop‑up)
kiss
she's so european
unmasked
casablanca
1980
1:15:28 (Pop‑up)
giuda
hey hey
let's do it again
damaged goods
*
1:18:46 (Pop‑up)
dump
don't let on
i can hear music
morr
Hey, speaking of Dump: Next week Yo La Tengo is live on my show, playing your requests in exchange for your pledges to support WFMU! Don't miss it!
*
1:22:06 (Pop‑up)
shoes
do i get so shy
one in versailles
numero
orig 1976; new vinyl reissue. Coming to the Bell House on May 10 as part of the Brooklyn Power Pop Festival
*
1:35:26 (Pop‑up)
liverpool echo
girl said to me
s/t
sing sing
orig 1973; new vinyl reissue
*
1:39:42 (Pop‑up)
the beatles
i'm talking about you
on air - live at the bbc vol 2
apple
*
1:42:36 (Pop‑up)
thee mighty caesars
young man afraid of his horses
beware the ides of march/acropolis now
damaged goods
cd reissue of '85/'86 LPs
*
1:45:36 (Pop‑up)
cajmere
percolater (remastered original mix)
va-only 4 u: the sound of cajmere & cajual records 1992-2012
soul jazz
1:46:41 (Pop‑up)
the fall
the remainderer
the remainderer
cherry red
1:51:01 (Pop‑up)
emerald web
the dragon's gate
the stargate tapes 1979-82
b-music
*
2:06:42 (Pop‑up)
nina persson
clip your wings
animal heart
the end
*
2:13:44 (Pop‑up)
doug tuttle
i won't do
s/t
trouble in mind
*
2:17:19 (Pop‑up)
stephen lawrenson
2nd time around
obscuriosity
kool kat music
*
2:21:11 (Pop‑up)
devo
be stiff
7"
stiff
RIP Bob Casale
2:25:07 (Pop‑up)
pampers
monkey drip
s/t
in the red
*
2:32:14 (Pop‑up)
dead moon
out on a wire
in t he graveyard
mlady's
orig 1988; new cd reissue
*
2:34:48 (Pop‑up)
dum dum girls
too true to be good
too true
sub pop
*
2:37:27 (Pop‑up)
ruby pearl
will you stop that
va-glam sandwich and electro flares
glam
2006
2:40:36 (Pop‑up)
aaah...!
slip away
va-electroconvulsive therapy vol 1
medical
orig 1982
*
2:43:42 (Pop‑up)
the see see
the day that was the day
days, nights & late morning lights
sundazed
*
2:47:50 (Pop‑up)
sparks
beat the clock
new music for amnesiacs: the essential collection
lil beethoven
new 2CD greatest hits
*
2:52:27 (Pop‑up)