Mike L.: Playlist from March 20, 2006
Freeform radio with a predilection for planet shattering beats, rumbling guitars, bit mappy electronics, hash hazy strumming, and other related sonics for cultured and urbane criminal types. Please direct all complaints to the attention of our North Bergen office. (Visit homepage.)
<-- Previous playlist | Back to Mike L. playlists | Next playlist -->
---
March 20, 2006: Nikki Sudden LIVE!

Listen to this show: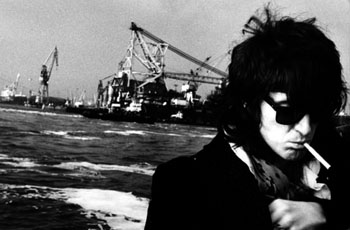 (* = new)
Artist
Track
Album
Comments
New
Approx. start time
Nikki Sudden
Back to the Coast
Texas/Dead Men Tell no Tales
0:00:00 )
Jonathan Kane's February
Sis
Live on this edition of Brian Turner's show
0:02:30 )
Vicky Leandros
Theo, Wir Fahr'n Nach Lodz

0:11:50 )
Eraldo Palmero
Funk da Virada (Waterfront Lounge mix)
City of God (Remixed)

0:15:34 )
Krzysztof Klenczon
Piosenka O Niczym
Trzy Korony
Poland, 1971
0:22:09 )
Nikki Sudden
Talking to the Wrong Guy
From his forthcoming LP. Live set in a little while!
0:25:52 )
Swell Maps
Midget Submarine
A Trip to Marineville

0:34:45 )
Able Tasmans
Dog Whelk
The Shape of Dolls EP

0:39:00 )
Savage Rose
I'm Walking through the Door
In the Plain

0:42:40 )
Black Heart Procession
Tropics of Love
Amore del Tropico
0:47:27 )
Edu Lobo
Zanzibar
Sergio Mendes Presents
0:51:58 )
Tom Ze
Jimmy Renda-Se
Tropicalia
compilation
*
0:55:39 )
Panjabi MC
Jogi
Beware

0:59:22 )
Nikki Sudden
Great Pharaoh
Groove
1:02:41 )
Lismore
Blood Bank
1:11:32 )
Bomb
Lucy in the Sky with Desi
1:15:05 )
Swell Maps
Let's Build a Car
Train Out of It
1:20:16 )
Damian Marley feat. Nas
Road to Zion
Welcome to Jamrock

1:23:16 )
Mum
Green Grass of Tunnel
Finally we are No One
1:28:20 )
Ark
Echo Chamber
MP3
1:33:13 )
Jacobites
Fortune of Fame
Robespierre's Velvet Basement

1:36:42 )
Faces
You Can Make me Dance, Sing, or Anything
Five Guys Walk into a Bar 4xCD
aka "The Faces Box"
1:39:37 )
Kid 606
Spanish Song (Kid HSH Rmx)
Done with the Scene
1:44:03 )
Nikki Sudden
Live in the WFMU studios, and expertly engineered by Gil Shuster! You can view a couple of pix from this evening's set by clicking here, here, here, and here. All pictures by Rob Watts. Thanks Rob!

Update: It is with a heavy heart that I announce today, exactly one week from the date of this performance, that Nikki Sudden has passed away. I've posted a short remembrance of the man here. Also, my tribute to Nikki in The Brooklyn Rail can be read here.
1:50:34 )
Rosie & the Originals
Angel Baby

3:00:36 )
<-- Previous playlist
| Back to
Mike L. playlists
|
Next playlist -->
RSS feeds for Mike L.'s show:

Playlists feed |

MP3 archives feed
|
E-mail Mike L.
|
Other WFMU Playlists
|
All artists played by Mike L.
|
---
Listen on the Internet
|
Contact Us
|
Music & Programs
|
WFMU Home Page
|
Support Us
|
FAQ
Live Audio Streams:
Pop-up
|
128k AAC
|
128k MP3
|
32k MP3
|
32k Windows
---