What:
A design contest to come up with new web designs for WFMU's homepage at wfmu.org and for WFMU's MP3 download site, On The Download.
Deadline:
September 1, 2005
How to Enter:
Design submissions (and questions) can be e-mailed to "contest at wfmu dot org." Please e-mail pdfs, jpegs or URLs (where your proposed design can be seen) only to that address. Please do not sent attachments exceeding one MB in file size. There is no limit on the number of proposed designs any person can submit. Please include your full name, a valid e-mail address and a daytime phone number when submitting designs.
Prize:
Two copies of "WFMU In A Box" will be awarded, one to the winner of each category. WFMU In a Box is one copy of each 2005 DJ Premium, seen at this page.
Questions? Please e-mail contest at wfmu dot org Technical (and Creative) Info On Both Contests:
Proposed new designs do not need to be fully functional pages, just flat designs. WFMU's website is managed by a database-driven content management system, with various dynamic elements, so the winning design will have its functionality built into it by our database designer, Kenzo.
All pages should be designed so that they would function in various screen resolutions and across various platforms. But people entering this contest should not get bogged down over functionality or compatibility issues, since this will be addressed when Kenzo implements the winning designs on his system. We are looking mostly for creative design concepts that clearly organizes and presents WFMU's vast website.
Proposed designs should not utilize Frames, Java, Javascript or Flash.
Please include all of the elements on the current homepage at wfmu.org in the new proposed design.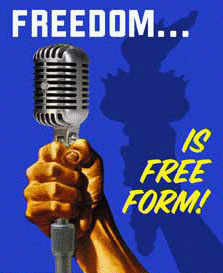 Technical Info On Homepage Redesign Contest:
All elements on the current WFMU homepage at wfmu.org should be represented on any proposed designs. These elements include the navigation bar, News From The Freeform Front, the rotating picture, the rotating joke, What's playing today, etc etc.
Technical Info For The On The Download Contest:
In the future, WFMU's On The Download Page will incorporate all WFMU's on-demand audio and video into one portal. The elements will include MP3s, Podcasts, Soundbites, Movies, Ringtones,etc. The new On The Download page should allow users to browse the on-demand media offerings by by month, artist name, and category (as the current system allows), but also by format and album.