Order and disorder in a freeform haze of terribly-played guitars, shorted-out electronics, found audio detritus, strange sounds from strange lands all around. Psych-punk-junk, collage, even pop. Lots of in-studio live performances to boot.

August 8, 2017: w/ special guest ALEJANDRO JODOROWSKY

Listen to this show:

Pop‑up player! | Add or read comments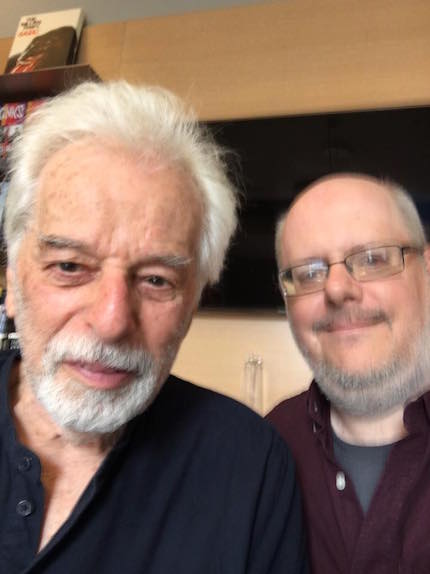 Today's very special guest, legendary filmmaker Alejandro Jodorowsky, talking to WFMU at the Abkco offices about his work and recent film Endless Poetry! 4pm!
| Artist | Track | Album | Label | Comments | New | Approx. start time |
| --- | --- | --- | --- | --- | --- | --- |
| Come On | Physical Ed | Come On | Manufactured Recordings | | * | 0:00:00 (Pop‑up) |
| Sex Swing | Night Time Worker | Split 7" w/Clinic | God Unknown | | * | 0:03:42 (Pop‑up) |
| Sax Ruins | Djubatczegromm | 16.8.16 Cafe Oto | Otoroku | | * | 0:09:27 (Pop‑up) |
| Midnight Mines | Static Symphony | We Are the Primitives of the New Era | Loki | | * | 0:12:12 (Pop‑up) |
| Alejandro Jodorowsky / Ronald Fragipane / Don Cherry | Trance Mutation | Soundtrack: The Holy Mountain | Abkco | | | 0:17:58 (Pop‑up) |
| Daniel Lentz | Excerpt | River of 1,000 Storms | Cold Blue Music | | * | 0:24:58 (Pop‑up) |
| Enhet For Fri Musik | Det Ordar Sig Ska Du Se | Inom Dig, Inom Mig | Aguirre | | * | 0:27:48 (Pop‑up) |
| Fairport Convention | Tam Lin | Come All Ye: The First Ten Years | Universal | 7CD new box set! 55 unreleased tracks | * | 0:32:55 (Pop‑up) |
| The Fall | New Face In Hell | The Legendary Chaos Tape | Feed Good All Over | | | 0:40:29 (Pop‑up) |
| Michael Yonkers Band | Kill the Enemy | Microminiature Love | Sub Pop | | | 0:47:30 (Pop‑up) |
| The Gizmos | The Devil Talks In Tongues | Live here on the show 10/11/14 | Gulcher | Happy birthday Eddie Flowers! | | 0:52:45 (Pop‑up) |
| Brizbomb | 090930FT04 | 1401/0909 | Fabrica | | | 0:55:35 (Pop‑up) |
| Alejandro Jodorowsky | WFMU Interview at the Abkco offices in New York | | | A rare, in-person interview between Brian and one of the most iconoclastic and psychedelic filmmakers in the world: Chilean-born, 87-year-old, Alejandro Jodorowsky. Touted as godfather of midnight movies with the advent of 1970's El Topo and later epics The Holy Mountain and Santa Sangre, Jodorowsky talks to WFMU right on the heels of the initial release of his brand new film Endless Poetry. This is the second of three installments in which the director chronicles his own life and upbringing among Chilean poets and artist friends, as well as his tumultuous family relationships. Throughout his life, Jodorowsky has approached every multi-faceted artistic avenue with ferocity, passion and defiance; studying mime with Marcel Marceau and enacting surrealist plays and events during his tenure in Paris, then migrating to Mexico to begin his journey into filmmaking, tarot, comic art, and psychomagic. His near-miss in creating an otherworldly screen rendition of Dune was well-recounted in a recent critically-heralded documentary. He even has an asteroid named after him. Decades of stunted distrubution due to hassles with Allen Klein's Abkco organization finally ceased in 2007 when his movies became majorly available again, and finally Jodorowsky's mindblowing aesthetic has seeped into more mainstream consciousness and inspired a whole new breed of artists and fans worldwide. Meanwhile, he has simultaneously loaded the decks for a myriad of current and future projects, which will all be discussed today. Also, there will be talk of music from his films, most recently composed by his son Adan (who also portrays his father in the new Endless Poetry). | | 1:00:55 (Pop‑up) |
| Adan Jodorowsky | Sueno Sin Fin | Soundtrack: Endless Poetry | Abkco | | * | 1:29:25 (Pop‑up) |
| Yasumune Morishige / Atsushi Reizen | 2 | Music For Piano | No Label | | * | 1:43:24 (Pop‑up) |
| Hoor-Paar-Kraat | Too Close To a Thing | Hidden From the Profane: The Cement of the Teacher's Eye | Goateater Arts | | | 1:44:36 (Pop‑up) |
| Thomas Leer | Fixed Focus | 1979 | Dark Entries | | * | 1:48:17 (Pop‑up) |
| Asphixiation | Hunger-Food-Nausea | What Is This Thing Called Disco? | Chapter Music | | * | 1:53:13 (Pop‑up) |
| Heavy Metal | Communication Or Surprise | Smash Criticism Smash Optimism Smash Arachnophobia | Static Shock Musik | | * | 1:58:08 (Pop‑up) |
| Rokker | Who's a Punk? Your Mother | Rokker | Owl | | | 2:03:27 (Pop‑up) |
| Performing Ferret Band | Bar Room | LP | Beat Generation | | * | 2:05:32 (Pop‑up) |
| Jonathan Winters | Dr. Death | Crank(y) Calls | Uproar | | | 2:09:03 (Pop‑up) |
| Geiger | Je Suis Punky | Various: Bingo! French Punk Exploitation 1978-1981 | Born Bad | | * | 2:11:17 (Pop‑up) |
| Mopo Mogo | Pouvoir | 7" | Studio 16 | | | 2:14:08 (Pop‑up) |
| Circle | Rakkauta Al Dente | Terminal | Southern Lord | | * | 2:19:45 (Pop‑up) |
| Legendary Pink Dots | Russian Roulette | Live here on the show, 11.2.10 | No Label | download this whole session via the Free Music Archive | | 2:32:19 (Pop‑up) |
| Ana-Maria Avram | Traces, Sillons, Sillages | Ed. Mn 1016 | Edition Modern | Sad to hear of Ana-Maria's passing this week. Since 1988, she had been a member and co-conductor of Hyperion Ensemble with her husband Iancu Dumitrescu, who together pushed the Romanian avant-garde into the hyper-spectral realm. She has composed somewhere around 150 works and over 300 combined with Dumitrescu, including compositions for soloists, orchestras, and chamber ensembles, as well as works based in electronics and computers. I was very fortunate to have a spirited program with both Ana-Maria and Iancu here. She will be missed and all our love to Iancu and the Hyperion Ensemble. | | 2:43:21 (Pop‑up) |
| Ana-Maria Avram | Metalstorm (III) | Live in Berlin | Edition Modern | | | 2:51:41 (Pop‑up) |