Brian Turner: Playlist from November 4, 2014
Order and disorder in a freeform haze of terribly-played guitars, shorted-out electronics, found audio detritus, strange sounds from strange lands all around. Psych-punk-junk, collage, even pop. Lots of in-studio live performances to boot.
<-- Previous playlist | Back to Brian Turner playlists | Next playlist -->
---

November 4, 2014: CHROME retrospective w/ guest HELIOS CREED

Listen to this show: | Add or read comments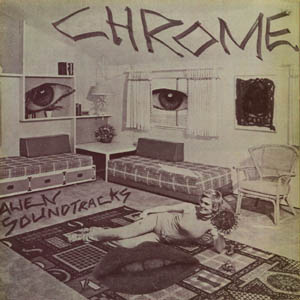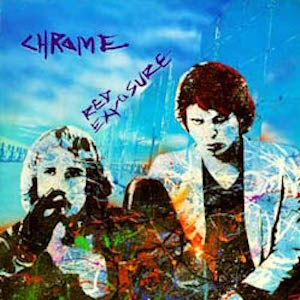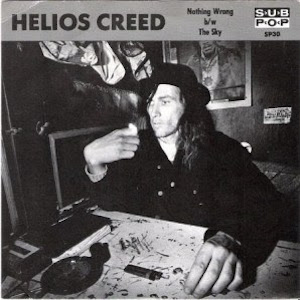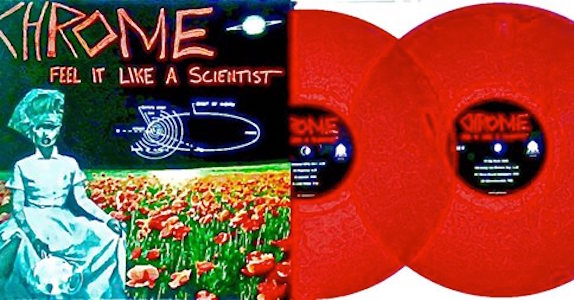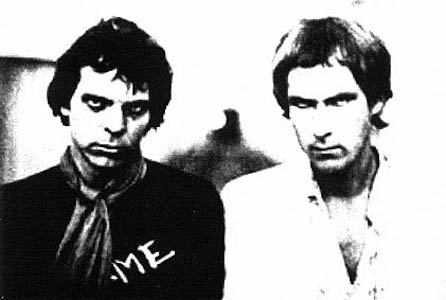 When guitarist Helios Creed met up with Damon Edge and joined the San Francisco band Chrome in 1977, the world got an acid-fried, dystopian sci-fi version of the Stooges that blasted out two records that no other band has come near replicating the warped genius of. Alien Soundtracks and Half Machine Lip Moves utilized a Hendrix kind of freeform aesthetic mixed with tapes, feedback, metal percussion and cutup soundscapes all heightening the band's projections of a world of abusive technology and zombie warfare. They later became probably the most unheralded cornerstone of 80's industrial music, and in the new millenium, scores of garage punks have scrapped traditional approaches and followed Helios Creed's moves more than ever. With Damon having passed away in 2005, Creed (who has had a long solo career since 1985) now rechristens Chrome and has released the new album Feel It Like A Scientist. Brian talks at length today with Helios and gets the lowdown on the past and present of this incredible and unique psychedelic punk band.
(* = new)


| Artist | Track | Album | Label | Comments | New | Approx. start time |
| --- | --- | --- | --- | --- | --- | --- |
| Harvey Milk | Greensleeves | The Singles | Relapse | | | 0:00:00 () |
| Terminals | Black Creek | Singles & Sundries | Ba Da Bing | | * | 0:05:27 () |
| Velvet Underground | I Can't Stand It Anymore | 6CD 3rd Album Box | | Live at the Matrix 11/69 | * | 0:11:00 () |
| Midnight | Violence On Violence | No Mercy For Mayhem | Hells Headbangers | | * | 0:17:56 () |
| Xarkrinur | Dark Rituals | Dark Rituals | Psalm 88 / Acephale Winter Productions | | * | 0:20:11 () |
| Fripp & Eno | Swastika Girls | Live in Paris 28/05/1975 | Opal | | * | 0:28:09 () |
| Hailu Mergia & the Walias | Musicawi Silt | Tche Belew | Awesome Tapes From Africa | | * | 0:30:39 () |
| Bugs & Rats | Hot Skins | Bugs & Rats | Feeding Tube | | * | 0:34:46 () |
| Deaf Wish | Mum Gets Punched In the Face | Deaf Wish | Homeless | | * | 0:37:28 () |
| Cut Hands | Belladonna Theme | Festival Of the Dead | Blackest Ever Black | | * | 0:39:12 () |
| The Heads | Song No. 1 | Everybody Knows We Got Nowhere | Rooster Rock | Reissue 2000 | * | 0:43:41 () |
| Robert Lester Folsom | Written In Your Hair | Ode To A Rainy Day Archives 1972-1975 | Anthology | | * | 0:53:18 () |
| Antonio Smith | Tiempo de Amar | Ven Seamos Mas | Branco | | | 0:55:49 () |
| Chrome | March of the Chrome Police | Half Machine Lip Moves | Siren | | | 1:05:29 () |
| Chrome | Lady Feline | Feel It Like a Scientist | King of Spades | | * | 1:08:32 () |
| Chrome | SS Sygni | Alien Soundtracks | Touch and Go | | | 1:12:22 () |
| Helios Creed | WFMU Interview Part 1 | | | | | 1:13:33 () |
| Chrome | TV as Eyes | Half Machine Lip Moves | Siren | | | 1:31:57 () |
| Chrome | Future Ghosts | 3rd From the Sun | Siren | | | 1:34:34 () |
| Helios Creed | WFMU Interview Part 2 | | | | | 1:39:25 () |
| Chrome | Zombie Warfare (Can't Let You Down) | Half Machine Lip Moves | Siren | | | 2:01:34 () |
| Helios Creed | Master Blaster | Boxing the Clown | Amphetamine Reptile | | | 2:05:28 () |
| Helios Creed | Sunspots | Boxing the Clown | Amphetamine Reptile | | | 2:08:19 () |
| Helios Creed | WFMU Interview Part 3 | | | | | 2:10:33 () |
| Chrome | Chromosome Damage / The Monitors | Alien Soundtracks | Touch and Go | | | 2:25:38 () |
| Chrome | Prophecy | Feel It Like a Scientist | King of Spades | | * | 2:28:52 () |
| Chrome | Looking For Your Door | Half Machine From the Sun | King of Spades | 79-80 unreleased, recently issued | | 2:36:11 () |
| Chrome | The Spider | Angel of the Clouds | Dossier | | | 2:42:09 () |
| Helios Creed | Blood Red | X-Rated Fairy Tales | Subterranean | | | 2:45:48 () |
| Helios Creed | The Federation | Kiss To the Brain | Amphetamine Reptile | | | 2:49:52 () |
| Chrome | Half Machine Lip Moves | Half Machine Lip Moves | Siren | | | 2:51:04 () |
| Chrome | Eyes In the Center | Red Exposure | Lemon | | | 2:55:44 () |
<-- Previous playlist
| Back to
Brian Turner playlists
|
Next playlist -->
RSS feeds for Brian Turner:

Playlists feed |

MP3 archives feed
| Email
the Program Director
|
Other WFMU Playlists
|
All artists played by Brian Turner
|
---
Listen on the Internet
|
Contact Us
|
Music & Programs
|
WFMU Home Page
|
Support Us
|
FAQ
Live Audio Streams:
Pop-up
|
128k AAC
|
128k MP3
|
32k MP3
|
32k Windows
---