Brian Turner: Playlist from February 25, 2014
Order and disorder in a freeform haze of terribly-played guitars, shorted-out electronics, found audio detritus, strange sounds from strange lands all around. Psych-punk-junk, collage, even pop. Lots of in-studio live performances to boot.
<-- Previous playlist | Back to Brian Turner playlists | Next playlist -->
---

February 25, 2014: Marathon Week #1 w/ co-host MARTHA HURLEY

Listen to this show: | Add or read comments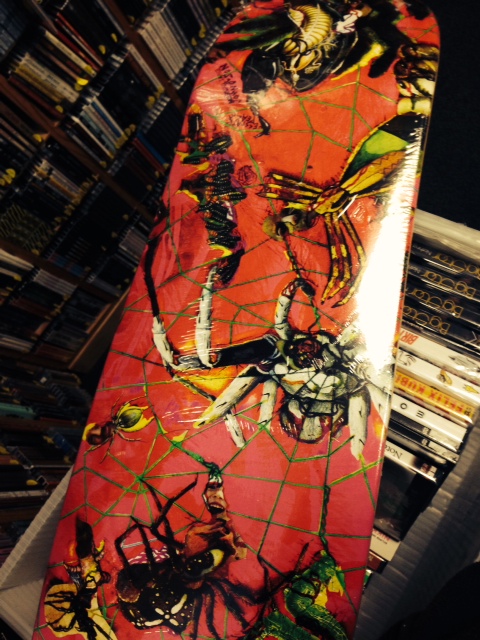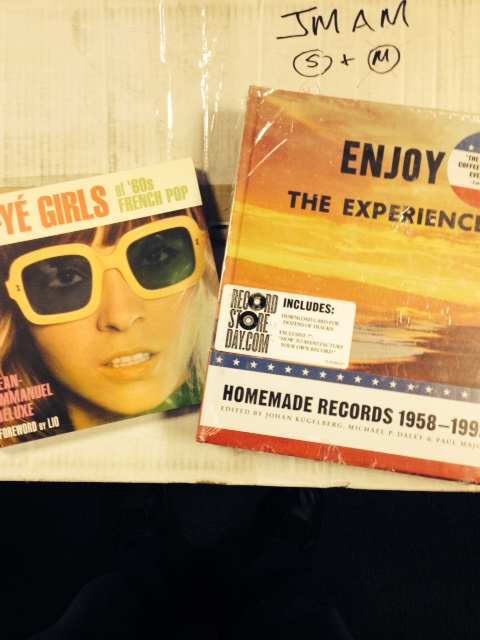 John Olson skateboard! French Ye-Ye Girls book! And today's grand prize the amazing ENJOY THE EXPERIENCE outsider private press LP coffee table book! All up for grabs today on the show!
(* = new)


| Artist | Track | Album | Label | Comments | New | Approx. start time |
| --- | --- | --- | --- | --- | --- | --- |
| Tommy Blake | F-oldin Money | | | | | |
| Stormtrooper | I'm a Mess | | | | | |
| Art Attacks | Neutron Bomb | | | | | |
| Rodion GA | Cantec Fulger | The Lost Tapes | | Prize up for grabs now! | | |
| Vulcan | High C | | | | | |
| Spray Paint | False Cowboy | Rodeo Songs | | | | |
| Mudhoney | The Only son of the Widow From Nain / Chardonnay | here on the show 5/13 | | Mudhoney's Vanishing Point CD up for grabs now | | |
| Good Throb | Cosmic Libido | 7" | | coming up here on the show in april! | | |
| Day Creeper | Amd How! | | | | | |
| Blank Realm | Falling Down the Stairs | Grassed Inn | Fire | | * | |
| Sparks | I Predict | New Music For Amnesiacs | | 2cd prize up for grabs! | | |
| Misty | Resurrection Shuffle | | | | | |
| Stefan | Zero Tic | | | | | |
| Ruby Pearl | Will You stop That | Various: Glam Sandwich and Electro Flares | | | | |
| Bird Nest Roys | I Need Your Love | 2LP | | vinyl reissue on Captured Tracks up for grabs right now | | |
| Victor Dimisich Band | Native Waiter / Thirteenth Floor | s/t | | Siltbreeze LP up for grabs right now | | |
| Fury | Flying | 7" | | | | 1:49:51 () |
| Wicked Lester | Dogs of War | double 7" | | Numero label double single -- pirze up for grabs now! | | 1:53:34 () |
| Sonaura | Song of Sauron | Various: Wayfaring Strangers: Darkscorch Canticles | Numero | | | 1:57:35 () |
| Burnt Skull | God Hole | Sewer Birth | 12XU | | * | 2:00:11 () |
| Bastards | 7" | | | | | 2:19:17 () |
| Soda Fraise | 7" | | | these two 7:s part of the 4 pack on Sing Sing up for grabs now! | | 2:19:49 () |
| Gravel Samwidge | | | | | | 2:22:01 () |
| Dust | Suicide | Hard Attack + Dust | | | | 2:38:50 () |
| Pampers | Edge of the Knife | Pampers | | | * | 2:43:24 () |
| Pack | Terrorist | | | | | 2:44:42 () |
<-- Previous playlist
| Back to
Brian Turner playlists
|
Next playlist -->
RSS feeds for Brian Turner:

Playlists feed |

MP3 archives feed
| Email
the Program Director
|
Other WFMU Playlists
|
All artists played by Brian Turner
|
---
Listen on the Internet
|
Contact Us
|
Music & Programs
|
WFMU Home Page
|
Support Us
|
FAQ
Live Audio Streams:
Pop-up
|
128k AAC
|
128k MP3
|
32k MP3
|
32k Windows
---