Mike L.: Playlist from June 24, 2005
Freeform radio with a predilection for planet shattering beats, rumbling guitars, bit mappy electronics, hash hazy strumming, and other related sonics for cultured and urbane criminal types. Please direct all complaints to the attention of our North Bergen office.
<-- Previous playlist | Back to Mike L. playlists | Next playlist --> |
---
June 24, 2005: Digital Static

Listen to this show: RealAudio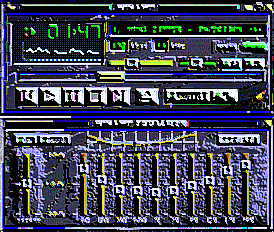 (* = new)
Artist
Track
Album
Comments
New
Approx. start time
Osymyso
Sad it, I'm off to Hawaii!
Welcome to the Palindrome
0:00:00 Real)
MC Serch
Here it Comes
Return of the Product
0:05:25 Real)
Fire
A Wonderful Day
Could You Understand Me?
re-issue, 1973
*
0:08:47 Real)
Gary Numan and Tubeway Army
You Are in my Vision
Replicas
0:16:04 Real)
Spectrum
How You Satisfy Me
Soul Kiss
0:19:07 Real)
Melba Moore
You Stepped into my Life
MP3
0:23:17 Real)
The Vulgar Boatmen
Drive Somewhere
You and Your Sister
0:35:24 Real)
Deerhoof
Green Cosmos
Green Cosmos
0:41:05 Real)
Lady Sovereign
Blah Blah Blah
MP3
*
0:44:27 Real)
Magic Mike
Keep it Going Now
History of the Hip Hop DJ Vol. 4
compilation -- With IDM Theft Able mixed in
*
0:48:00 Real)
The Rolling Scabs
We're the Scabs
MP3
Get it here.
0:52:44 Real)
The Ridiculous Trio
I Wanna Be Your Dog
The Ridiculous Trio Play the Stooges
0:56:35 Real)
Mike Rep & the Quotas
Rocket Music On
Black Hole Rock
*
0:58:29 Real)
Liz Christian
Call my Name
Sassy and Stonefree: Dreambabes Volume 6
compilation
*
1:01:39 Real)
Differnet
(Track 9)
Come on & Bring Back the Brjoke'n Sounds of Yore!
*
1:04:50 Real)
Omid
Ease in the Middle Piece
Distant Drummer
1:19:39 Real)
Radiohead
Packt like Sardines in a Crushd Tin Box
Amnesiac
1:23:53 Real)
Glenn Miller
In the...
And a prayer
1:28:11 Real)
Ozzy
Bark at the Moon
The Essential Ozzy
Stop laughing because I said "The Essential Ozzy"
1:40:33 Real)
Parasites of the Western World
Accessories
Parasites of the Western World
1:44:43 Real)
Sole
Dumb This Down
Live from Rome
1:53:29 Real)
Black Helicopter
Little Davey Bowditch
That Specific Function
*
2:03:45 Real)
Githead
Raining Down
Profile
*
2:06:51 Real)
Bob Hund
Romeo
10 Ar Bakat & 100 Ar Framat
Wipers cover
2:14:05 Real)
Alvaro
Konstanz Lake
Alvaro
Whoops -- Chilean, I meant.
2:20:14 Real)
Don Cooper
Rhinestone in the Rough
Howlin' at the Moon
Re-issue, 1971
*
2:23:42 Real)
Thomas Dean Eubanks
Oh Babe
Rockin' Memphis Vol.1
compilation
2:26:06 Real)
Redd Kross
Frosted Flake
Neurotica
2:28:42 Real)
Blackalicious
Rhythm Sticks
12"
*
2:35:16 Real)
Funkaho
Villain Style
12"
2:38:43 Real)
Chubby Checker
My Mind
Nightmares at Toby's Shop
compilation
*
2:41:01 Real)
Comets on Fire
Graverobbers
Comets on Fire
Performing live on Brian Turner's show on July 5th!
2:45:17 Real)
You.Belong.To.The.City
With selections from "The Beat Generation"
2:49:57 Real)
<-- Previous playlist
| Back to
Mike L. playlists
|
Next playlist -->
RSS feeds for Mike L.'s show:

Playlists feed |

MP3 archives feed
|
E-mail Mike L.
|
Other WFMU Playlists
|
All artists played by Mike L.
|
---
Listen on the Internet
|
Contact Us
|
Music & Programs
|
WFMU Home Page
|
Blog
|
Support Us
|
FAQ
Live Audio Streams:
Flash
|
128k MP3
|
32k MP3
|
20k Real
|
20k Windows
---