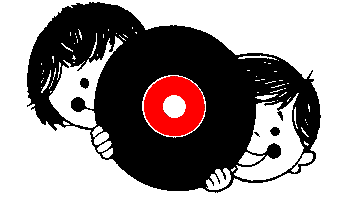 MARCH 10, 2001 (click here to listen!)
THE DANDELIONS, "Greasy Kid Stuff"

LEE DORSEY, "Ride Your Pony"

THE METERS, "Jambalaya"

THE GAYLADS, "ABC Rocksteady"

MUSICAL YOUTH, "Pass the Dutchie"

SLY & ROBBIE, "Gumby, We Love You"

TOM TOM CLUB, "L'éléfant"

THE ELEPHANT ORCHESTRA, "Rainforest"

HOT POPS, "I'm Popeye the Sailor Man"

JACK MERCER & MAE QUESTEL, "Ah-Choo!"

FRANK LUTHER, "Health Can Be Fun"

FATCAT & FISHFACE, "Bite"

BRIAN DEWAN, "Rumpelstiltskin"

RAFAEL TORAL, "Little Star"

MORGAN FREEMAN, "Easy Reader"

MAX & KATE'S REAL LIFE REVIEW: Words

THE VESTIBULES, "Bulbous Bouffant"

RITA MORENO, LEE CHAMBERLIN, et al., "Punctuation"

THE RAMONES, "Spider-Man"

FATCAT & FISHFACE, "Gimmee"

HAPPY ANNIVERSARY QUARTET, "Happy Anniversary"

TROUT FISHING IN AMERICA, "The Window"

JON LANGFORD, "The Nanny Song"

THE NEANDERTHALS, "Do the Pig"

THE QUEERS, "I Don't Want To Live On the Moon"

SUPERNOVA, "Mommy"

SHONEN KNIFE, "Buttercup (I'm a Super Girl)"

MAN OR ASTROMAN?, "Interplanet Janet"

JAMES KOCHALKA SUPERSTAR, "Monkey vs. Robot"

THE AQUABATS, "Playdough"

PAT FACT: Quick Facts

CHICKENWOLF, "Born To Be Wild"

THE RAN-DELLS, "Martian Hop"

CUB, "Magic 8 Ball"

THE POWERPUFF GIRLS, "Love Makes the World Go 'Round"

YOU ARE MY FLOWER, "You Are My Flower"


---
Back GKS main page| Back to other Greasy playlists