Double-Dip Recess with Roger and Amanda: Playlist from June 29, 2019
<-- Previous playlist | Back to Double-Dip Recess with Roger and Amanda playlists | Next playlist -->
---
Upcoming events:
Sat. Dec 14th, 9am - 11am: Key Wilde and Mr. Clarke (More info...)

---

June 29, 2019: With a LIVE SET from Pointed Man Band!!!

Listen to this show:

Pop‑up player! | Add or read comments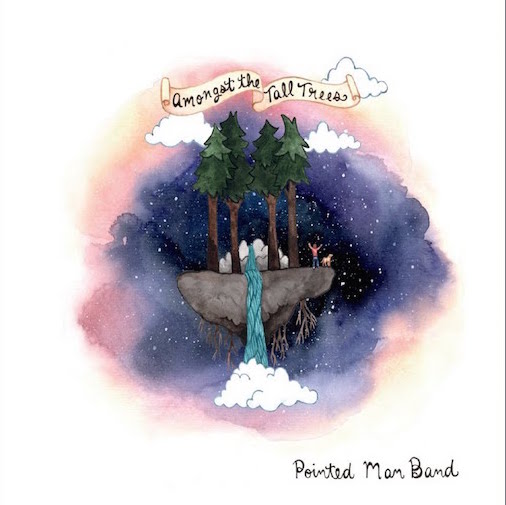 Portland, OR's Pointed Man Band play "music for the grown and still growing," much of it with a focus on the natural world.
Amongst the Tall Trees, their fourth album, was just released this spring. It's gorgeous! More info here:
pointedmanband.com
(* = new)


Artist
Track
Album
Images
New
Approx. start time
Gentle Hen
There's a World in the World
0:00:00 (Pop‑up)
Sheri Elf
I'm Forcing Goodness Upon You
0:03:15 (Pop‑up)
Earthworm Ensemble
Honey Bee
0:04:46 (Pop‑up)
Romper Room
Do-Bee
0:08:40 (Pop‑up)
Steve Waring
Me Uno Me Douno
*
0:09:54 (Pop‑up)
Brady Bunch
It's a Sunshine Day
0:19:27 (Pop‑up)
The Chicks
Cumala Be-Stay
0:21:25 (Pop‑up)
Kidz Bop Kids
Pon de Replay
0:23:38 (Pop‑up)
Cleopatra Stratan
Zunea-zunea
0:27:03 (Pop‑up)
The Smurfs
When the Smurfs
0:29:59 (Pop‑up)
James Fox (singing dubbed by Jimmy Bryant) & Julie Andrews
The Tapioca
0:39:32 (Pop‑up)
Biz Markie
Pancakes and Syrup
0:41:34 (Pop‑up)
Bunny Clogs
3 Dogs and a Pancake
0:42:56 (Pop‑up)
Gunnar Madsen
10,000 Pancakes
0:43:51 (Pop‑up)
Redd Lettaz
10,000,000 Strong
0:46:34 (Pop‑up)
Steve Martin
Pointy Birds
0:48:22 (Pop‑up)
Bob McAllister (Wonderama)
Exercise!
0:52:48 (Pop‑up)
Wunmi
Rainbow
0:53:50 (Pop‑up)
Best Coast
Cats & Dogs
0:56:47 (Pop‑up)

LIVE SET from Pointed Man Band!

Dan Elliott- vocals, synth, trumpet
Kay Elliott- vocals, keys
Vince Byrne- drums
Kieran Mulvaney- bass

***Engineered by Mike Sin at WFMU***
Pointed Man Band
Red Fox
1:01:38 (Pop‑up)
Pointed Man Band
Corvidae
1:07:28 (Pop‑up)
Pointed Man Band
Dark Divide
1:10:32 (Pop‑up)
Pointed Man Band
The Yellow Dog of If
1:15:26 (Pop‑up)
Pointed Man Band
Clockwork
1:20:45 (Pop‑up)
Pointed Man Band
The Cardoons
1:23:41 (Pop‑up)
Nicole Imthurn
Is That a Universe in Your Pocket?
The Analog School for Outliers
1:29:33 (Pop‑up)
The White Weenies
Analog School for Outliers theme
1:35:32 (Pop‑up)
John Cleese and the 1948 Show Choir
The Ferret Song
1:36:54 (Pop‑up)
E.L. Pace
Porcupine
1:39:55 (Pop‑up)
Kimya Dawson
I Like Bears
1:42:05 (Pop‑up)
Flanders and Swann
The Sloth
1:43:15 (Pop‑up)
Bobby Darin
Talk to the Animals
1:46:19 (Pop‑up)
Electric Company
Why
1:53:48 (Pop‑up)
Ray Charles
Bein' Green
1:55:45 (Pop‑up)
<-- Previous playlist
| Back to
Double-Dip Recess with Roger and Amanda playlists
|
Next playlist -->
RSS feeds for Double-Dip Recess with Roger and Amanda:

Playlists feed |

MP3 archives feed
|
E-mail Amanda
,
E-mail Roger
|
Other WFMU Playlists
|
All artists played by Double-Dip Recess with Roger and Amanda
|
---
Listen on the Internet
|
Contact Us
|
Music & Programs
|
WFMU Home Page
|
Support Us
|
FAQ
Live Audio Streams:
Pop-up
|
128k AAC
|
128k MP3
|
32k MP3
|
32k Windows
---