Double-Dip Recess with Roger and Amanda: Playlist from June 15, 2019
<-- Previous playlist | Back to Double-Dip Recess with Roger and Amanda playlists | Next playlist -->
---
Upcoming events:
Sat. May 23rd, 9am - 11am: Michael Hearst (More info...)

---

June 15, 2019: The Point! Nilsson Birthday Special (and other stuff!)

Listen to this show:

Pop‑up player! | Add or read comments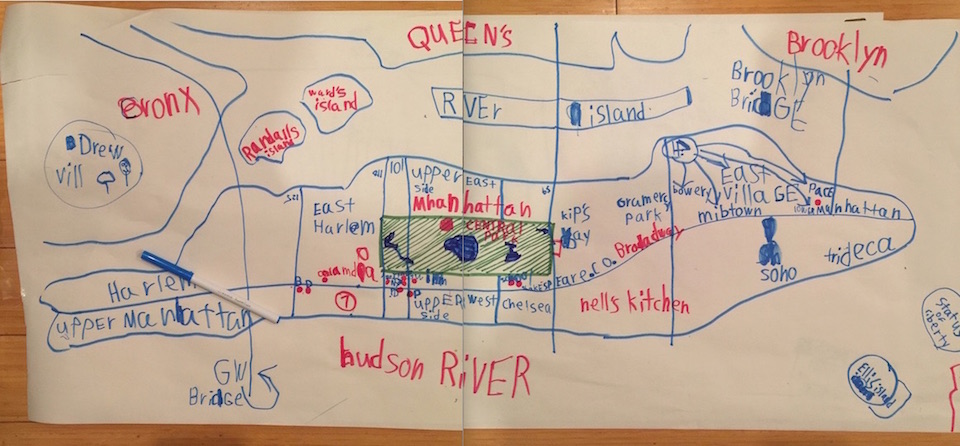 Manhattan map by Drew, age 7.
Email your original art to doubledip@wfmu.org to have it featured!
Artist
Track
Album
Images
Approx. start time
Adrian Belew
Oh Daddy
0:00:00 (Pop‑up)
Spike Jones
Little Child
0:03:48 (Pop‑up)
Jack Forman
When I Was Young
0:05:26 (Pop‑up)
Koo Koo Kangaroo
Dad Jokes
0:09:15 (Pop‑up)
Jack Stauber feat. Lexy
Peppermint (looped a few times)
0:16:03 (Pop‑up)
Let's Audio
More Fruit
0:18:36 (Pop‑up)
Joe Raposo
Fruit Song
0:21:37 (Pop‑up)
Havana
Havana's Banana Song
0:23:36 (Pop‑up)
Layla Gacha
Banana ("Havana" parody)
0:24:50 (Pop‑up)
Monica Lewis
Chiquita Banana
0:26:15 (Pop‑up)
Unknown
Belle and Sebastian theme (1980s)
0:27:36 (Pop‑up)
NRBQ
RC Cola and a Moon Pie
0:39:56 (Pop‑up)
Chuck Jones cartoon
"A Bear for Punishment"
0:43:03 (Pop‑up)
Loudon Wainwright III
Daddy Take a Nap
0:45:45 (Pop‑up)
Lovin' Spoonful
Younger Generation
0:49:33 (Pop‑up)
Justin Roberts and the Not Ready for Naptime Players
Kooks
0:52:14 (Pop‑up)
Bob McAllister (Wonderama)
Exercise!
1:00:10 (Pop‑up)
PSY
Daddy
1:01:17 (Pop‑up)
Harry Nilsson
Everyone's Got 'Em
1:05:12 (Pop‑up)
Harry Nilsson
The Town
1:07:26 (Pop‑up)
Harry Nilsson
Me and My Arrow
1:08:55 (Pop‑up)
Harry Nilsson
The Game
1:11:06 (Pop‑up)
Harry Nilsson
Poli High
1:13:04 (Pop‑up)
Harry Nilsson
The Trial and Banishment
1:15:39 (Pop‑up)
Harry Nilsson
Think About Your Troubles
1:17:48 (Pop‑up)
Harry Nilsson
The Pointed Man
1:21:10 (Pop‑up)
Harry Nilsson
Life Line
1:23:40 (Pop‑up)
Harry Nilsson
The Birds
1:26:00 (Pop‑up)
Harry Nilsson
POV Waltz
1:27:55 (Pop‑up)
Harry Nilsson
Clearing in the Woods
1:30:07 (Pop‑up)
Harry Nilsson
Are You Sleeping?
1:32:00 (Pop‑up)
Harry Nilsson
Oblio's Return
1:34:18 (Pop‑up)
Nicole Imthurn
Cha Cha
Analog School for Outliers
1:40:51 (Pop‑up)
The White Weenies
Analog School for Outliers theme
1:45:57 (Pop‑up)
Eyeball Skeleton
Eyeball Skeleton
1:47:01 (Pop‑up)
Turk Murphy
The Alligator King (7)
1:51:30 (Pop‑up)
The Walkers
Chewing Gum
1:53:15 (Pop‑up)
The Nutty Squirrels
Bye Bye Blackbird
1:55:38 (Pop‑up)
<-- Previous playlist
| Back to
Double-Dip Recess with Roger and Amanda playlists
|
Next playlist -->
RSS feeds for Double-Dip Recess with Roger and Amanda:

Playlists feed |

MP3 archives feed
|
E-mail Amanda
,
E-mail Roger
|
Other WFMU Playlists
|
All artists played by Double-Dip Recess with Roger and Amanda
|
---
Listen on the Internet
|
Contact Us
|
Music & Programs
|
WFMU Home Page
|
Support Us
|
FAQ
Live Audio Streams:
Pop-up
|
128k AAC
|
128k MP3
|
32k MP3
|
32k Windows
---