Double-Dip Recess with Roger and Amanda: Playlist from April 27, 2019
<-- Previous playlist | Back to Double-Dip Recess with Roger and Amanda playlists | Next playlist -->
---
Upcoming events:
Sat. Dec 14th, 9am - 11am: Key Wilde and Mr. Clarke (More info...)

---

April 27, 2019: Two-L Llama

Listen to this show:

Pop‑up player! | Add or read comments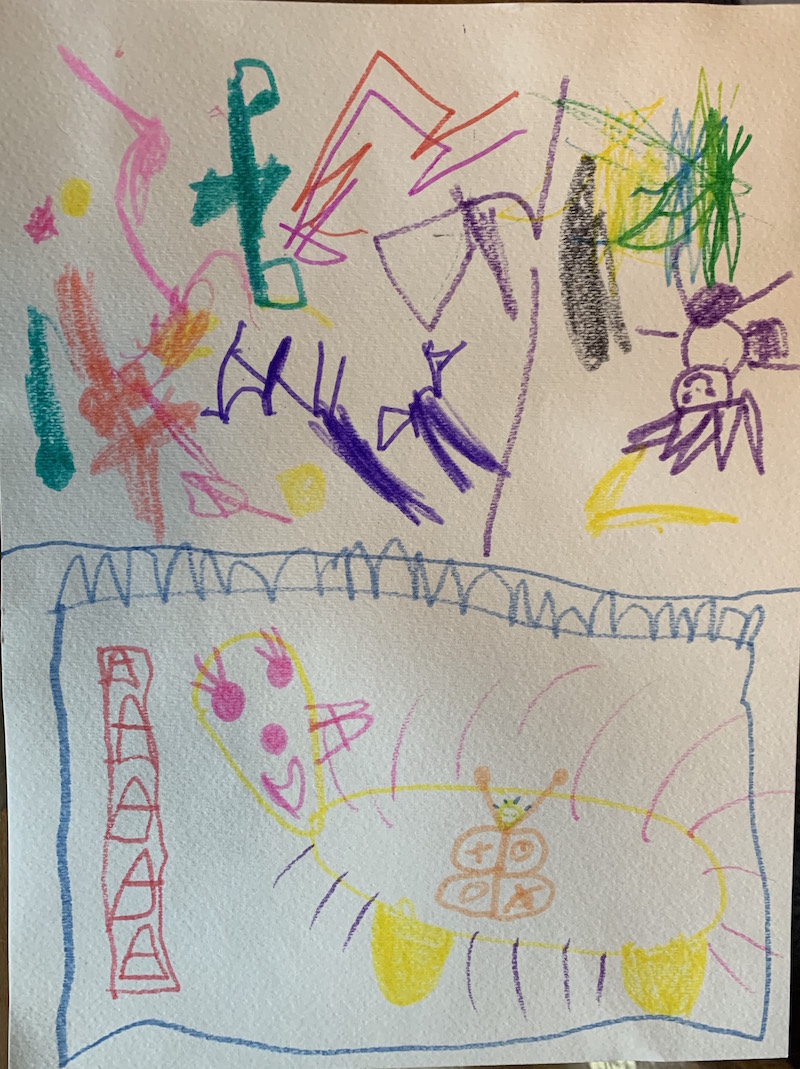 Chicken and Princess Diptych by Ada and James, both 4.
Email your original art to doubledip@wfmu.org to have it featured!
Artist
Track
Album
Comments
Images
Approx. start time
The Wonder Who
The Good Ship Lollipop
0:00:00 (Pop‑up)
Steven DiLeo
Pop Goes the Weasel (metal version)
0:03:01 (Pop‑up)
Bert
My Rock
0:05:34 (Pop‑up)
Laurie Berkner Band
We Are the Dinosaurs
0:08:49 (Pop‑up)
The Pop Ups
Meteor Dinosaur
0:11:05 (Pop‑up)
Spot 1019
Ringo
0:21:44 (Pop‑up)
David Bowie
The Laughing Gnome
0:24:10 (Pop‑up)
Unknown (Sesame Street)
Me and My Llama
0:27:15 (Pop‑up)
Harry Nilsson
Everything's Got 'Em
0:30:03 (Pop‑up)
Pointed Man Band
Pollination
0:32:38 (Pop‑up)
Arthur Askey
The Bee Song
0:35:35 (Pop‑up)
ABC Phonics Song
0:44:52 (Pop‑up)
Shirley Ellis
The Clapping Song (Clap Pat Clap Slap)
0:48:06 (Pop‑up)
Martin, Bogan, and Armstrong
Barnyard Dance
0:50:35 (Pop‑up)
Officer Byrd & Mike
"Strangers"
0:54:25 (Pop‑up)
Yertle the Turtle
music behind DJ: John Fahey, The Transcendental Waterfall
0:55:34 (Pop‑up)
Ween
El Camino
1:02:45 (Pop‑up)
La Pandilla
Tengo Un Hermanito
1:05:02 (Pop‑up)
Bob McAllister (Wonderama)
Exercise!
1:11:07 (Pop‑up)
Disney's Mousercise
Ducks Dance Too
1:12:19 (Pop‑up)
Pee-Wee Herman
Surfin' Bird
1:15:41 (Pop‑up)
Ryuichi Sakamoto & Syuko Sakai
Computer Grandma
1:18:14 (Pop‑up)
Elton Motello
Pocket Calculator
1:21:29 (Pop‑up)
Ella Jenkins & friends (Scholastic Kids)
Johnny Had One Friend
1:24:22 (Pop‑up)
Carole King
One Was Johnny
1:26:16 (Pop‑up)
Nicole Imthurn
Breakfast at Eddy's
The Analog School for Outliers
1:31:44 (Pop‑up)
The White Weenies
Analog School for Outliers theme
Matthew Sweet
Scooby-Doo, Where Are You?
1:39:28 (Pop‑up)
Hap Palmer
Little Ants
1:44:52 (Pop‑up)
The Innocence Mission
Stay Awake
1:46:12 (Pop‑up)
Thunder and Sunshine
Thunder and Sunshine Theme Song
1:49:55 (Pop‑up)
Sesame Street Kids
My Name is You
1:52:25 (Pop‑up)
<-- Previous playlist
| Back to
Double-Dip Recess with Roger and Amanda playlists
|
Next playlist -->
RSS feeds for Double-Dip Recess with Roger and Amanda:

Playlists feed |

MP3 archives feed
|
E-mail Amanda
,
E-mail Roger
|
Other WFMU Playlists
|
All artists played by Double-Dip Recess with Roger and Amanda
|
---
Listen on the Internet
|
Contact Us
|
Music & Programs
|
WFMU Home Page
|
Support Us
|
FAQ
Live Audio Streams:
Pop-up
|
128k AAC
|
128k MP3
|
32k MP3
|
32k Windows
---