Double-Dip Recess with Roger and Amanda: Playlist from April 13, 2019
<-- Previous playlist | Back to Double-Dip Recess with Roger and Amanda playlists | Next playlist -->
---
Upcoming events:
Sat. Dec 14th, 9am - 11am: Key Wilde and Mr. Clarke (More info...)

---

April 13, 2019: Wubba Wubba

Listen to this show:

Pop‑up player! | Add or read comments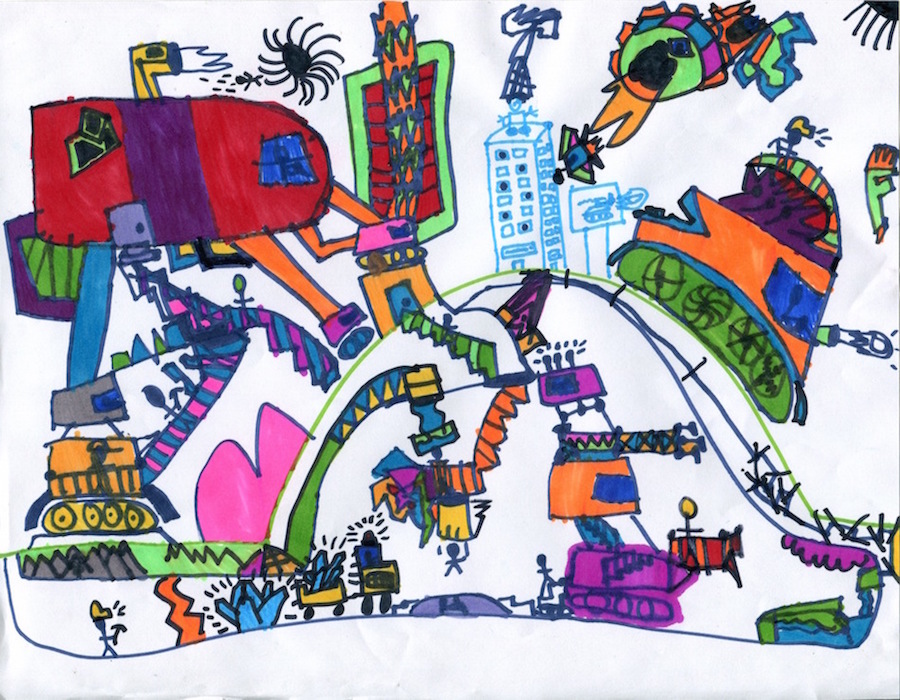 "Digging for Diamonds" by Jasper P, 1st grade.
Email your original art to doubledip@wfmu.org to have it featured!
Artist
Track
Album
Images
Approx. start time
Mike Phirman
Lollytown
0:00:00 (Pop‑up)
Rhys Muldoon
Playground
0:02:35 (Pop‑up)
Puppini Sisters
Playmate
0:07:37 (Pop‑up)
Johnny Whitaker
Friends
0:09:35 (Pop‑up)
Boogers
I Just Wanna Play
0:12:28 (Pop‑up)
Of Montreal
I Just Wanna Have Fun
0:14:18 (Pop‑up)
The Queers
I Don't Wanna Live on the Moon
0:23:03 (Pop‑up)
Grover (Sesame Street)
Monster in the Mirror
0:24:37 (Pop‑up)
Alvin and the Chipmunks
Hold On Tight
0:27:20 (Pop‑up)
Thin Lizzy
Do Anything You Want To
0:30:11 (Pop‑up)
Cartoon Super Team
Looney Tunes Mini Disco Mix
0:33:30 (Pop‑up)
Turkey Anderson
I Am So Glad That I Found My Hat
0:41:49 (Pop‑up)
Al Simmons
Where Did You Get That Hat?
0:43:30 (Pop‑up)
Caspar Babypants
The Girl With the Squirrel in Her Hat
0:45:53 (Pop‑up)
The Stranglers
Mad Hatter
0:48:19 (Pop‑up)
Big Block
Singsong Mad
0:52:13 (Pop‑up)
Ze Frank
Chillout
0:54:11 (Pop‑up)
Bob McAllister (Wonderama)
Exercise!
1:01:32 (Pop‑up)
Falu
Tararum Pumpum
1:02:42 (Pop‑up)
Nicole Imthurn
Moon Jelly
Analog School for Outliers
1:10:09 (Pop‑up)
The White Weenies
Analog School for Outliers
1:17:30 (Pop‑up)
Nicole Imthurn
Born Ready
Analog School for Outliers
1:19:41 (Pop‑up)
Alpha Friend
Mr. X Ray
1:28:05 (Pop‑up)
Arlo Guthrie
Motorcycle Song
1:29:59 (Pop‑up)
Yo La Tengo and Daniel Johnston
Speeding Motorcycle
1:32:14 (Pop‑up)
Death By Chocolate
Bantam Motorbike
1:35:46 (Pop‑up)
Bruce Haacke
Motorcycle
1:38:20 (Pop‑up)
The Wombles
Banana Rock
1:46:36 (Pop‑up)
Musical Youth
The Youth of Today
1:49:25 (Pop‑up)
Smothers Brothers
Chocolate
1:52:20 (Pop‑up)
Gene Wilder (Willy Wonka and the Chocolate Factory)
Pure Imagination
1:55:02 (Pop‑up)
<-- Previous playlist
| Back to
Double-Dip Recess with Roger and Amanda playlists
|
Next playlist -->
RSS feeds for Double-Dip Recess with Roger and Amanda:

Playlists feed |

MP3 archives feed
|
E-mail Amanda
,
E-mail Roger
|
Other WFMU Playlists
|
All artists played by Double-Dip Recess with Roger and Amanda
|
---
Listen on the Internet
|
Contact Us
|
Music & Programs
|
WFMU Home Page
|
Support Us
|
FAQ
Live Audio Streams:
Pop-up
|
128k AAC
|
128k MP3
|
32k MP3
|
32k Windows
---