Double-Dip Recess with Roger and Amanda: Playlist from November 3, 2018
<-- Previous playlist | Back to Double-Dip Recess with Roger and Amanda playlists | Next playlist -->
---
Upcoming events:
Sat. Mar 7th, 9am - 11am: Roger, Amanda, and their Co-Host Yvonne


Sat. Mar 14th, 9am - 11am: The Double-Dip Duo with Co-Host Greg H.

---

November 3, 2018: This Land is Your Land

Listen to this show:

Pop‑up player! | Add or read comments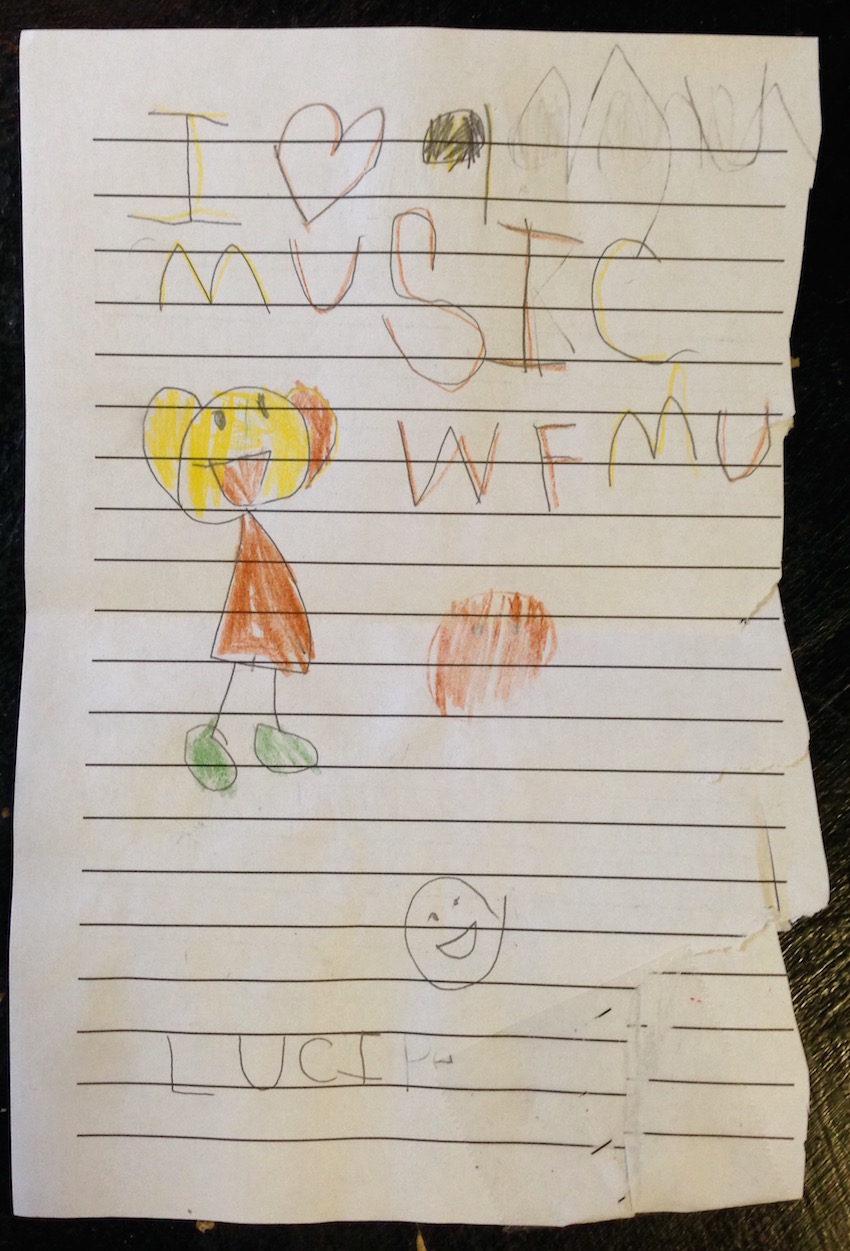 Original art by listener Luci. Email your art to doubledip@wfmu.org to have it featured!
(* = new)


Artist
Track
Album
New
Approx. start time
Smart Songs
Voting Rap
Amy Winfrey
Vote
0:02:43 (Pop‑up)
Schoolhouse Rock
Preamble
0:02:53 (Pop‑up)
Raffi
Wave of Democracy
0:05:41 (Pop‑up)
Li'l Meema
Vote
0:08:32 (Pop‑up)
PBS Kids
Vote Song
0:10:57 (Pop‑up)
Smart Songs
Voting Rap part 2
0:11:24 (Pop‑up)
Oscar the Grouch
Grouch Anthem
0:12:19 (Pop‑up)
Oscar the Grouch
Honk, Bang Whistle and Crash
0:19:30 (Pop‑up)
The New Seekers
Free to Be... You and Me
0:21:35 (Pop‑up)
Alvin and the Chipmunks
Hold On Tight
0:24:13 (Pop‑up)
Parry Gripp
Eat a Sandwich
0:29:04 (Pop‑up)
Oscar the Grouch
B Sandwich
0:30:31 (Pop‑up)
The Heights
Bubblegum
0:31:38 (Pop‑up)
Wakko Warner
Wakko's America
0:34:34 (Pop‑up)
Sharon Jones & The Dap-Kings
This Land Is Your Land
0:36:57 (Pop‑up)
Big Bird and Susan
Abcdefghijklnopqrstuvwxyz
0:48:58 (Pop‑up)
Beatles
All Together Now
0:51:42 (Pop‑up)
Tori Kelly
Don't Worry 'Bout a Thing ("Sing" Movie)
0:55:39 (Pop‑up)
Big Bird
Sing
0:58:33 (Pop‑up)
Brian "The Spaz" (YouTube)
I Love to Singa
1:01:47 (Pop‑up)
Nerd Slice with Nicole
Anger
1:10:09 (Pop‑up)
Oscar the Grouch
Do Re Mi
1:15:08 (Pop‑up)
Julie Andrews
Do Re Mi
1:16:45 (Pop‑up)
TV Movie Mashup
Do Re Mi
1:18:56 (Pop‑up)
Joshuah Campbell
Do Re Mi
1:21:18 (Pop‑up)
Lee Dorsey
Do Re Mi
1:24:37 (Pop‑up)
Caspar Babypants
Pretty Crabby
1:26:49 (Pop‑up)
Oscar and Johnny Cash
Nasty Dan
1:34:15 (Pop‑up)
The Branded
I'm a Mean Tomcat
1:36:01 (Pop‑up)
Sandra Kerr and John Faulkner
Song of a Flea
The Music from Bagpuss
*
1:38:58 (Pop‑up)
Strong Bad
alright42nite
1:42:14 (Pop‑up)
Macka B
Pumpkin
1:42:38 (Pop‑up)
Oscar the Grouch
I Love Trash
1:43:39 (Pop‑up)
Big Bird
Very Very Special Letter
1:50:35 (Pop‑up)
"Have Fun Teaching"
Letter V Song
1:52:02 (Pop‑up)
Omni Vert
Vulture Song
1:54:08 (Pop‑up)
They Might Be Giants
Flying V
1:54:45 (Pop‑up)
<-- Previous playlist
| Back to
Double-Dip Recess with Roger and Amanda playlists
|
Next playlist -->
RSS feeds for Double-Dip Recess with Roger and Amanda:

Playlists feed |

MP3 archives feed
|
E-mail Amanda
,
E-mail Roger
|
Other WFMU Playlists
|
All artists played by Double-Dip Recess with Roger and Amanda
|
---
Listen on the Internet
|
Contact Us
|
Music & Programs
|
WFMU Home Page
|
Support Us
|
FAQ
Live Audio Streams:
Pop-up
|
128k AAC
|
128k MP3
|
32k MP3
|
32k Windows
---