Double-Dip Recess with Roger and Amanda: Playlist from October 6, 2018
<-- Previous playlist | Back to Double-Dip Recess with Roger and Amanda playlists | Next playlist -->
---
Upcoming events:
Sat. Mar 7th, 9am - 11am: Roger, Amanda, and their Co-Host Yvonne


Sat. Mar 14th, 9am - 11am: The Double-Dip Duo with Co-Host Greg H.

---

October 6, 2018: Larson World Premiere

Listen to this show:

Pop‑up player! | Add or read comments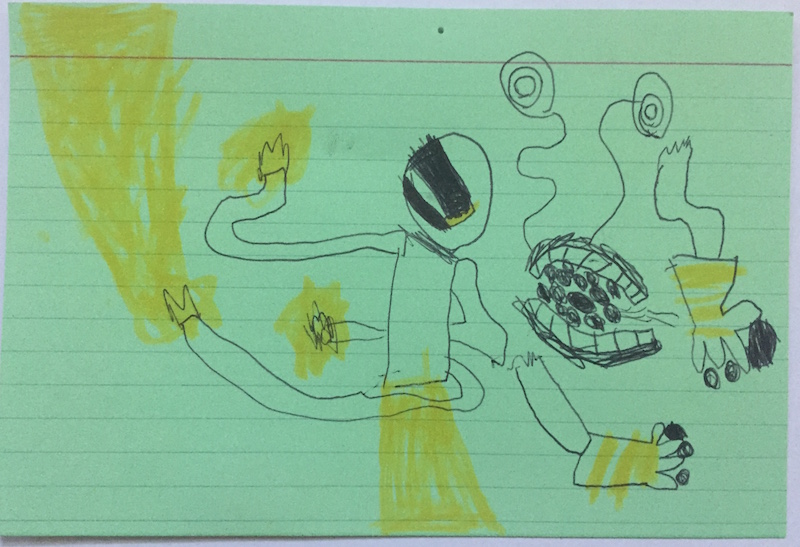 Original artwork by listener Merritt. Email your art to doubledip@wfmu.org to have it featured!
Artist
Track
Approx. start time
Albert Hammond
I'm a Train
0:00:00 (Pop‑up)
Shel Silverstein
The Wreck of the Old '49
0:03:45 (Pop‑up)
Laura Cantrell
Yonder Comes a Freight Train
0:04:39 (Pop‑up)
Raspberry Bandits
Taking the Train
0:07:25 (Pop‑up)
Parry Gripp
Last Train to Awesomeville
0:10:21 (Pop‑up)
The Archies
Archies Party
0:12:16 (Pop‑up)
Microphone Doctors
We Came to Dance
0:22:02 (Pop‑up)
Willie Nelson
I'm My Own Grandpa
0:23:17 (Pop‑up)
Fralinger String Band
You Are My Sunshine
0:26:57 (Pop‑up)
Anonymous Burmese Singers (Courlander's Almanac)
Burmese Medley: Hi Ho, Hi Ho
0:28:54 (Pop‑up)
Sesame Street Kids
Starfish
0:31:47 (Pop‑up)
Nellie McKay
Red Rubber Ball
0:33:31 (Pop‑up)
Logan Whitehurst & the Junior Science Club
Happy Noodle vs. Sad Noodle
0:40:11 (Pop‑up)
Danny Kaye, Jane Wyman, Groucho Marx & Jimmy Durante
Blackstrap Molasses
0:43:06 (Pop‑up)
NRBQ
RC Cola and a Moon Pie
0:45:26 (Pop‑up)
Negativland
Nesbit's Lime Soda
0:48:58 (Pop‑up)
Arnold Stang and the Peter Pan Orchestra
Beezy the Bee
0:51:56 (Pop‑up)
Larson
Modern Life
1:01:32 (Pop‑up)
Smithsonian Kids
One, Two Buckle My Shoe
1:03:19 (Pop‑up)
Têtes Noires
The Kids in France
1:05:00 (Pop‑up)
Ella Jenkins & friends
Canadian Friendship
1:06:50 (Pop‑up)
Ween
I Gots a Weasel
1:08:47 (Pop‑up)
Carole King
One Was Johnny
1:10:06 (Pop‑up)
Nerd Slice with Nicole
Popcorn
1:15:24 (Pop‑up)
The Dickies
Eep Opp Ork Ah-Ah (Means I Love You)
1:20:55 (Pop‑up)
Chiquita banana song
1:24:23 (Pop‑up)
Raffi
Banana Phone
1:25:59 (Pop‑up)
Bryant Oden
Duck Song
1:28:59 (Pop‑up)
Andrew and Polly
Grapes
1:32:07 (Pop‑up)
Mary Poppins
A Spoonful Of Sugar
1:39:20 (Pop‑up)
The Lemon Pipers
Jelly Jungle (Of Orange Marmalade)
1:41:54 (Pop‑up)
The Laughing Gravy
Vegetables
1:44:23 (Pop‑up)
Sesame Street muppets
Captain Vegetable
1:46:42 (Pop‑up)
Woody Guthrie
Little Sugar (Little Saka Sugar)
1:49:30 (Pop‑up)
Linda Hagood
Animal Brew Ha Ha
1:50:38 (Pop‑up)
Walter Martin
We Like the Zoo 'cause We're Animals Too
1:53:37 (Pop‑up)
<-- Previous playlist
| Back to
Double-Dip Recess with Roger and Amanda playlists
|
Next playlist -->
RSS feeds for Double-Dip Recess with Roger and Amanda:

Playlists feed |

MP3 archives feed
|
E-mail Amanda
,
E-mail Roger
|
Other WFMU Playlists
|
All artists played by Double-Dip Recess with Roger and Amanda
|
---
Listen on the Internet
|
Contact Us
|
Music & Programs
|
WFMU Home Page
|
Support Us
|
FAQ
Live Audio Streams:
Pop-up
|
128k AAC
|
128k MP3
|
32k MP3
|
32k Windows
---