Brian Turner: Playlist from April 4, 2017
Order and disorder in a freeform haze of terribly-played guitars, shorted-out electronics, found audio detritus, strange sounds from strange lands all around. Psych-punk-junk, collage, even pop. Lots of in-studio live performances to boot.
<-- Previous playlist | Back to Brian Turner playlists | Next playlist -->
---

April 4, 2017: w/ live set from UNIFORM

Listen to this show:

Pop‑up player! | Add or read comments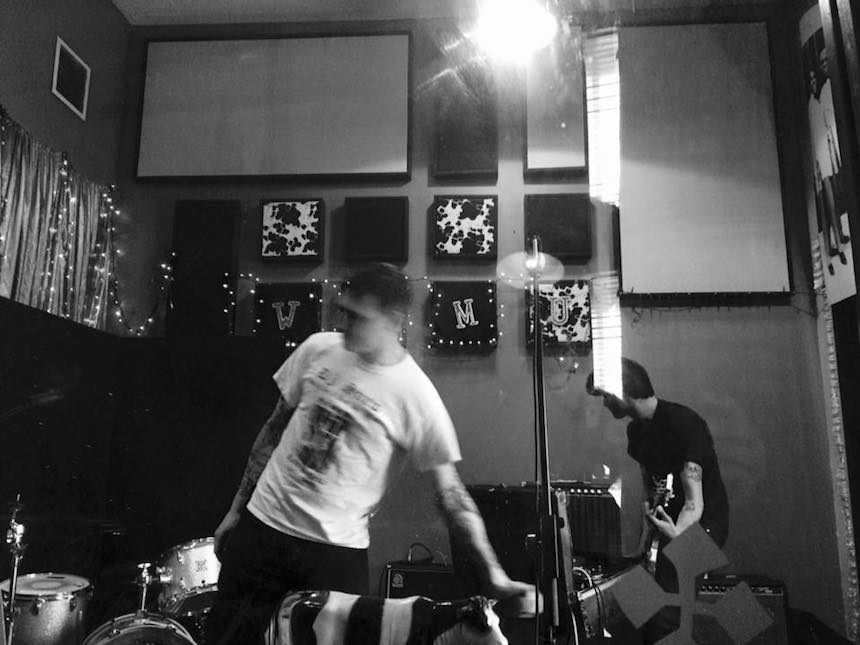 NYC duo Uniform (Michael Berdan/Ben Greenberg) live on the program today (photo Mario Santana). Newest LP Wake In Fright available now on Sacred Bones Records.
(* = new)


| Artist | Track | Album | Label | Comments | New | Approx. start time |
| --- | --- | --- | --- | --- | --- | --- |
| Get the Baklava | N/A | N/A | N/A | | | |
| Esplendor Geometrico | Uasat | Fungus Cerebri | Geometrix | | * | |
| Family | Drowned In Wine (Glastornbury 71) | none | No Label | here | | 0:08:21 (Pop‑up) |
| Destroy All Monsters | Assassination Photograph | Split w/Xanadu | Third Man | | * | 0:12:55 (Pop‑up) |
| Robin Johnson | Damn Dog | Soundtrack: Times Square | RSO | | | 0:16:53 (Pop‑up) |
| Exotica | Pesadilla | 7" | La Vida Es En Mus | | * | 0:20:15 (Pop‑up) |
| feedtime | Fifty Eight | Gas | In the Red | | * | 0:21:05 (Pop‑up) |
| Thigh Master | BBC | 7" | 12XU | | * | 0:26:44 (Pop‑up) |
| They Must Be Russians | Don't Try To Cure Yourself | Various: 7" Up | Crippled Dick Hot Wax | | | 0:29:08 (Pop‑up) |
| Fred & Toody | It's Still You | 7" | Third Man | | * | 0:32:56 (Pop‑up) |
| Zlo Скамейки | Benches | Various: Dushanbe Punkers & Rockers, Underground Tajikistan Music - Душанбинские Панки И Рокеры | Tian An Men 89 | | | 0:35:06 (Pop‑up) |
| Knife Fight | Boredom | Hobbies | Aarght | | | 0:38:33 (Pop‑up) |
| Borzoi | Feeding the Pig-Dog | Surrender the Farm | 12XU | here on the show 5/16 | * | 0:40:15 (Pop‑up) |
| Flat Worms | Petulance | 7" | Volar | | * | 0:46:51 (Pop‑up) |
| Damien | Serpents Rising | Every Dog Has Its Day | Select | | | 0:49:21 (Pop‑up) |
| Diamanda Galás | Artemis | At Saint Thomas the Apostle Harlem | ISO | | * | 0:53:03 (Pop‑up) |
| Rompe | Excerpt | Des Cranes Sympas Mais Bourres de Merdes | Tanzprocesz | | * | 0:57:27 (Pop‑up) |
| Dan Melchior | Part One | Seaslime | Chocolate Monk | | * | 0:59:56 (Pop‑up) |
| Ragnar Grippe | Excerpt | Sand | Dais | | * | 1:07:25 (Pop‑up) |
| Phew | CQ Tokyo | Light Sleep | Mesh-Key | In Brooklyn this Thursday | * | 1:18:39 (Pop‑up) |
| Not Waving | Ur Lucky Ur Still Alive | Populist | Ecstatic | | * | 1:27:46 (Pop‑up) |
| SAT Stoicizmo | Nehaj | Mah 2 | Artware | | | 1:30:03 (Pop‑up) |
| Men Without Hats | Where Do the Boys Go | Live 85 | No Label | here | | 1:42:05 (Pop‑up) |
| The Wad | I'm So Terminal | Benny's Business | Lumpy | | * | 1:45:59 (Pop‑up) |
| A.F. Moebius | Erika | Various: Magnetband: Experimentelle Elektronik Underground DDR 1984-1989 | Bureau B | | * | 1:48:20 (Pop‑up) |
| Dave Clarkson | Quicksands - High Tide | A Red Guide To the Coastal Quicksands of the British Isles | Linear Obsessional Recordings | | * | 1:51:52 (Pop‑up) |
| Uniform | Live in the WFMU Studios | Engineered by Mario Santana | | Uniform is the NYC duo of Michael Berdan and Ben Greenberg, whose latest release "Wake In Fright" raises their game as dealers of riff-mongering, relentless jackhammer destruction. Equal parts Big Black, Slayer, Young Gods, Killing Joke and more, the band appeared at Brian's Monty Hall showcase gig a couple years back with Obnox and The Wilful Boys, where witnesses watched them lay waste to the room with simple aggro vox, guitar, and programming. This new release on Sacred Bones is by far one of the most punishing records to come out of NYC in a while and we are excited to unleash them onto the airwaves today. Setlist: The Killing of America / The Light at the End (Cause) / Night Of Fear / Tabloid / Bootlicker / Novelty (original version by Warsaw) / Symptom of the Universe (orig. by Black Sabbath) | | 2:00:36 (Pop‑up) |
| Nauta | Ma Meen | Various: Kuoleman Tappaneet: Punk Rockia Pienkustanteilta 1977-83 | Svart | | * | 2:43:50 (Pop‑up) |
| Smertegraensens Toldere | Untitled | 7" | No Label | | * | 2:45:11 (Pop‑up) |
| Exciter | Long Live the Loud | Long Live the Loud | Combat | | | 2:47:17 (Pop‑up) |
| Suzuki Junzo | The Hidden Strokes On Elsa Bannister | If I Die Before I Wake | Utech | | * | 2:54:36 (Pop‑up) |
<-- Previous playlist
| Back to
Brian Turner playlists
|
Next playlist -->
RSS feeds for Brian Turner:

Playlists feed |

MP3 archives feed
| Email
the Program Director
|
Other WFMU Playlists
|
All artists played by Brian Turner
|
---
Listen on the Internet
|
Contact Us
|
Music & Programs
|
WFMU Home Page
|
Support Us
|
FAQ
Live Audio Streams:
Pop-up
|
128k AAC
|
128k MP3
|
32k MP3
|
32k Windows
---