Ken

| Freeform radio for the chronically impatient. Avant-garde pop, poppy avant-garde, teutonic thump thump, loud guitars and guttural screaming. Playlists and photos posted in real time on the web so you can play along or comment at home or work.
.
Wednesdays 9am - Noon (

EDT

) | On WFMU (Info) | 91.1, 90.1, 91.9 FM & wfmu.org
---
---
Playlist for 16 March 2016

|
Marathon Week Two with Scott, Donald Trump and YOU! Pledge at 800-989-9368 or wfmu.org/pledge
Hear the show in:

Pop‑up player! | Add or read comments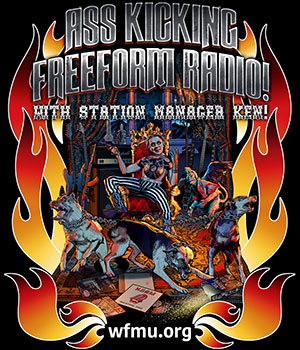 Click For Larger Image

Ken's first-ever show T-Shirt, yours for a pledge of $75 or more. Make a pledge above, why doncha?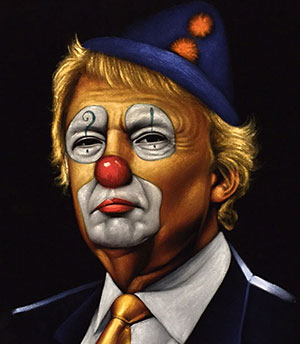 Click for Larger Image
Today's Grand Prize, an un-clownified black velvet painting of Donald Trump,
ready for remix and defacement.
Pledge $30 per month Swag for Life to get in the running!
Artist
Song
Album
Images
Approx. start time
The Stranglers
Waltzinblack
The Men in Black
impLOG
On Broadway
0:05:39 (Pop‑up)
Klaus Dinger und Japandorf
Cha Cha
0:12:04 (Pop‑up)
The Fall
Pledge!
Sub-Lingual Tablet
0:21:12 (Pop‑up)
Jonathan Kane
Sis
0:27:45 (Pop‑up)
Phew
Signal
0:36:25 (Pop‑up)
Aguaturbia
Wonder Who
0:40:54 (Pop‑up)
Rocket Freudental
Beneluxus Europoort
0:44:37 (Pop‑up)
Gotz Allsmann
Dein Kuss Von Gestern Nacht Mein Schatz
0:57:34 (Pop‑up)
Olivia New*Ton*Jon
Cherry Bomb
1:00:34 (Pop‑up)
Voivod
Astromine Domine
1:03:06 (Pop‑up)
Music behind DJ:
Alice Cooper
Lost in America
1:16:02 (Pop‑up)
R. Stevie Moore
Pledge Some Money
1:20:02 (Pop‑up)
Nilsson
Jump Into The Fire
1:22:09 (Pop‑up)
The Billy Nayer Show
American Astronaut
1:25:09 (Pop‑up)
Strawberry Alarm Clock
Incense and Peppermint
1:26:13 (Pop‑up)
Like a Team
The Lonely Sea
1:40:58 (Pop‑up)
Les Reines Prochaines
Opfer Dieses Liedes (Wicked Game)
Le Coeur En Beurre-Doublegras
1:44:04 (Pop‑up)
Lali Puna
Faking the Books
1:48:49 (Pop‑up)
Music behind DJ:
Rockabye Baby
Freebird and then some
1:52:35 (Pop‑up)
Wevie de Crepon
The Wobbler
2:04:08 (Pop‑up)
Can
Thief
Delay 1968
2:08:31 (Pop‑up)
Schlammpeitziger
Rollrockers Feinrippröhren
2:14:39 (Pop‑up)
The Kleptones
Jerk
A Night at the Hip Hopera
2:30:55 (Pop‑up)
Earthless
Ululurock
2:36:34 (Pop‑up)
Wire
The Agfers of Kodack
2:39:55 (Pop‑up)
Eagles of Death Metal
Bad Dream Mama
2:42:39 (Pop‑up)
Flipper
Sex Bomb Baby!
2:45:38 (Pop‑up)
Gimmicks
Cigarette
2:52:36 (Pop‑up)
<-- previous playlist
|
ken's other playlists
|
next playlist -->
RSS feeds for Ken's show:

Playlists feed |

MP3 archives feed
E-mail Ken
|
All artists played by ken
|
WFMU home page
|
WFMU playlists
|
hear WFMU live on the Web
|
top of page
Generated by
KenzoDB
, (C) 2000-2020
Ken Garson