Ken

| Freeform radio for the chronically impatient. Avant-garde pop, poppy avant-garde, teutonic thump thump, loud guitars and guttural screaming. Playlists and photos posted in real time on the web so you can play along or comment at home or work.
Wednesday 9am - Noon (

EST

) | On WFMU | 91.1, 90.1, 91.9 FM & wfmu.org
---
---
Playlist for 09 March 2016

|
Marathon Week One with Bethany. Pledge at 800-989-9368 or wfmu.org/pledge
Hear the show in:

Pop-up player! | Add or read comments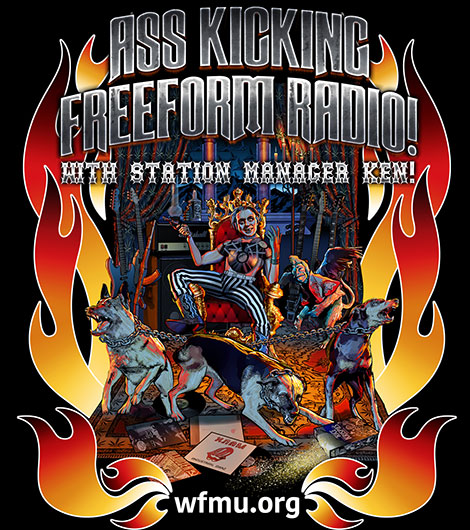 Ken's first-ever show T-Shirt, yours for a pledge of $75 or more. Make a pledge above, why doncha?


Artist
Song
Album
Images
Approx. start time
Fat Freedy
Theme 10 From the Untitled Album
Exploratory Music from Portugal 05
Danielle Dax
Big Hollow Man
Inky Bloaters
0:05:28 (Pop-up)
Matmos
Tunnel
The Marriage of True Minds
0:22:10 (Pop-up)
Olga Podluzhnaya (Ольга ПодлужнаяY)
Typac Caac
Oh Olga
0:28:40 (Pop-up)
Donovan
Hurdy Gurdy Man
0:33:24 (Pop-up)
Music behind DJ:
X Ray Spex
Germfree Adolescents
0:46:22 (Pop-up)
The Velvet Underdog
Waiting for My Mange
0:49:34 (Pop-up)
Flipper
Ha Ha Ha
0:54:17 (Pop-up)
Tuxedomoon
No Tears
0:56:27 (Pop-up)
Sudden Infant
Human Fly
1:15:53 (Pop-up)
Tonetta
What Are You Worth?
1:18:32 (Pop-up)
Svantana
Workin' In A Cocktail Bar
1:21:55 (Pop-up)
Flight of the Conchords
Business Time
1:26:56 (Pop-up)
Music behind DJ:
Funkadelic
1:31:09 (Pop-up)
My Bloody Valentine
New You
mbv
1:45:35 (Pop-up)
Prince Rama
Welcome To The Now Age
1:50:12 (Pop-up)
The Passionate and Objective Jokerfan
WFMU Bequest Song
1:53:33 (Pop-up)
David Bowie
Helden
1:54:10 (Pop-up)
Dot Allison
All Strung Out
2:03:48 (Pop-up)
Music behind DJ:
Gnod / White Hills
Run Around
2:07:34 (Pop-up)
Dengue Fever
Rom Say Sok
2:17:25 (Pop-up)
Flying Lizards
Hands 2 Take
2:22:22 (Pop-up)
Flex Unger
What Are We Fighting For?
2:25:48 (Pop-up)
<-- previous playlist
|
ken's other playlists
|
next playlist -->
RSS feeds for Ken's show:

Playlists feed |

MP3 archives feed
E-mail Ken
|
All artists played by ken
|
WFMU home page
|
WFMU playlists
|
hear WFMU live on the Web
|
top of page
Generated by
KenzoDB
, written by
Ken Garson