Ken

| Freeform radio for the chronically impatient. Avant-garde pop, poppy avant-garde, teutonic thump thump, loud guitars and guttural screaming. Playlists and photos posted in real time on the web so you can play along or comment at home or work.
.
Wednesdays 9am - Noon (

EDT

) | On WFMU (Info) | 91.1, 90.1, 91.9 FM & wfmu.org
---
---
Playlist for 18 March 2015

|
Marathon 2015, Week 2 with Co-Host Scott W. Pledge Now!
Hear the show in:

Pop‑up player! | Add or read comments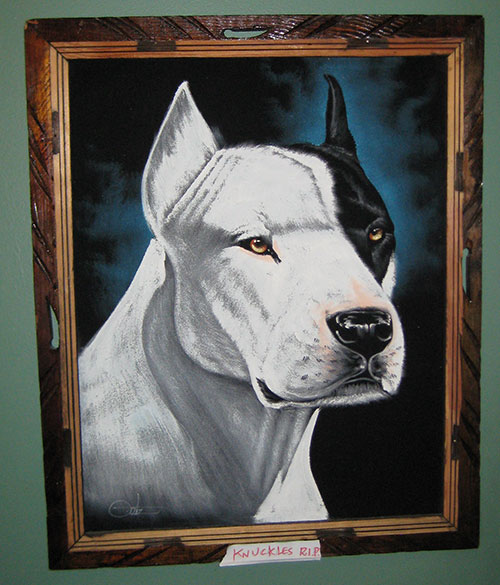 Today's Grand Prize: a piece of WFMU History. The portrait of Knuckles the Dog Who Helps People. Pledge $1 a day during today's show to be eligible to win. Drawing at Noon today. Pledge Here or call us at 800-989-9368.
Artist
Song
Album
Images
Approx. start time
Crash
Vaughan's Ballad
Poutre Apparente - WFMU Bimbo TPower Special
Big Blood
Heart of Glass
Under Covers for WFMU
0:06:41 (Pop‑up)
Music behind DJ:
ESG
Erase You
ESG
0:11:36 (Pop‑up)
William Devaughan
Be Thankful For What You Got
0:20:42 (Pop‑up)
Go Home Productions
2000 Light Years From Bolan
Spliced Krispies
0:27:45 (Pop‑up)
Bondage
En La Moto
Mini-LP
0:32:10 (Pop‑up)
Grauzone
Eibaer
Da Da Da Das War Die... Neue Deutsche Welle
0:50:42 (Pop‑up)
Bob Hund
Final Solution
100 Ar Bakat
0:55:42 (Pop‑up)
The Velvet Underground
Guess Im Falling In Love (instrumenatl)
Another View
0:59:49 (Pop‑up)
1:03:11 (Pop‑up)
Killdozer
Knuckles The Dog (Who Helps People)
1:15:02 (Pop‑up)
The Pink Floyd
Lucy Leave
1:21:07 (Pop‑up)
Laibach
The Whistleblowers
Spectre
1:24:46 (Pop‑up)
Tonetta
Drugs Drugs Drugs
777
1:27:36 (Pop‑up)
Flex Unger
What Are We Fighting For?
1:41:40 (Pop‑up)
Felix Kubin & Coolhaven
There is a Garden
Self Titled
1:46:43 (Pop‑up)
John
CW Cyrus Corn Weenie Mix
1:51:35 (Pop‑up)
Music behind DJ:
O'Jays
Love Train
1:57:22 (Pop‑up)
N.A.D.
Ghosts
2:10:21 (Pop‑up)
The Fall
50 Year Old Man
Impreial Wax Solvent
2:13:27 (Pop‑up)
The Ex
Kokend Asfalt
Een Rondje Holland
2:28:22 (Pop‑up)
Neil Cicierga
Crocodile Chop
2:33:57 (Pop‑up)
<-- previous playlist
|
ken's other playlists
|
next playlist -->
RSS feeds for Ken's show:

Playlists feed |

MP3 archives feed
E-mail Ken
|
All artists played by ken
|
WFMU home page
|
WFMU playlists
|
hear WFMU live on the Web
|
top of page
Generated by
KenzoDB
, (C) 2000-2020
Ken Garson