Music without words, words without music, and combinations therein. The freeform soundtrack for working, shirking, or twerking.

If you would like to receive an email with the schedule of what's playing on the Give The Drummer Radio webstream each day, subscribe here. It's only one email per day; you can check out previous emails by clicking on "View Letter Archive" at that link before subscribing if you wish. Never miss a Drummer show (especially mine!) again!


October 19, 2014: Live music from SECOND HAND ROSE!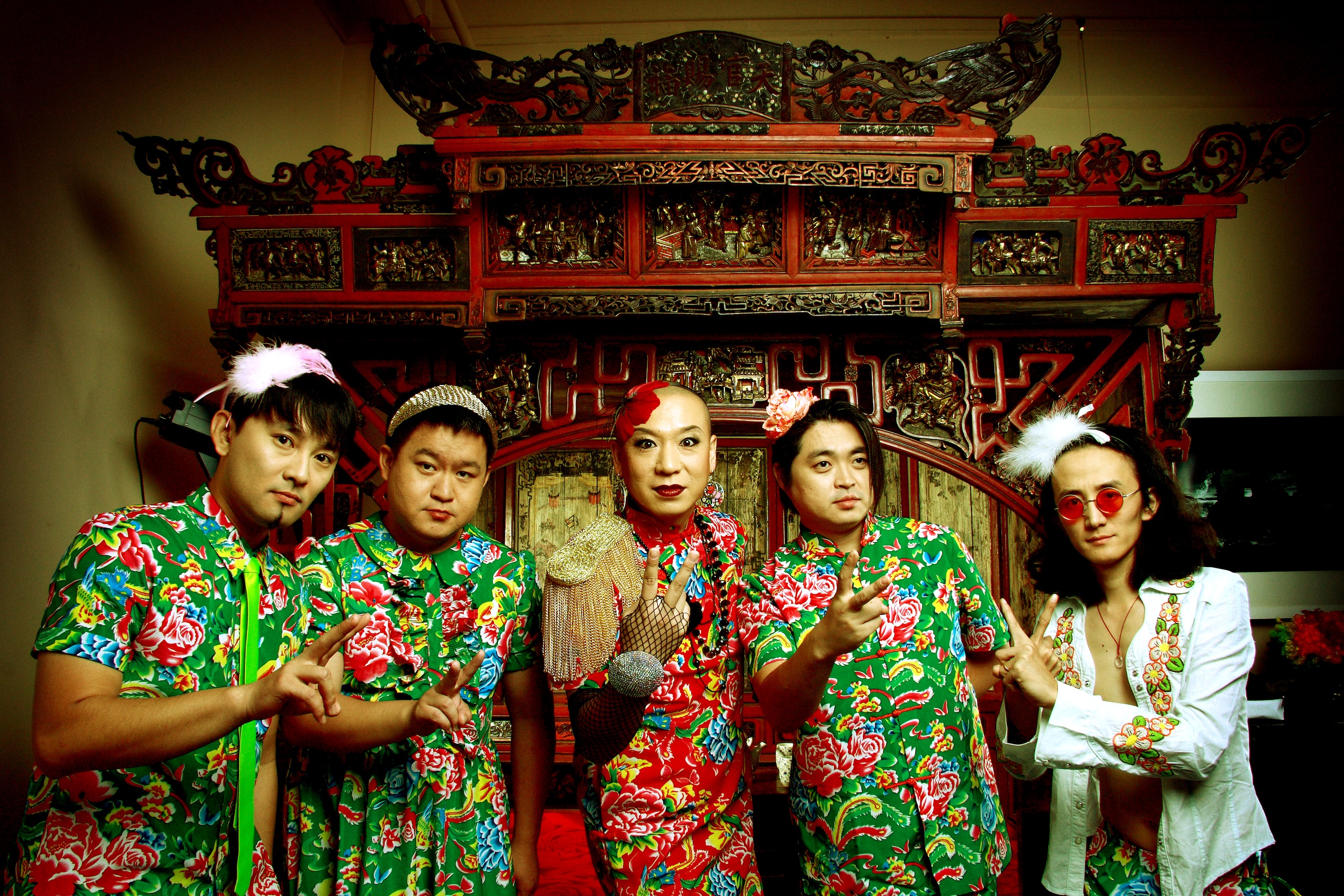 (Left to right: Sun Quan, Li Ziqiang, Liang Long, Wu Zekun, and Yao Lan)

Second Hand Rose--one of the biggest rock bands in China--stopped by WFMU this week, as part of their whirlwind tour of the east coast of America to introduce their theatrical music to Western ears. Formed in 2000, the band shook up Beijing's underground music scene with a performance style that's part cabaret, part Chinese theater, and part rock 'n' roll dance party. Since then, they have risen to headlining festivals across China; last year, they performed a concert in Beijing's state-owned Workers' Gymnasium, one of the most prestigious venues in the country. Part glam-rock, part traditional Chinese folk music; hear Second Hand Rose kick up their heels on Mary Wing's show, beginning at 1 am!
Listen to this show:

Pop‑up player!
Artist
Track
Album
Label
Year
Format
Comments
New / Special
Approx. start time
Azusa Plane
Death Of A Microphone
Where The Sands Turn To Gold
Rocket Girl
2011
CD
0:00:00 (Pop‑up)
Bee Vs. Moth
Loop 78
Shelter In Place
self-released
2014
CD
0:10:00 (Pop‑up)
Royal Philharmonic Orchestra
Fixing A Hole
Symphonic Sgt. Pepper
self-released
2009
CD
A Beatles cover; conducted by Nick Davies.
0:17:03 (Pop‑up)
Zammuto
Good Graces
Anchor
Temporary Residence
2014
CD
*
0:19:46 (Pop‑up)
Nick Cave & The Bad Seeds
Finishing Jubilee Street
Push The Sky Away
Bad Seed Ltd.
2013
CD
0:24:31 (Pop‑up)
Peter Murphy
Loctaine
Lion
Nettwerk
2014
CD
*
0:28:57 (Pop‑up)
Mimi Goese & Ben Neill
Cusp
Songs For Persephone
Ramseur
2011
CD
0:35:17 (Pop‑up)
Low
Nightingale
C'mon
Sub Pop
2011
CD
0:41:00 (Pop‑up)
Olivia Newton-John
Home Ain't Home Anymore
If You Love Me, Let Me Know
MCA
1974
LP
0:45:55 (Pop‑up)
David Bowie
Letter To Hermione
Space Oddity (40th Anniversary Edition)
Virgin
2009
CD
Originally released in 1969.
0:48:46 (Pop‑up)
The Blue Aeroplanes
88 Out
FriendLoverPlane
Restless / Fire
1988
CD
0:51:20 (Pop‑up)
La Sera
Hold
self-titled
Hardly Art
2011
CD
0:55:14 (Pop‑up)
Gigawipf
Tainted Love
self-released
2012
MP3
A Soft Cell cover. From YouTube.
0:57:24 (Pop‑up)
Music behind DJ:
Gigawipf
Tainted Love
self-released
2012
MP3
A Soft Cell cover.
1:00:21 (Pop‑up)

Second Hand Rose live on WFMU
Recorded October 14, 2014, engineered by Mario Santana

Liang Long: vocals, guitar
Yao Lan: guitar, backing vocals
Li Ziqiang: bass, backing vocals
Sun Quan: drums
Wu Zekun: wind instruments, backing vocals
Jeroen Groenewegen-Lau: percussion

You can download this live session at the Free Music Archive!


Second Hand Rose
interview with percussionist Jeroen Groenewegen-Lau
(live on WFMU)
2014
WAV
1:09:05 (Pop‑up)
Second Hand Rose
Fairy
(live on WFMU)
2014
WAV
1:15:05 (Pop‑up)
Second Hand Rose
Jeroen describes the lyrics to "Fairy"
(live on WFMU)
2014
WAV
1:19:27 (Pop‑up)
Second Hand Rose
Allow Some Artists To Get Rich First
(live on WFMU)
2014
WAV
1:20:02 (Pop‑up)
Second Hand Rose
Jeroen describes the lyrics to "Allow Some Artists To Get Rich First"
(live on WFMU)
2014
WAV
1:24:54 (Pop‑up)
Second Hand Rose
Just Because
(live on WFMU)
2014
WAV
1:25:32 (Pop‑up)
Second Hand Rose
Jeroen describes the lyrics to "Just Because"
(live on WFMU)
2014
WAV
1:29:36 (Pop‑up)
Second Hand Rose
Picking Flowers
(live on WFMU)
2014
WAV
1:30:17 (Pop‑up)
Second Hand Rose
Jeroen describes the lyrics to "Picking Flowers"
(live on WFMU)
2014
WAV
1:35:19 (Pop‑up)
Second Hand Rose
Walking With Pizzazz
(live on WFMU)
2014
WAV
1:35:34 (Pop‑up)
Second Hand Rose
Jeroen describes the lyrics to "Walking With Pizzazz" and "Clingy"
(live on WFMU)
2014
WAV
1:39:42 (Pop‑up)
Second Hand Rose
Clingy
(live on WFMU)
2014
WAV
1:40:49 (Pop‑up)
Flavor Crystals
Mirror In My Mind
split 7" with Carsick Cars
Mpls. Ltd. / Genjing
2014
45
On dusty pink vinyl; Flavor Crystals are actually from Minneapolis, not China.
*
1:48:08 (Pop‑up)
Dear Eloise
If It's Beautiful
Castle 7"
Genjing
2011
45
*
1:52:49 (Pop‑up)
Carsick Cars
Yoko
split 7" with Flavor Crystals
Mpls. Ltd. / Genjing
2014
45
On dusty pink vinyl.
*
1:56:37 (Pop‑up)
Music behind DJ:
Gigawipf
Tainted Love
self-released
2012
MP3
A Soft Cell cover.
2:00:19 (Pop‑up)
Pere Ubu
Bus Station
Carnival Of Souls
Fire
2014
CD
*
2:13:30 (Pop‑up)
Shadowy Men On A Shadowy Planet
Spy School Graduation Theme
Sport Fishin': The Lure Of The Bait, The Luck Of The Hook
Jetpac / Cargo
1993
CD
2:17:57 (Pop‑up)
Man Or Astro-Man?
Stereo Phase Test
Experiment Zero
Touch And Go
1996
CD
2:20:30 (Pop‑up)
Man Or Astro-Man?
Television Fission
Experiment Zero
Touch And Go
1996
CD
2:21:36 (Pop‑up)
The Cramps
Queen Of Pain
Big Beat From Badsville
Epitaph
1997
CD
2:23:25 (Pop‑up)
Rod Stewart
Do Ya Think I'm Sexy? (backward)
Greatest Hits
Warner Bros.
1979
LP
2:27:14 (Pop‑up)
Music behind DJ:
Gigawipf
Tainted Love
self-released
2012
MP3
A Soft Cell cover.
2:32:43 (Pop‑up)
Michael Hurley
The Werewolf
Armchair Boogie
Warner Bros.
1971
MP3
***
2:35:19 (Pop‑up)
Cat Power
Werewolf
You Are Free
Matador
2003
MP3
A Michael Hurley cover.
***
2:39:51 (Pop‑up)
Francoiz Breut
Werewolf
La Chirurgie Des Sentiments
Caramel Beurre Salé
2012
MP3
A Michael Hurley cover.
***
2:43:57 (Pop‑up)
Jandek
Down And Out
Houston Saturday 2011
Corwood Industries
2014
CD
Recorded live at Menil Collection in Houston, Texas on December 17, 2011.
*
2:47:47 (Pop‑up)
Jonatha Brooke
Shame On Us
10 Cent Wings
MCA
1997
CD
2:51:33 (Pop‑up)
Music behind DJ:
Gigawipf
Tainted Love
self-released
2012
MP3
A Soft Cell cover.
2:56:35 (Pop‑up)