Ken

| Freeform radio for the chronically impatient. Avant-garde pop, poppy avant-garde, teutonic thump thump, loud guitars and guttural screaming. Playlists and photos posted in real time on the web so you can play along or comment at home or work.
Wednesday 9am - Noon (

EST

) | On WFMU | 91.1, 90.1, 91.9 FM & wfmu.org
---
---
Playlist for 05 March 2014

|
Marathon 2014 with Ken and Dave Hill. Please Pledge!
Hear the show in:

Pop-up player! | Add or read comments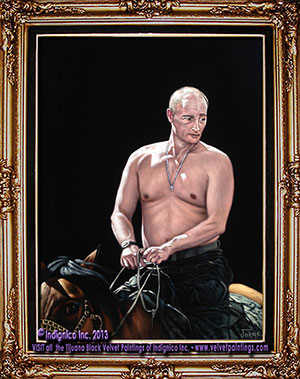 The 2nd Prize for today's marathon show: "Shirtless Despot with Horse" by Jorge. Everybody pledging $1 a day or more is in the running to win it. Drawing at 11:58am today. Top prize: another year of WFMU and you do NOT get the painting.
Artist
Song
Album
Images
Approx. start time
Tuxedomoon
No Tears
Desire
0:00:00 (Pop-up)
The Flying Lizards
Hands 2 Take
Fourth Wall
0:07:48 (Pop-up)
The Velvet Underdog
Temptation Inside of Your Anal Sac
0:23:21 (Pop-up)
Tonetta
What Are You Worth?
0:25:32 (Pop-up)
Brigitte Fontaine
Le Magnum
0:30:39 (Pop-up)
Flipper
Ha Ha Ha
Sex Bomb Baby
0:41:42 (Pop-up)
Swell Maps
Let's Build a Car
0:45:05 (Pop-up)
The Guide Dog Glee Club
Adogio
1:07:48 (Pop-up)
New Radicals
You Get What You Give
1:11:54 (Pop-up)
Superchunk
Driveway to Driveway
1:22:22 (Pop-up)
Neil Young
I've Been Waiting For You
1:26:54 (Pop-up)
Dengue Fever
Both Sides Now
City of Ghosts (OST)
1:42:37 (Pop-up)
Boogarins
Luciferandis
As Plantas Que Curam
1:46:57 (Pop-up)
Nathan Michel
A to B
1:50:11 (Pop-up)
American Standard Corporation
My Bathroom Is a Private Kind of Place
2:06:17 (Pop-up)
Saor Patrol
Men O'Galloway
2:10:54 (Pop-up)
Szeki Kurva
Beermonsters Are Go!
2:14:41 (Pop-up)
Honeymoon Killers
Ariane
2:31:21 (Pop-up)
Boom Bip
Zig Zaj
2:35:43 (Pop-up)
<-- previous playlist
|
ken's other playlists
|
next playlist -->
RSS feeds for Ken's show:

Playlists feed |

MP3 archives feed
E-mail Ken
|
All artists played by ken
|
WFMU home page
|
WFMU playlists
|
hear WFMU live on the Web
|
top of page
Generated by
KenzoDB
, written by
Ken Garson