Transpacific Sound Paradise


Saturday, October 8, 2011


Canzoniere Grecanico Salentino

Hear this show now:

Pop‑up player! | Add or read comments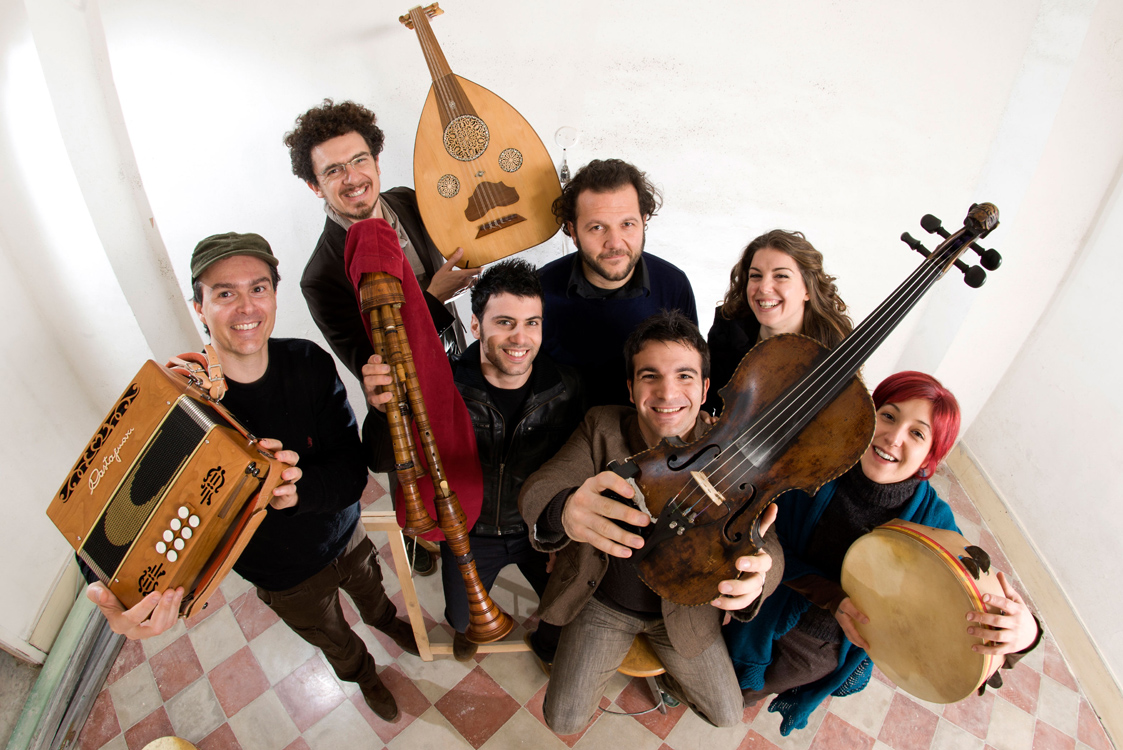 Canzoniere Grecanico Salentino from Salento in Puglia, southern Italy, specializes in playing the driving rhythms of the pizzica dance and other ancient rhythms on traditional instruments. The pizzica is the local variant of the legendary mystical spider-trance-dance, the tarantella.

Southern Italy has long had a lively traditional music scene teeming with compelling ensembles. Canzoniere Grecanico Salentino is the centerpiece of Salento's traditional music revival. Founded in 1975 at the urging of writer Rina Durante, it was the first traditional revival band in Salento. Durante was a major advocate for reviving, preserving and promoting the region's traditions, culture and language. She was the catalyst for a cultural revival, with the band at the center.

Yet in all its years (and with 16 albums to its name), Canzoniere Grecanico Salentino, like most of the Southern Italian roots bands, never made it to North America. Until now. Canzoniere Grecanico Salentino is having its own revival, with leadership handed down from father Daniele Durante to son Mauro, and a new wave of younger musicians playing and singing traditional tunes and originals rooted in tradition. And the band recently completed its first North American tour.

It's a very rare treat to have this superb group live in studio to play and sing - in the dialects of Salentino and the rarer Grecanico - and introduce us to the deep musical, cultural and linguistic roots of the region.

Thanks to Davey Jewell and Juan Aboites for assisting with the session!


This Week's Playlist:
(* = new)
Les Triaboliques: I Have Been Corrupted

/ Rivermudtwilight / World Village (0:00:00 Pop‑up)
Psarantonis and Ensemble: Petres Peto Tou Fengariou

/ Son of Psioritis / World Network (0:09:34 Pop‑up)
Dikanda: Me Minise I Gapi Mou

/ Ajotoro / Jaro (0:12:33 Pop‑up)
Iron and Wine: Free Untill They Cut Me Down

/ Our Endless Numbered Days / Sub Pop (0:17:40 Pop‑up)
Sidi Toure: Djarii Ber

/ Sahel Folk / Thrill Jockey (0:21:44 Pop‑up)
Bobby Benson: Taxi Driver

/ Various Artists: Highlife Time Vol. 2: Nigerian & Ghanian Sounds From The Golden Years / Vampisoul (0:31:55 Pop‑up)
Aurelio Martinez: Yurumei

/ Laru Beya / Sub Pop (0:33:46 Pop‑up)
Nation Beat: Bicu de Lambu

/ Growing Stone / Barbes / * (0:38:16 Pop‑up)
Buckwheat Zydeco: Time Goes By

/ Lay Your Burden Down (0:41:52 Pop‑up)
Youngblood Brass Band: Sunroof Jooky

/ Better Recognize (0:48:55 Pop‑up)
When this was recorded in 1997, the band was known as One Lard Biskit Brass Band.
Canzoniere Grecanico Salentino Live on WFMU: Domenica Matina

(1:00:22 Pop‑up)
Canzoniere Grecanico Salentino Live on WFMU: Questa Matina + Indiavolata

(1:12:39 Pop‑up)
Canzoniere Grecanico Salentino Live on WFMU: Nenia Grika

(1:28:35 Pop‑up)
Canzoniere Grecanico Salentino Live on WFMU: Tira Cavallu + Focu d'Amore

(1:35:03 Pop‑up)
Two original songs from the forthcoming cd - which will be the 17th album since the original formation of Canzoniere Grecanico Salentino in 1975.
Canzoniere Grecanico Salentino Live on WFMU: Beddhu Stanotte

(1:48:21 Pop‑up)
Village Kollektiv: Topola

/ Subvillage Sound / Opensources (1:54:38 Pop‑up)
Masala: The Bygone World

/ Various Artists: Dub Out of Poland 3 / Opensources (1:58:38 Pop‑up)
Jah Wobble: Visions of You

/ Rising Above Bedlam / Oval (2:03:43 Pop‑up)
Vocals: Sinead O'Connor
Pernett: Son de Son

/ El Mago / Discosoye (2:08:37 Pop‑up)
Devang Patel: Bamboo No. 5

/ Patel Scope / Times Music (2:15:21 Pop‑up)
Illaiyaraaja: Yennadi Meenakshi

/ Maestro Ilaiyaraaja and the Electronic Pop Sound of Kollywood 1977-1983 Vol. 1 / Finders Keepers / * (2:18:07 Pop‑up)
Kishore Kumar, Asha Bhosle & Chorus: Taxi-Kal Raat Sadak Pe Ek Ladki

/ Various Artists: Chhailla Babu (Bollywood Soundtrack) / Saregama (2:23:34 Pop‑up)
Music by Laxmikant Pyarelal (Laxmikant Shantaram Kudalkar & Pyarelal Ramprasad Sharma) / Lyrics by Anand Bakshi / Chhailla Babu means "Cool Guy"
Takeshi Terauchi & Bunnys: Kokkyo No Machi (Border Town)

/ Various Artists: Guitar Moods 2 / INST / * (2:28:38 Pop‑up)
Orquesta Aragon: Guasabeando el Rock and Roll

/ En Route / World Village (2:41:06 Pop‑up)
Los Zafiros: Un Nombre de Mujer

/ Los Zafiros Story / Ahi-Nama (2:44:28 Pop‑up)
Creole Choir of Cuba: Dulce Embelezo

/ Tande-La / Real World / * (2:46:03 Pop‑up)
Creole Choir of Cuba: Chen Nan Ren

/ Tande-La / Real World / * (2:48:31 Pop‑up)