Transpacific Sound Paradise


Saturday, July 16, 2011


Things We Did On Our Summer Holiday:
Beautiful Western Norway's Førde Festival

Hear this show now: | Add or read comments


Rob and frequent fellow traveler Tom Pryor of Nat Geo World Music plus special guest Katie Gentile report back on Norway's International Førde Folk Music Festival.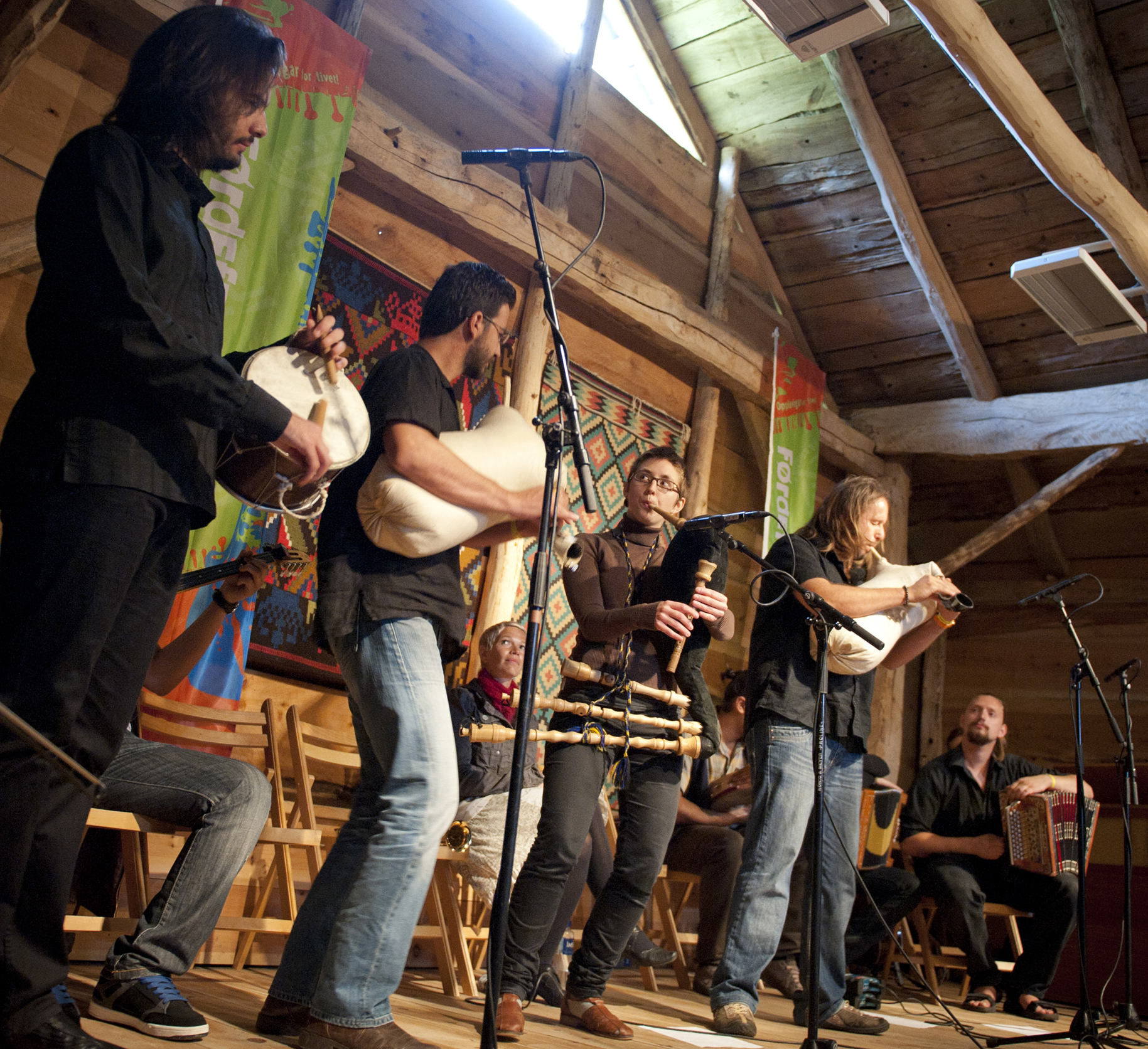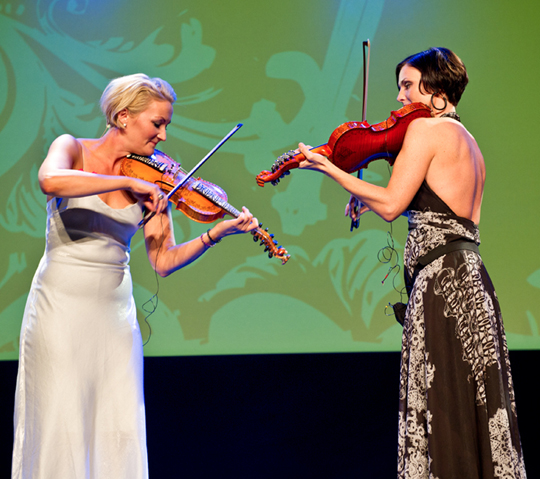 The Festival, held in the small Western Norway town of Førde, took place from July 7-10 this year (and will be held July 5-8 2012). It spotlights Norway and Scandinavia's vibrant traditional music scenes - always featuring some of Norway's finest hardanger fiddlers - and also features an array of visiting global artists programmed around a different theme each year. This year's international theme was "women's world" with stellar artists like Esma, Oumou Sangare and the Mahotella Queens among the luminaries who traveled to this beautiful land of fjords, glaciers and snow capped peaks.

Tom, Rob and Katie (offering a fiddlers' perspective) share highlights from the experience including excerpts from Rob's field recordings from the festival. And we hear cd tracks by favorite festival performers.

Related links:

Førde Festival - see images and info from this year's festival. The next edition of the festival is July 5-8, 2012. http://fordefestival.no/

Folkelarm - Oslo's big annual folk festival, focused specifically on the traditional and new/traditional scenes in Scandinavia (next edition Sept. 29 to Oct. 1, 2011): http://www.folkelarm.no/

Folkemusikk.no - Norway's essential folk / trad music info site: http://www.folkemusikk.no/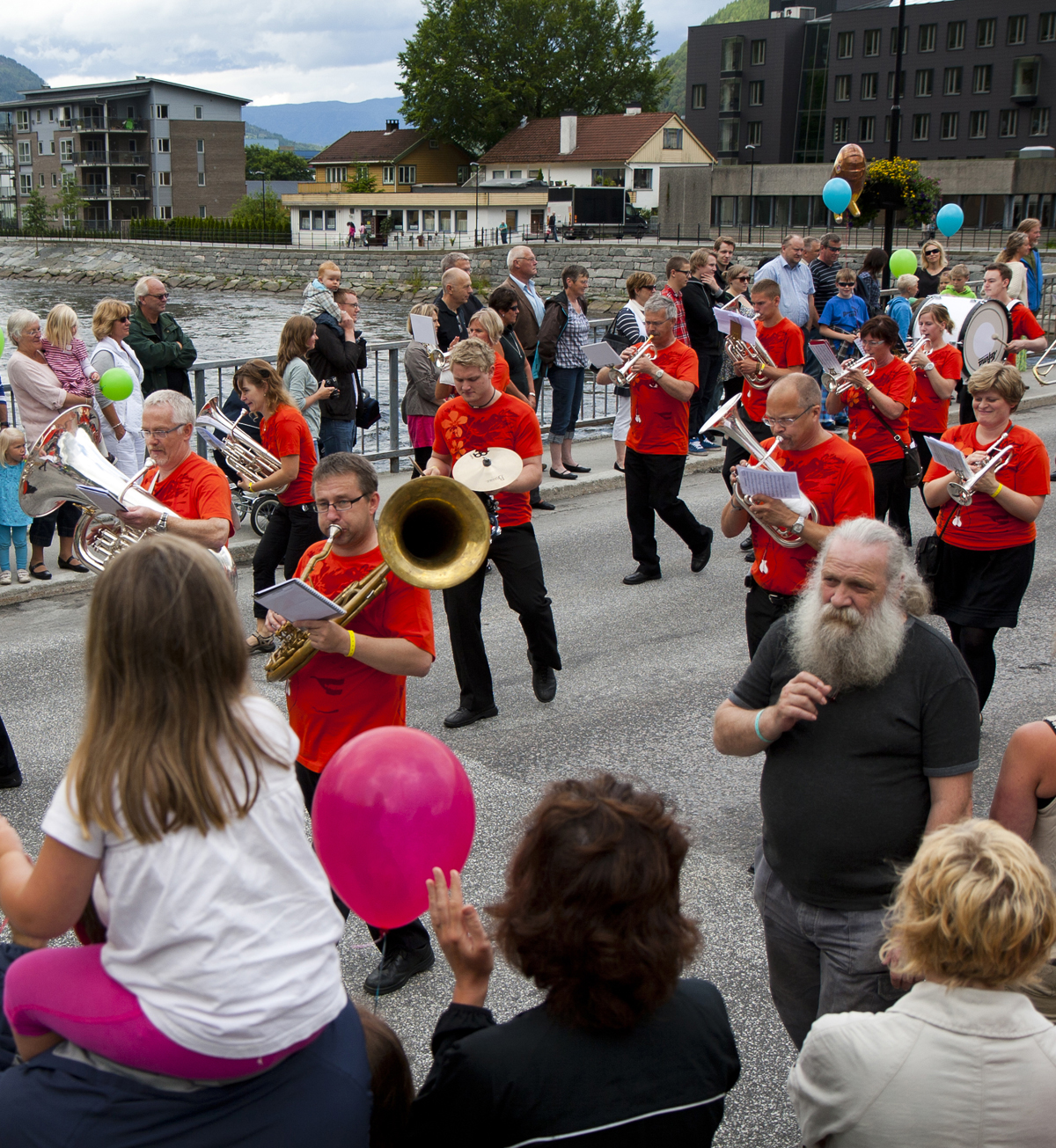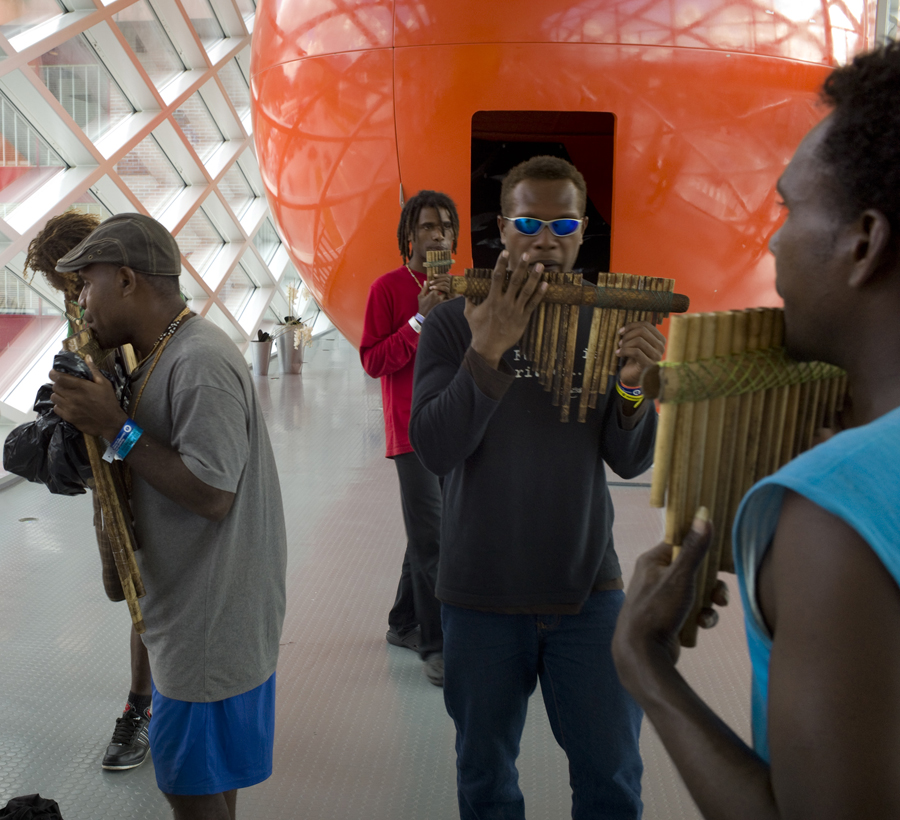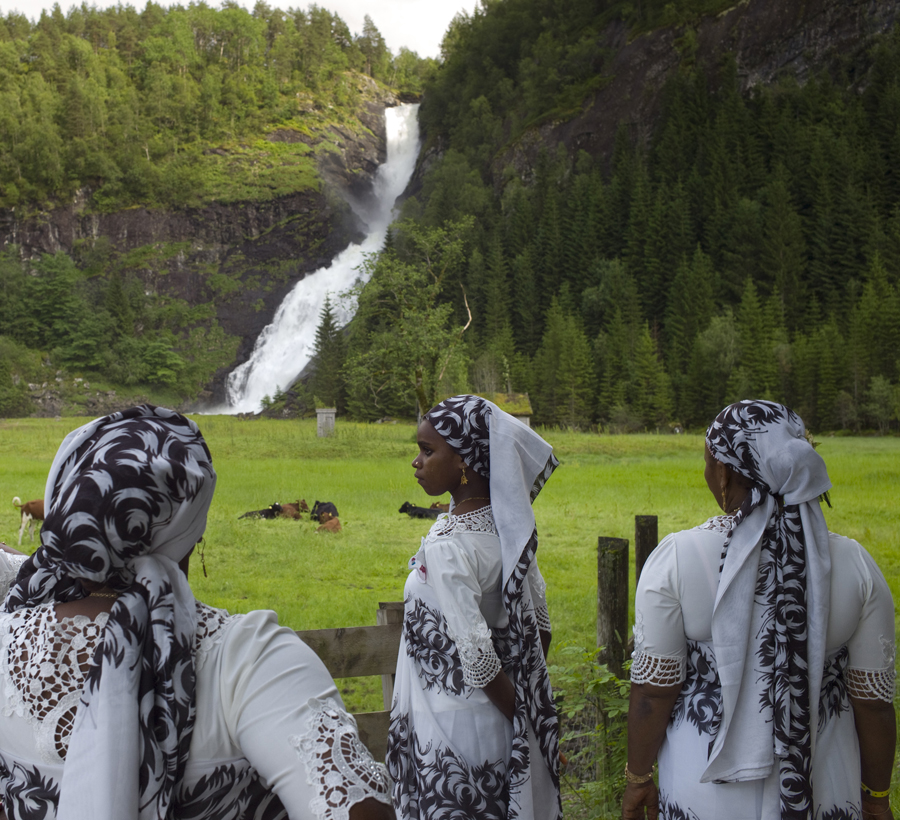 Photos: Top row: European folk music rookies of the year jam during "Talent 2011" event at Jølster Museum by Arve Ullebo; Jorun Marie Kvernberg gets it done hardanger style at Kviknes Hotel (Kaiser Wilhelm's famous chair partly visible in foreground), by Rob Weisberg; Fiddle Duo Spindel at opening night extravaganza by Geir Birkeland; Devil's Hardanger from Jølster Museum by Rob Weisberg. Second row: Norwegian Second Line (Spelemannslaget cross the bridge during the Førde Festival Parade) by Heidi Hattestein, Solomon Island group Narasirato jamming in the mall and Mayotte's Deba on the nature trail by Oddleiv Apneseth.




Yes folks, it's a real live (Norwegian) glacier. Enjoy it while it lasts.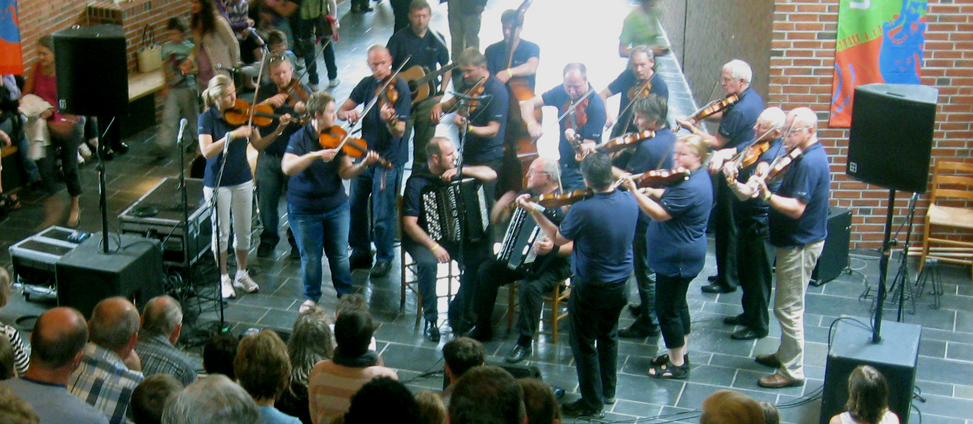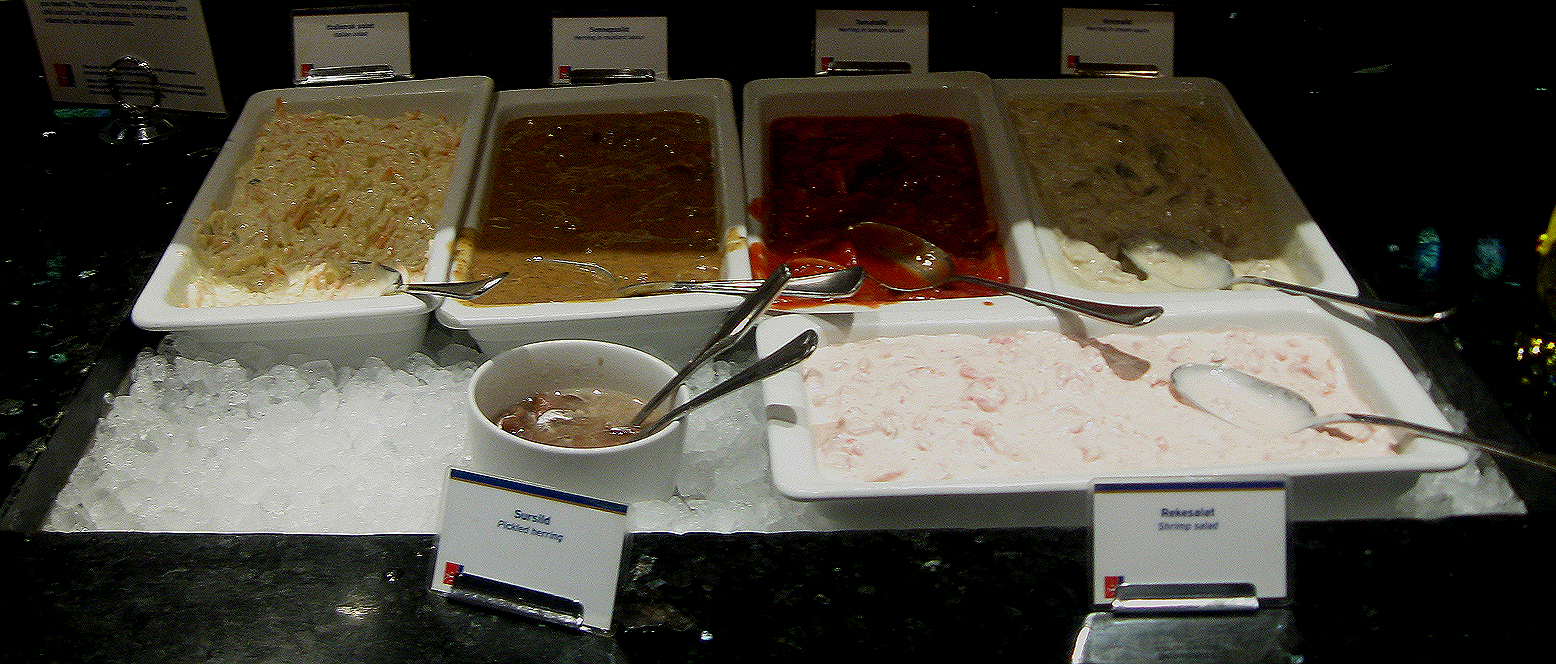 Two other things very common in Norway (and at the festival): A spelemannslag - a big aggregation
of musicians, especially fiddles - and herring, in all the colors of the rainbow
(Your DJ is suffering from an advanced case of herring withdrawal!).


This Week's Playlist:
(* = new)
Mahotella Queens: Jive Motella

/ Best Of
Knut Reiersrud & Juldeh Camara: Baby Please Don't Go - Tobakobe

/ Trampin' / Shanachie
Jorun Marie Kvernberg: Comparison of Springar styles

/ Recorded at the Kviknes Hotel, Balestrand, Norway, July 2011
Seagulls in the background
Toomas Oks, Katariin Raska & Eeva Lindal (Estonia): Excerpts from Talent 2011 Performance at Forde Festival

/ Field Recording at Førde Festival - Jølster Museum
Mis-ID'ed the venue as Sonnfjord Museum during the program and in earlier iterations of this playlist
Hazelius Hedin: Adjö Farväl

/ Om Du Ville Manniska Heta / Ais
Lelo Nika: Cintec de Ascultare

/ Continuity / A Records / * (0:56:10 )
Esma: Caje Sukarije

/ Songs of a Macedonian Gypsy / Monitor (1:00:33 )
Violons Barbares: Barbar Rock

/ Violons Barbares / * (1:16:13 )
Narasirato: Pan Pipe Medley

(1:19:07 )
Salem Tradition: Wadam

/ Krié / Cobalt (1:22:39 )
Deba: Singing in Dining Room, Rica Hotel, Førde

/ Field Recording (1:25:13 )
Anne Hytta: Floketjonn

/ Bjorset-Teigland-Hytta - Soli / * (1:31:34 )
Synnove Bjorset: Gralysingspringar

/ Bjorset-Teigland-Hytta - Soli / * (1:46:11 )
Sigrid Moldestad: Frostroyk

/ Sandkorn / Heilo / * (1:49:01 )
Spindel: Du Och Jag Alfred

/ Aminje / Heilo (1:51:52 )
Julie Fowlis: Hug Air A' Bhonaid Mhoir

/ Cuilidh / Spit & Polish (1:54:12 )
Sung in Scots Gaelic - Mouth Music Style
Susanna Baca: Reina de Africa

/ Afrodiaspora / Luaka Bop (2:03:48 )
Joan Soriano: Maria Elena

/ El Duque de la Bachata / IASO (2:07:27 )
Oumou Sangare: Yala

/ Oumou / World Circuit (2:19:15 )
Brass Band of Forde Festival: Marching to the Festival Parade

/ Field Recording in Førde, Norway (2:22:45 )
Houria Aïchi & l'Hijâz Car: La Jument Grise

/ Cavalliers De L'aures (2:27:04 )
Gjermund Larsen Trio: Brudemarsj

/ Hurum / Heilo (2:31:31 )
Sinikka Langeland: Treet Som Vekser Opp-Ned

/ Starflowers / ECM (2:33:55 )
Elisabeth Holmertz, Anders Roine, Harald Skullerud, Elisabeth Vatn: Aquas Plenas Amaritudine Verses 9-16

/ Martyred Saints and Sister Bells / Heilo / * (2:40:35 )
Kirsten Braten Berg: Eg Gjere Meg Off Til Seterli

/ Songen / Heilo / * (2:44:29 )