Transpacific Sound Paradise


Saturday, November 28, 2009


Cyminology

Hear this show now: | Add or read comments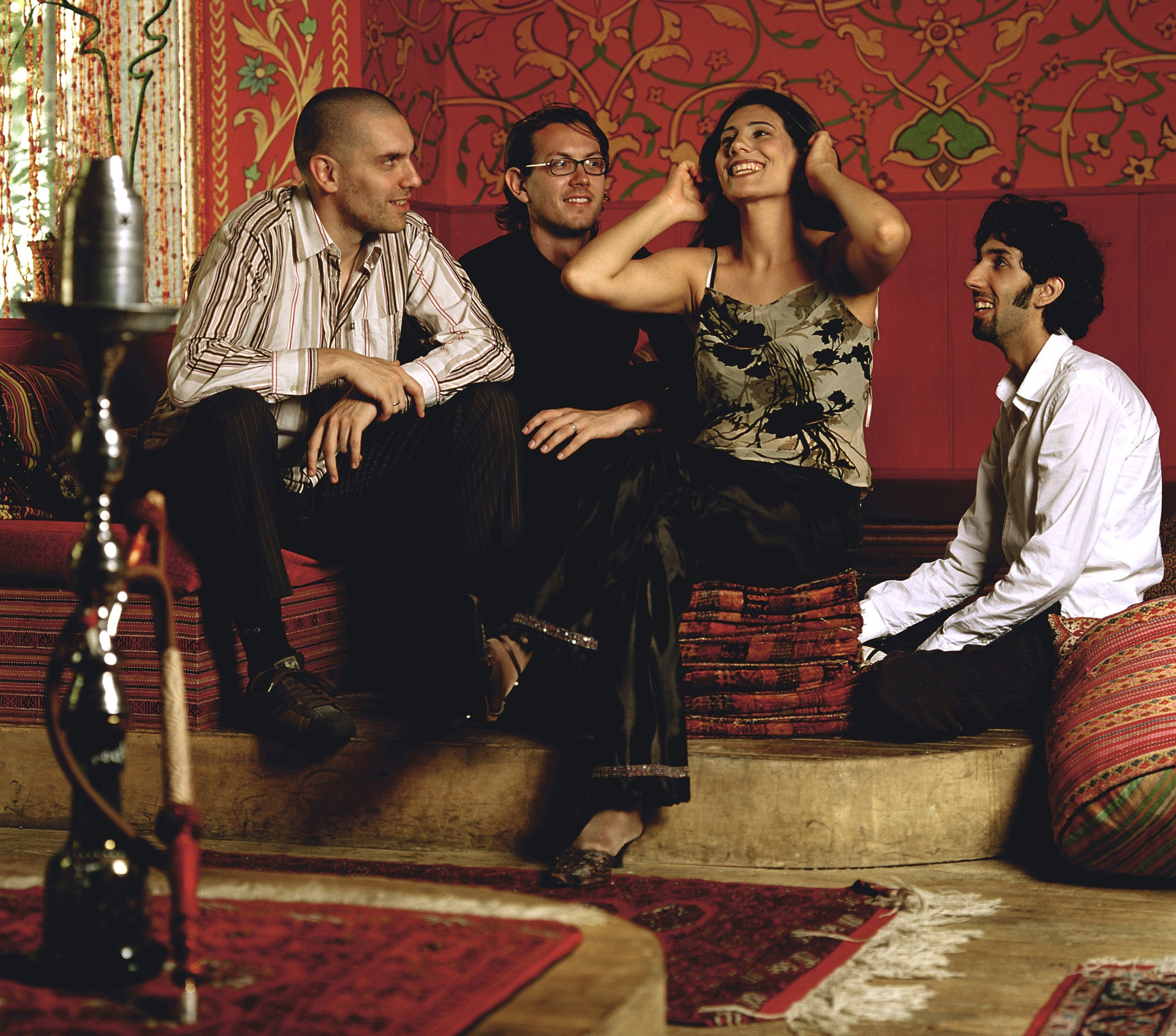 Cyminology. Photo c/o Unterfahrt Jazz Club, Munich.

A live session and interview with Cyminology, the excellent Berlin-based multi-cultural ensemble led by Iranian-rooted singer Cymin Samawatie. Cymin's fluid combination of refined Persian poetry with jazz/improv-oriented arrangements impressed ECM records honcho Manfred Eicher - who signed them up to his influential Munich label for the group's third CD, "As Ney," released earlier this year.

Cyminology's first two cds were released by the fine Cologne, Germany jazz / improv label Double Moon (not to be confused with the equally admirable Turkish label of similar name).

Special thanks to our illustrious engineer, Jeff Hylton Simmons.


This Week's Playlist:
(* = new)
Os Haxixins: E Se As Pedras Cairem

/ Os Haxixins / Get Hip / *
New anthology
Gogol Bordello: Ultimate

/ Live From Axis Mundi / Side One Dummy / *
BBC Session
17 Hippies: Arcanul

/ El Dorado / Hipster / *
Beyond the Pale: An Old Legend

/ Post Cards / Borealis
Cedric Watson: J'ai Été Tout Autour Du Pays

/ Cedric Watson / Valcour
Calypso Rose: Voodo Lay Loo

/ Calypso Rose / Ethnic
Choc Quib Town: El Bombo

/ Oro / Peer Music
Bomba Estéreo: Pa Ti

/ Blow Up / Nacional
Alika y Nueva Alianza: Para Bailar Cumbia (El Hijo de La Cumbia Remix)

/ Various Artists: Nueva Cumbia Argentina / Soot / *
Princesa: La Misma Moneda (Chancha via Circuito mix)

/ Various Artists: Nueva Cumbia Argentina / Soot / *
Totó La Momposina: Manita Uribe

/ La Bodega / Astar Artes Recordings / *
Blanquito Man, Control Machete, Celso Pina: Cumbia Sobre el Rio

/ Various Artists: Babel - Music From And Inspired By The Motion Picture / Concord
Colombia Africa, The Mystic Orchestra: Zarandia Champeta

/ Voodoo Love Inna Champeta Land / Riverboat
Lata Mangeshkar: Sayonara

/ The Golden Collection Volume 3 / Saregama / RPG
Originally from the film Love in Tokyo
Cyminology: Por Se Ssedã

/ Live on WFMU
Cyminology: As Ney

/ Live on WFMU
Cyminology: Porr Kon

/ Live on WFMU
Cyminology: Nachofteam

/ Live on WFMU
Cyminology: Delbasstegi

/ Live on WFMU
Pharaoh's Daughter: By Way of Haran

/ Haran / Oy!Hoo Records
Yair Dalal: Ya Aziz Al' Roah-Pasta

/ Asmar / Magda
Uğur Işık: Zikr

/ Cello Invocations / Kalan
Selda Bağcan: Anayasso

/ Turkulerimiz-1 / Major / *
New reissue
Volkan Konak: Bu Gaybana Sevdaluk

/ Mora / DMC
Robert Soko: Eva Me Narode

/ Balkan Beats - a Night in Berlin / Piranha / *
Boban i Marko Markovic: Kazi Baba

/ Devla / Piranha / *
Mahal Rai Banda: Balkan Reggae

/ Ghetto Blasters / Asphalt Tango / *
Lee Perry: People Funny Boy

/ Some Of The Best / Hearbeat
Los Silvertones: Up Tight

/ Panama! 3 / Sound Way / *
Lebron Brothers: Mi Morena

/ 4♪ + 1♪ = / Cotique