Transpacific Sound Paradise


Saturday, July 4, 2009


Is America Part of the World? Festival Preview + Michael Jackson vs. the World

Hear this show now: | Add or read comments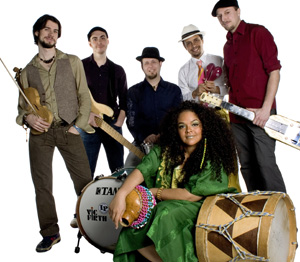 Nation Beat

Nation Beat, the rousing New York band inspired by the music of Northeast Brazil but also with New Orleans, Appalachia, rock, funk, even klezmer in the mix, recently found itself effectively censored at a "world music" festival: the band was told that it could only perform its Portuguese-language songs, not the English ones. This inspired Nation Beat to take control of the musical agenda and create a platform to question the informed wisdom about "world music" - by starting its own festival.

The all-day event, "Is America Part of the World?" takes place Saturday July 11, 2-9 pm at the Bklyn Yard, 388-400 near the Gowanus Canal in Carroll Gardens, Brooklyn. Nation Beat will be joined on the bill by Red Baraat Festival, Forro in the Dark and DJ Nickodemus. On today's show Nation Beat's leader Scott Kettner stops by to do a little rabble-rousing - as well as spinning selections by festival artists and also some Northeast Brazilian and Cajun faves.

Plus a short preview of another Gowanus Canal-area event, Sunday night's (July 5) WFMU-partnered cumbia smackdown at The Bell House, 149 7th St. in Brooklyn, featuring LA's Very Be Careful, New York's Chicha Libre and yours truly Rob Weisberg spinning wall-to-wall cumbia starting at 8 pm. Details, samples, links at: http://tinyurl.com/wfmu-bell-house-cumbia-night.


This Week's Playlist:
(* = new)
Nation Beat: Sobe A Poeira

/ Legends of the Preacher / Modiba
Jackson Do Pandeiro: Cabeca Feita

/ Novo Millennium / Universal
Luis Gonzaga: Vem Morena

/ Succesos Com Zedantas / BMG
Dominguinhos: Isso Aqui Ta Bom Demais

/ Milleunium / Mercury
Gerard Jr and the Zydeco Combo: That Zydecombo

/ Standing on Solid Ground / G & W Records
Don Montoucet: Allons a Lafayette

/ Don Montoucet et ses Amis
Maciel Salu: Naquela Serra

/ Na Luz de Carbureto
Mestre Ambrosio: Pe De Calcada

/ Fua Na Casa de Cabral / Sony
Lost Bayou Ramblers: Pilette Breakdown

/ Pilette Breakdown / Swallow
Feufollet: Friends Courage

/ Cow Island Hop / Valcour
Nickodemus: Gira Do Sol

/ Sun People / Eighteenth Street / *
Featuring members of Nation Beat
Forro in the Dark: Forrowest

/ Bonfires of Sao Joao / NuBlu
Red Baraat Festival: Chaal Baby

/ Unreleased
Nation Beat: Nago Nago

/ Legends of the Preacher / Modiba
Lisandro Mesa: Cumbia de los Locos

/ Various Artists: Planet Squeezebox / Luaka Bop
Gael Garcia Bernal: Quiero Que Me Quieras

/ Rudo y Cursi Soundtrack / Nacional / *
Zonora Point: Huachita Rica (Douster Remix)

/ Various Artists: ZZK Sound Volume 2 / Nacional / *
Chicha Libre: Mi Plato de Barro

/ Sonido Amazonico / Barbes
Very Be Careful: El Camionero

/ Nacas / Downtown Pijao
Curumin: Caixa Preta

/ JapanPopShow / Quannum Projects
Los Amigos Invisibles: Mentiras

/ Commercial / Nacional / *
Usha Uthup: Chhupke Kaun Aya

/ 24 Karats
Thanks to DJ Jesse of WMBR's The Intercontinental (http://www.jessekaminsky.com/intercontinental)
for pointing me to this and several other MJ covers.
S. P. Balasubramaniam: Golimar

/ Donga (Telegu Film Soundtrack)
(Thriller) - see the video: http://www.youtube.com/watch?v=LbvP7dT3Dx0

Senor Coconut: Beat It

/ Fiesta Songs / Emperor Norton
Los Mirlos: Thriller

/ Cumbia Thriller / Okeh
Derrick Laro and Trinity: Don't Stop 'Til You Get Enough

/ Various Artists: Hustle! / Soul Jazz
Watcha Clan: Diaspora Dub + Eli (Remixes)

/ Diaspora Remixed / Piranha / *
Samba Mapangala & Orchestre Virunga: Malako

/ African Classics / Sheer
Occidental Brothers Dance Band International: Circle Circle Circle

/ Odo Sanbra