Transpacific Sound Paradise


Saturday, January 31, 2009


Bea Palya and friends

Hear this show now: | Add or read comments


Hungary has a vibrant scene of musicians who use traditional music as the springboard for their own original contemporary music. Singer Bea Palya is one of the brightest new stars on this neo-traditional scene, interpreting traditional songs - and sometimes poetry - and writing original songs; merging Hungarian roots with Roma music, jazz, rock and global influences.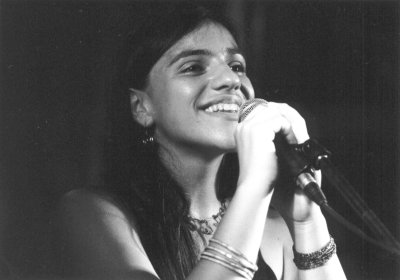 Bea Palya. Photo: Róbert Révész.

Fresh from their triumphant NYC debut at Carnegie Hall's Zankel Hall on Friday January 30 (part of the year-long Extremely Hungary festival), Palya, percussionist András Dés and woodwind player Balázs Szokolay Dongó join Rob for some informal performance and to talk about the music and what's happening in Hungary.

Style note: The Hungarian custom when writing full proper names is to write the family name first - that is, "Palya Bea" rather than Bea Palya. However on this page we have ordered all Hungarian names in the American style, with family name last. What can I say, I guess I'm a bit provincial after all...

Special thanks to Ágnes Gál of Juventus Productions, Budapest and to Terre T for hospitality assistance!


This Week's Playlist:
(* = new)
Rudresh Mahanthappa: Convergence

/ Kinsmen / Pi Recordings / *
Bea Palya: Hoppa

/ Adieu Les Complexes / Naive
Bea Palya: Hold

/ Adieu Les Complexes / Naive
Bea Palya:
Live at WFMU, with András Dés and Balázs Szokolay Dongó.
Bea Palya: Venus es Mars

/ Weores Sandor: Psyche / Gryllus
Musical settings of the poems of the great Hungarian poet Sandor Weores (1913-1989).
Rokia Traore: Koronoko

/ Tchamantche / Nonesuch / *
Rokia Traore: Dounia

/ Tchamantche / Nonesuch / *
Terakaft: Arghane Manine

/ Akh Issudar / World Village / *
Justin Adams and Juldeh Camara: Ngamen

/ Soul Science / World Village
Dry Branch Fire Squad: (You Better Pray to the Lord) When You See Those Flying Saucers

/ Echoes of the Mountains / Rounder / *
Charlie Louvin: Wreck of the Old 97

/ Sings Murder Ballads and Disaster Songs / Tompkins Square / *
Sky Steele Quintet: Monkey See

/ Late Bloomer / *
Jonathan Richman: El Joven Se Estremece

/ A Que Venimos Sino A Caer / Munster / *
Amanaz: Making the Scene

/ Africa
Baris Manco: Derule

/ Dunden Bugune / *
New Reissue (gray market?)
Uncredited: Track 3

/ Various Artists: Khmer Rocks #40 / khmerrocks.com / *
Kishore Kumar: Saas Bhi Kabhi Bahu Thi

/ Various Artists: Bombay Connection Volume 2 / Normal
Music by R. D. Burman
Burnt Sugar: Making Love to the Dark Ages

/ Making Love to the Dark Ages / Live Wired / *
Kasbah Rockers: Bledstyle

/ Kasbah Rockers / Barbarity / *
Thierry Robin: Bichu Rap Remix

/ Alezane
Watcha Clan: Balkan Qoulou

/ Diaspora Hi-Fi / Piranha
Amsterdam Klezmer Band: Zlabya

/ Zaraza / Essay Recordings / *
Metropolitan Klezmer: Uskudar Taxim / Terk in Amerike

/ Traveling Show / RMR
Beirut: The Shrew

/ March of the Zapotec / Pompeii / *
Madera Limpia: La Lenta

/ La Corona / Out Here / *