Transpacific Sound Paradise


Saturday, January 3, 2009


La Troba Kung-Fu

Hear this show now: | Add or read comments


Live Session: From the Catalan region of Spain, Barcelona / La Gallega's La Troba Kung-Fu: Fantastic accordion-driven offspring of the legendary Dusminguet uses the distinctive rumba Catalan as the "surfboard" for their genre-leaping mirth-making.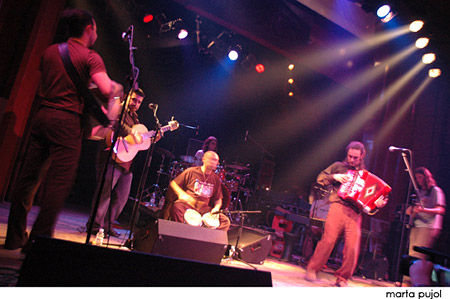 La Troba Kung Fu is among the featured artists at Globalfest, the annual world music mega showcase at Webster Hall, this year on Sunday night January 11. Globalfest is presented in conjunction with APAP, the annual Arts Presenters Conference.


This Week's Playlist:
(* = new)
Terakaft: Islegh Teghram

/ Akh Issudar / World Village / *
Tidawt: Tilladene

/ Tidawt / Tantrum
Pre-release EP
Group Inerane: Telelite

/ Guitars from Agadez / Sublime Frequencies
Nass el Ghiwane: Ah Ya Ouine Aouine

/ Essiniya / Edition Hassania
?: Youbala / Various Artists: Festival d'Essaouira Gnaoua 2002
Femi Kuti: Demo Crazy

/ Day By Day / Mercer Street / *
Genticorum: Le Pommeau

/ La Bibournoise / Roues et Archets / *
17 Hippies: The Moving Song

/ Heimlich / Hipster Records
Fula Flute: Salya

/ Mansa America / Completelly Nuts / *
La Troba Kung-Fu: Endevinalla

/ Clavell Morenet / K-Industria
La Troba Kung-Fu: Cumbia Infierno


Live at WFMU
La Troba Kung-Fu: La Canco del Lladre


Live at WFMU
La Troba Kung-Fu: Volant


Live at WFMU
La Troba Kung-Fu: Calor Calor


Live at WFMU
La Troba Kung-Fu: Rock Rumberu


Live at WFMU
La Troba Kung-Fu: Shame Blues

/ Clavell Morenet / K-Industria
Dusminguet: Decimero

/ Postrof / Virgin
Earlier band with Joan Garriga and Maria Roch of La Troba Kung-Fu
Peret: Borriquito

/ Grandes Exitos / Ariola
Frank London's Klezmer Brass All-Stars: Pantagruel, Shiker Hindert Prozent

/ Carnival Conspiracy / Piranha
Baby Loves Salsa: Meow, Hou-Hou

/ Salsa Para Gatitos y Perritos / Baby Loves Music
Featuring Jose Conde
Grupo Fantasma: Cumbia de los Pajaritos

/ Sonidos Gold / Aire Sol
Dengue Fever: 1,000 Tears of a Tarantula

/ Escape From Dragon House / M80
Orchestre Poly-Rythmo de Cotonou: Mi Ni Non Kpo

/ Volume One / Analog Africa / *
New anthology
Mamadou Diabate: Diyabarana

/ Douga Mansa / World Village / *
Zikrayat: Imta Hataaraf

/ Live at Lotus / Zikrayat Music