Zzzzzzero Hour with Bill Mac: Playlist from August 9, 2008
Lullabies and reveilles. Something for the late nighters and early risers.
<-- Previous playlist | Back to Zzzzzzero Hour with Bill Mac playlists | Next playlist -->
---

August 9, 2008: Radio Greatz Weekend Wow!!!

Listen to this show:

Pop‑up player! | Add or read comments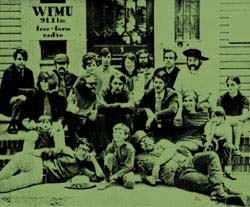 The WFMU Staff in 1969


We unlock the FMU archive vault and take a trip back to August 29, 1969 and re-air a portion of Kevin Taylor and Danny Fields' farewell broadcasts before the infamous staff walkout. Ken Freedman sets the stage ...
"There was growing tension between FMU and Upsala College from September 1968 to August 1969 due to the college's correct perception that their sleepy little radio station had been taken over during summer 1968 by freaks and weirdos. Throughout academic year 1968-1969, tensions grew and during the summer of 1969, the staff was burned out and realized that the jig would be up with the new school year in Sept 1969. The school was going to reassert control. Also, the staff felt that the Woodstock Festival was the ultimate sellout of the counterculture. So, as John Lennon sang a few months later, they felt that "The Dream Was Over." So the staff all walked out en masse in August 1969."
Artist
Track
Album
Label
Approx. start time
Cardew/Scratch Orchestra
Paragraph 2
The Great Learning
Deutsche Grammofon
0:00:00 (Pop‑up)
Sun Ra
Walking on the Moon
My Brother the Wind
Evidence
0:21:10 (Pop‑up)
King Crimson
21st Century Schizoid Man
Epitaph
DGM
0:35:00 (Pop‑up)
Family
The Weavers Answer
BBC Radio Vol. 1
BBC
0:41:41 (Pop‑up)
Deep Purple
Shades
Purple Passages
Warner Bros
0:47:10 (Pop‑up)
Groundhogs
Daze of the Weak
Blues Obituary
Akarma
0:52:31 (Pop‑up)
Music behind DJ:

Lawrence Welk Hits
0:58:00 (Pop‑up)
Kevin Taylor
Last Night on the Air 8-29-1969
1:05:04 (Pop‑up)
David Peel and the Lower East Side
Mother Where is My Father
.... and the Rest is History
Rhino
2:07:26 (Pop‑up)
MC5
I Can Only Give you Everthing
The Big Bang
Rhino
2:09:39 (Pop‑up)
Stooges
1969
Stooges
Elektra
2:12:23 (Pop‑up)
Kevin Taylor
Last Night on the Air 8-29-1969
2:17:43 (Pop‑up)
Rolling Stones
Midnight Rambler
Let It Bleed
ABKCO
2:37:43 (Pop‑up)
Danny Fields
Last Night on the Air 8-29-1969
2:49:26 (Pop‑up)
<-- Previous playlist
| Back to
Zzzzzzero Hour with Bill Mac playlists
|
Next playlist -->
RSS feeds for Zzzzzzero Hour with Bill Mac:

Playlists feed |

MP3 archives feed
|
E-mail Bill Mac
|
Other WFMU Playlists
|
All artists played by Zzzzzzero Hour with Bill Mac
|
---
Listen on the Internet
|
Contact Us
|
Music & Programs
|
WFMU Home Page
|
Support Us
|
FAQ
Live Audio Streams:
Pop-up
|
128k AAC
|
128k MP3
|
32k MP3
|
32k Windows
---