Zzzzzzero Hour with Bill Mac: Playlist from February 16, 2008
Lullabies and reveilles. Something for the late nighters and early risers.
<-- Previous playlist | Back to Zzzzzzero Hour with Bill Mac playlists | Next playlist -->
---

February 16, 2008: The Calm Before the Storm

Listen to this show:

Pop‑up player!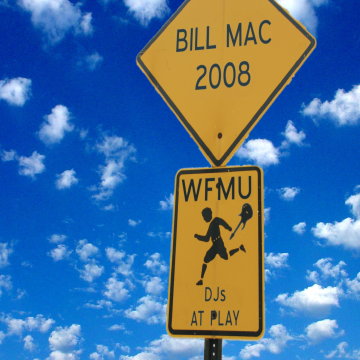 DJs at Play:Witness WFMU DJs rummage through their past, unearth high school band covers, "living room" studio recordings, dusty abandoned music demos (including a few flights of inspired musical genius), merge into a collective whole and vomit onto a CD.
Go to Marathon Headquarters and find out how to get this and other cool marathon swag.
(* = new)


Artist
Track
Album
Label
New
Approx. start time
Brother Ah
Sweet Illumination
Move Ever Forward
Ikef
0:00:00 (Pop‑up)
Albert Ayler Quartet
Angels
The Hilversum Session
ESP
*
0:09:06 (Pop‑up)
Weather Report
Mysterious Traveler
Mysterious Traveler
Columbia
0:15:41 (Pop‑up)
Copernicus
Beautiful Humanity
Immediate Eternity
0:22:41 (Pop‑up)
Paul Bley Trio
ida Lupino
Closer
ESP
*
0:27:15 (Pop‑up)
Music behind DJ:
Korla Pandit
The Grand Moghul Suite
0:30:03 (Pop‑up)
Shoghaken Ensemble
Ashkarums akh Chim Kashi
Shoghaken Ensemble
Traditional Crossroads
*
0:42:12 (Pop‑up)
UI
Ay Nano
2-Sided EP
Hemiola
0:43:32 (Pop‑up)
Blixa Bargeld
Musst du Meine Traume Andern
Recycled
Zomba
0:46:40 (Pop‑up)
Dot Allison
Morning Sun
The Day My Mind Exploded
None
0:49:58 (Pop‑up)
Music behind DJ:
Korla Pandit
The Grand Moghul Suite
1:00:27 (Pop‑up)
Bardo Pond
Two Planes
Dilate
Matador
1:05:19 (Pop‑up)
Valet
Kehoor
Naked Acid
Kranky
*
1:12:18 (Pop‑up)
Brother JT
Poor God
Indoor Sunshine
Heavy G
1:17:56 (Pop‑up)
Harmonize Most High
Ophel
Babylon
Ruby Red Editora
*
1:22:06 (Pop‑up)
Thurston Moore
Cherrys Blues
Psychic Hearts
DGC
1:25:19 (Pop‑up)
Sonic Youth
Candle
Daydream Nation
DGC
1:27:26 (Pop‑up)
Val Denham & Oli Novadnieks
Yorkshire Hills
Raw Powder
Blossoming Noise
*
1:32:24 (Pop‑up)
Royal Trux
Another Year
Accelerator
Drag City
1:35:09 (Pop‑up)
Jon Spencer Blues Explosion
Son of Sam
Jukebox Explosion
In the Red
*
1:38:58 (Pop‑up)
R.L. Burnside
Georgia Women
Mr Wizard
Fat Possum
1:42:30 (Pop‑up)
Music behind DJ:

Soiled Mattress and the Springs
*
1:45:58 (Pop‑up)
Etta James
Good Rocking Daddy
Dr Boogie Presents Rarities from the Bob Hite Vaults
Sub Rosa
*
1:51:54 (Pop‑up)
Ralph "Soul" Jackson
Don't Tear Yourself Down
Complete Singles Collection
None
1:53:21 (Pop‑up)
Cab Calloway
Shotgun Boogie
For Jumpers Only
Delmark
1:55:56 (Pop‑up)
Music behind DJ:

Soiled Mattress and the Springs
1:58:54 (Pop‑up)
The Staple Singers
Pray On
The Best of the Vee jay Years
Vee Jay
*
2:04:34 (Pop‑up)
Lillian Offitt
Oh Mama
queens of the Blues
Fuel
2:07:38 (Pop‑up)
Goebble Reeves - The Texas Drifter
The Cowboys Dizzy Sweetheart
Victrola Favorites
Dust-to-Digital
*
2:10:48 (Pop‑up)
Charlene Arthur
I've Got the Boogie Blues
Hillbilly Boogie
Proper
2:13:13 (Pop‑up)
DuFord Bailey
Ice Water Blues
Harmonica Blues
Yazoo
2:15:53 (Pop‑up)
Medicine Head
When Night Falls
New Bottles, Old Medicine
2:17:16 (Pop‑up)
Kevin Coyne
Some Dark Day
Strange Locomotion
Cherry Red
2:23:40 (Pop‑up)
James Ford
Mill Valley
Point of no Return
Bear Family
*
2:27:19 (Pop‑up)
Music behind DJ:

Soiled Mattress and the Springs
2:30:22 (Pop‑up)
Billy Bond y Las Pesada del Rock and Roll
Eictrica Complementaria
Volume 3 &4
Cloud Forest
*
2:37:10 (Pop‑up)
Names and Faces
You're an Old Leaf
Nederbeat Dutch Nuggets 2
2:49:03 (Pop‑up)
Small Faces
Sha-la-la-la Lee
The Anthology
Deram
2:51:54 (Pop‑up)
Brigitte Bardot
Je Me Donne a qui Me Plait
Initiales BB
2:55:03 (Pop‑up)
Laurie Johnson
The Avengers Theme
The Avengers
Varese
*
2:56:34 (Pop‑up)
Music behind DJ:

The Avengers
2:58:58 (Pop‑up)
Sidan
Ar Goll
Welsh Rare Beat 2
Finders Keepers
*
3:03:43 (Pop‑up)
Hanne Hukkelberg
Cheaters Armoury
Rykestrasse 68
Nettwerk
*
3:06:38 (Pop‑up)
Adam Rudolph and Go: Organic Orchestra
Pulsar
Web of Light
Meta
*
3:10:01 (Pop‑up)
Buena Vista Social Club
El Cuarto de Tula
Buena Vista Social Club
Nonesuch
3:21:21 (Pop‑up)
Ray Barretto
Vine Pa' Echar Candela
Barretto
Barretto
3:28:26 (Pop‑up)
Amy Winehouse
He Can Only Hold Her (P-Nut Mix)
3:34:06 (Pop‑up)
Medium Medium
So Hungry So Angry
Glitterhouse
3:37:35 (Pop‑up)
Pere Ubu
GO
The Art of Walking
DGC
3:40:59 (Pop‑up)
Music behind DJ:
UB40
Geoffrey Morgen
3:44:09 (Pop‑up)
Messr Chups
Darkness is a Teenagers Friend
Zombie Shopping
Solnze
*
3:47:55 (Pop‑up)
Hot Chip
Out at the Pictures
Made in the Dark
Astralwerks
*
3:50:40 (Pop‑up)
UFO
Belladonna
No Heavy Petting
Chrysalis
3:56:01 (Pop‑up)
<-- Previous playlist
| Back to
Zzzzzzero Hour with Bill Mac playlists
|
Next playlist -->
RSS feeds for Zzzzzzero Hour with Bill Mac:

Playlists feed |

MP3 archives feed
|
E-mail Bill Mac
|
Other WFMU Playlists
|
All artists played by Zzzzzzero Hour with Bill Mac
|
---
Listen on the Internet
|
Contact Us
|
Music & Programs
|
WFMU Home Page
|
Support Us
|
FAQ
Live Audio Streams:
Pop-up
|
128k AAC
|
128k MP3
|
32k MP3
|
32k Windows
---