Transpacific Sound Paradise


Saturday, February 9, 2008


Akoya Afrobeat Ensemble Live + Chinese New Year

Hear this show now: | Add or read comments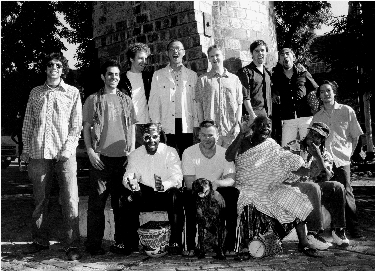 Akoya is a smoking hot 14-piece Afrobeat-style band fronted by former Fela collaborator Kaleta, accompanied by an international cast.

Their new CD, P.D.P. (President Dey Pass) (Afrobomb) will have its coming out party at SOBs, 204 Varick St NYC on Thursday February 28. That gig will include guest appearances by Cedric Brooks from the Skatalites, plus members of Antibalas and the Budos Band.

Akoya is also playing Southpaw in Park Slope on Friday March 14.

On today's show (starting about 1 hour 20 minutes into the archive) Akoya performs two very long songs live, plus we hear a track from the new cd and in between, a bit of interview / chit-chat with members of the band.

Also: The first 45 minutes of the show features music from - or of - China in honor of the lunar new year.

Special thanks: Chris Stubbs, our illustrious engineer, plus assistants Juan Aboites and Jake Aron.


This Week's Playlist:
(* = new)
Unkown: Gong Hai Fat Choy (?)


Chinese New Year Song - just picked up the cdr in Chinatown when I heard it blaring; no info
Grace Chang: I Want Your Love

/ Various Artists: Shanghai Lounge Divas, Vol. 2 / EMI
CD is remixes and original versions; this is the original. It's also on "The Hole" film soundtrack. You can download this track and others from "The Hole" via a WFMU blog page: http://blog.wfmu.org/freeform/2006/05/chinese_rocks_p.html
Gong Li: The Express Train

/ Shanghai Triad / Virgin
Soundtrack
Chen Xing: Drifters Song

/ Ballads for Migrant Workers / Guangdong Provincial Record Co. Ltd
Thanks - Gideon D'Arcangelo. Hear his public radio piece about Chinese migrant worker music, and other stories he's produced: http://www.listeningin.org/2007/12/05/studio-360-20071116-migrant-workers-love-song/
Wu Man: Dance of the Yi People

/ Wu Man and Friends / Traditional Crossroads
She was first to play this standard in public, after it was banned during the Cultural Revolution.
XD Wei: Golden Mountain

/ String Theory / Seven Ravens
Gary Lucas: Songstress on the Edge of Heaven

/ The Edge of Heaven / Indigo
Celest Chong, Vocals
Bridges: Olaf, Olaf Kjyra Di e Dau

/ Live in China / Heilo / *
Norwegian / Chinese collaboration. This was recorded 4 June 2005 in Guiyang , and came about from a project instigated by the Norwegian Concert Institute. In the winter of 2003-2004 they sent Norwegian folk singer Unni Løvlid on a tour to the Guizhou Province in China where she worked with the Dong people. Four of the musicians she met there visited Norway in exchange, and in 2005 Unni returned to Ghuizhou to play a series of concerts, which led to the recording of this album. (Comments from: http://www.bbc.co.uk/radio3/mixingit/pip/dggv7/.)
Chang Loo: The Plough Song

/ Various Artists: Shanghai Lounge Divas / EMI
Ian Widgery Remix
Yungchen Lhamo: Om Mani Padme Hung

/ Ama / Real World
Electric Kulintang: Anitos

/ Dialects / Plastic / *
Kakande: Nina Kaba

/ Dununya / Jumbie / *
Guests on the show next week
Rail Band: Djiguiya

/ Alla Bamako / Oriki / *
New anthology
Etran Finatawa: Ekenan

/ Introducing / Riverboat
Nass el Ghiwane: L'Hmami

/ Hommage a Boudjemma / Editions Cleopatre
Akoya: Oluya

/ P.D.P. / Afrobomb / *
Toumani Diabate: Si Naani

/ The Mande Variations / Nonesuch / *
Toumani in an intimate solo setting.
Andy Statman: Improvisation

/ Awakening From Above / Shefa
Cristina Pato: Tolemia

/ Tolemia / Coda Music
Soul Brothers: Ithemba Lami

/ Various Artists: Planet Zulu / Nascente
Wu Man: Nandere

/ Wu Man and Friends / Traditional Crossroads
Duet with US-based Ugandan musician and professor James Makubuya.