July 8, 2007: Nudist Funeral Procession

Listen to this show:

Pop‑up player!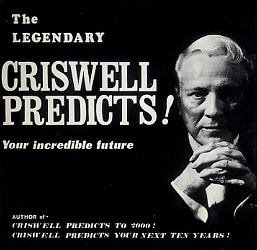 "Greetings, my friend. We are all interested in the future, for that is where you and I are going to spend the rest of our lives, whether we want to or not. And remember my friend, these future events will affect you. The future is in your hands! So let us remember the past, honor the present, and be amused at the future."
"I predict the day of severity in dress will soon be at hand, almost Puritanical in style, with no beads, no jangles, no bracelets. Men and women will wear exactly the same makeup, the same style of hair dress, and, if required, the same type of wig. I was not allowed to say on television, radio, or have it appear in my column, as the advertisers would clomp down on me, and clomp very heavily."
"I further predict: The new age of nudity for the human body will be glorified. Body designs, self painted, will take up most of your spare time. Women will decorate their breasts with startling colors, while men will decorate their genitals. Those who are politically orientated will always print body slogans on themselves, and this will take the place of the present-day bumper stickers. Subdued colors will be used in the cloth, but riotous colors will be painted on your body."
"I predict that LSD, marijuana, and speed can change your sex. You will tell your Aunt Tillie that she's really, could be, Uncle Fred."
"I predict full medical attention by vending machines. I predict in the future it will be highly possible to have an appendix operation, give birth to a child, or receive an abortion, have a heart transplant, a hair transplant, or even a brain transplant--by vending machine. Your own weight will be controlled by vending machine, for ten cents worth of radaric rays."
"I predict embalming by radar, where the body is turned to indestructable stone. The body will be placed in a fiberglass casket, which does not corrode, rot, or burn. Your great, great, great grandchildren will be able to look upon your countenance and see how handsome you really were. However, I predict, if you wish a sacred cremation, your ashes can be placed in a small warhead missle and fired into outerspace, where you would essentially and eternally continue your journey"
"I predict that nudist funeral processions will not end up at the cemetery, but at some police station."
You can listen to these and many more Amazing Predictions from Criswell himself on Ken's Blog
Artist
Track
Album
Label
Format
New
Approx. start time
Kawabata Makoto
Hosanna Mantra
Hosanna Mantra
Important
*
0:00:00 (Pop‑up)
Graham Lambkin
Intro
Salmon Run
KYE
*
0:18:54 (Pop‑up)
Gordon Monahan
Updown
Theremin in the Rain
C3R
*
0:23:11 (Pop‑up)
Han Bennink & Terrie Ex
Hortsik
Zeng!
Terp
*
0:26:48 (Pop‑up)
Music behind DJ:
Hannu
Worms in My Piano
0:33:21 (Pop‑up)
Unknown
Track 2
Bougouni Yaalali
Yaala Yaala
*
0:38:20 (Pop‑up)
Larsen
Mousey Toy
Xiu Xiu - Remixed and Covered
5RC
*
0:44:26 (Pop‑up)
Vittorino Ghielmi/Luca Pianca
Ground Division
Bagpipes from Hell
Winter & Winter
*
0:50:32 (Pop‑up)
Gjermund og Einer Olav Larsen
Min Falske Venn
Folkogdans.no Volume 3
NFD
*
0:56:29 (Pop‑up)
Music behind DJ:
Hannu
Worms in My Piano
0:58:24 (Pop‑up)
Listen with Sarah
Ramblin' Andy
The World of Listen with Sarah
Cherryade
*
1:04:06 (Pop‑up)
Edward Ka-Spel
Harvester
Dream Logik Part One
Beta Lactam Ring
*
1:06:40 (Pop‑up)
Dylan Group
Dylan and Adam 2
It's All About Rimshots and Faulty Wiring
Bubblecore
1:10:31 (Pop‑up)
Alog
Son of King
Amateur
Rune Grammofon
*
1:19:32 (Pop‑up)
A Bad Diana
Mother
The Lights Are Out But No-Ones Home
Durtro Jnana
*
1:23:18 (Pop‑up)
Rare Earth
Land of Nod
Dreams/Answers
Verve
*
1:26:27 (Pop‑up)
Margo Guryan
16 Words
16 Words
Pure Mint
1:29:50 (Pop‑up)
Music behind DJ:
Marcus Schmickler with Hayden
Amazing Daze
1:33:26 (Pop‑up)
Tuxedomoon
Effervesing in the Nether Sphere
Bardo Hotel Soundtrack
Made to Measure
*
1:40:50 (Pop‑up)
Pretty Things
Death
S.F. Sorrow
Snapper
1:45:42 (Pop‑up)
Varsted/Mognaese
2 China 4 U
Lolita Industri the Sampler 1
Lolita Industri
*
1:50:21 (Pop‑up)
Pretty Things
Bracelets
S.F. Sorrow
Snapper
1:50:38 (Pop‑up)
Strawbs
Shepherds Song
From the Witchwood
A&M
1:53:37 (Pop‑up)
Music behind DJ:

Radio Zumbido
1:57:29 (Pop‑up)
Beastie Boys
14th Street Break
The Mix-Up
EMI
*
2:02:51 (Pop‑up)
Several Mouth Parts
The Mind is the Body
The Mind is the Body
Tanatone
*
2:05:41 (Pop‑up)
England's Glory
City of Fun
Legendary Lost Album
Anagram
*
2:15:24 (Pop‑up)
Railroad Jerk
Pin Prick
Raise the Plow
Matador
2:19:19 (Pop‑up)
Eddie Clendening
Bop My Blues Away
The Rage of the Teen Age
Wormtone
*
2:22:06 (Pop‑up)
The Legendary Stardust Cowboy
Play My Guitar
Tokyo
Cracked Piston
*
2:26:22 (Pop‑up)
Kilburn & the High Roads
Billy Bentley
Goodbye Nashville, Hello Camden
Castle
*
2:27:43 (Pop‑up)
Don Partridge
Keep Your Hands Off
Rosie and Other Hits
MP3
2:30:09 (Pop‑up)
mark sultan
100 Little Women
The Sultanic Verses
In the Red
*
2:32:09 (Pop‑up)
Music behind DJ:

DJ Female Covict Scorpion
2:34:27 (Pop‑up)
OFS Unlimited
Mystic
Eccentric Soul: The Prix Label
Numero
*
2:40:54 (Pop‑up)
Jay Mitchell
Goombay Bump
Cult Cargo: Grand Bahama Goombay
Numero
*
2:42:56 (Pop‑up)
Le Simandou
Festival
Authenticite
Stern's Music
*
2:50:44 (Pop‑up)
Music behind DJ:
Amnesty
Free Your Mind
2:55:41 (Pop‑up)