Brian Turner: Playlist from November 29, 2005
Order and disorder in a freeform haze of terribly-played guitars, shorted-out electronics, found audio detritus, strange sounds from strange lands all around. Psych-punk-junk, collage, even pop. Lots of in-studio live performances to boot.
<-- Previous playlist | Back to Brian Turner playlists | Next playlist -->
---

November 29, 2005: w/ live set from ENDLESS BOOGIE

Listen to this show:

Pop‑up player!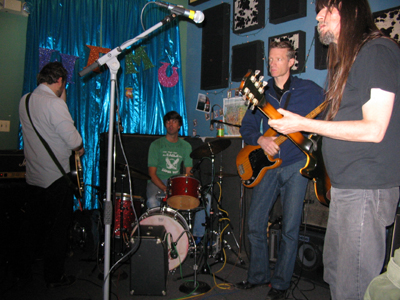 (* = new)


| Artist | Track | Album | Comments | New | Approx. start time |
| --- | --- | --- | --- | --- | --- |
| Chuck Norris | | | | | 0:00:00 (Pop‑up) |
| Patto | The Man | Patto | | | 0:06:23 (Pop‑up) |
| Third World War | Preaching Violence | Third World War | | | 0:12:21 (Pop‑up) |
| AC/DC | Jailbreak | 74 Jailbreak | | | 0:17:00 (Pop‑up) |
| Pissed Jeans | Wachovia | Shallow | | * | 0:25:19 (Pop‑up) |
| Death Trip | Chainsaw Goddess | Passions of Laja Aijala | | | 0:30:43 (Pop‑up) |
| The Oshiri Penzpenz | Motako's Love Confidence Way | The Oshiri Penzpenz | | * | 0:36:17 (Pop‑up) |
| Oliver | Motorway | Standing Stone | | | 0:38:09 (Pop‑up) |
| Silberbart | God | 4 Times Sound Razing | | | 0:41:40 (Pop‑up) |
| Edgar Broughton Band | Psychopath | Sing Brother Sing | | | 0:51:46 (Pop‑up) |
| Holy McGrail | Quake Appeal | Collecting Earthquakes | | * | 0:57:17 (Pop‑up) |
| Endless Boogie | Live In the WFMU Studios | Engineered by OCDJ | Get down and greeezy with NYC's kings of choogle, together since 1997 but just getting around to releasing studio stuff this year. Their live shows have been sporadic for the fact that they only play gigs when specifically asked to, though recently they've frequently whipped local audiences into a frenzy with their heavy jams supporting assorted Dungen shows. Live, the guitarists trade off invocations of Tony McPhee, Peter Green, Zoot Horn Rollo, Lobby Lloyd, and Ron Asheton, and if you don't know who some of those guys are, don't worry too much about it. Endless Boogie are here to deliver rock salvation. Lineup: Grease Control (Drums), Memories From Reno (Bass), Top Dollar (Vocal, Guitar), the Governor (Guitar). Upcoming live gigs: December 17th at Kyber Pass in Philly (with Boogie Witch), December 18th in Baltimore at Talking Head Club (with Mighty Flashlight and Arboretum). Current LPs Volume 1 and Volume 2 on the Mound Duel label, try www.fusetronsound.com. Today's live selections: Executive Focus/Aztec Boogie/Way Uptown/Boogie #23/Rattleshake/New Green Bo/Rollin' and Tumblin'. Thanks to the band and OCDJ, watch out for future stuff on No Quarter label. | | 1:03:14 (Pop‑up) |
| Hank IV | The Crime of the Scene | Il Silenzo E Morte | Live on the show here next week | * | 2:45:28 (Pop‑up) |
| Mississippi Swampers | Some Summer Day No. 2 | Sampler of forthcoming Fonotone box set | | * | 2:50:35 (Pop‑up) |
| Book of Shadows | Bring Ginger Candy | Hanged Man | | * | 2:54:43 (Pop‑up) |
<-- Previous playlist
| Back to
Brian Turner playlists
|
Next playlist -->
RSS feeds for Brian Turner:

Playlists feed |

MP3 archives feed
| Email
the Program Director
|
Other WFMU Playlists
|
All artists played by Brian Turner
|
---
Listen on the Internet
|
Contact Us
|
Music & Programs
|
WFMU Home Page
|
Support Us
|
FAQ
Live Audio Streams:
Pop-up
|
128k AAC
|
128k MP3
|
32k MP3
|
32k Windows
---