Brian Turner: Playlist from July 19, 2005
Order and disorder in a freeform haze of terribly-played guitars, shorted-out electronics, found audio detritus, strange sounds from strange lands all around. Psych-punk-junk, collage, even pop. Lots of in-studio live performances to boot.
<-- Previous playlist | Back to Brian Turner playlists | Next playlist -->
---

July 19, 2005: w/ live set from AFRIRAMPO
Pika and Oni return to kick naked soul rock once again! These Osaka ladies' last visit to Brian's show colored our whole afternoon with blurry, reverb-drenched banana attacks and a worldview of rock music that could only come from spending 6 months with real live pygmies. We look forward to this year's visit, sure to have us all (including our live engineers) mesmerized and maybe covered by another kind of fruit when the dust settles. www.afrirampo.com for more info! UPDATE: We've got some video up from the WFMU session: http://blogfiles.wfmu.org/LB/Afrirampo.avi (AVI, 39 MB)

Listen to this show:

Pop‑up player!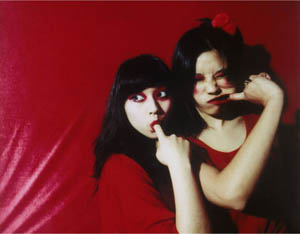 (* = new)


| Artist | Track | Album | Comments | New | Approx. start time |
| --- | --- | --- | --- | --- | --- |
| White Mice | The White Mice | ASSphIXXXEATESHUN | | * | |
| Black Flag | Can't Decide | My War | | | 0:03:20 (Pop‑up) |
| Roberto de Simone | Coro Delle Lavandaie II | La Gatta Cenerentola | | | 0:08:41 (Pop‑up) |
| Afrirampo | 2 | Urusa In Japan | | * | 0:14:55 (Pop‑up) |
| Chris Abrahams | Nocturne | Thrown | | * | 0:21:39 (Pop‑up) |
| Dan McGuire | Poetry Rock Freekout | Jamnation | | | 0:26:45 (Pop‑up) |
| The Rebel | IESV | Kit | | * | 0:28:34 (Pop‑up) |
| Metal Boys | Disco Future | Tokio Airport | | | 0:30:29 (Pop‑up) |
| Souls of Mischief | Spark | 12" | | | 0:37:58 (Pop‑up) |
| Little Howlin Wolf | Mr. Power Shaker | Singles | | | 0:41:41 (Pop‑up) |
| Lefty Dizz | We're Gonna Boogie | Various: We're Gonna Boogie | | * | 0:46:55 (Pop‑up) |
| Gary Higgins | Looking For June | Red Hash | | * | 0:53:23 (Pop‑up) |
| Gruff Rhys | Ni Yw Y Byd | Yr Atal Genhedlaeth | | * | 0:58:34 (Pop‑up) |
| Frances Baloyi & Shangaan Band | Miyelo Bebe | Various: African Popular Music | | | 0:59:40 (Pop‑up) |
| Flipper | Way of the World | Generic Flipper | | | 1:03:05 (Pop‑up) |
| Popol Vuh | Der Grosse Krieger | Letzte Tage-Letzte Nachte | | | 1:17:31 (Pop‑up) |
| Aural Fit | Behind 20, Beyond 20K | Various: Tokyo Flashback 5 | | * | 1:21:00 (Pop‑up) |
| Mise En Abyme | Puking Light | Crochet | | * | 1:29:46 (Pop‑up) |
| Sparks | Radio spot | | | | 1:33:42 (Pop‑up) |
| Singing Sadie | Put Down the Carving Knife | Songs For Swingers | | * | 1:34:09 (Pop‑up) |
| Sleepers | No Time | The Less An Object | | | 1:35:36 (Pop‑up) |
| T. Rex | Telegram Sam | Sdtk: Born To Boogie | | * | 1:38:41 (Pop‑up) |
| Afrirampo | Live in the WFMU Studios | Engineered By Gil Shuster | Pica: Drums, Vox Oni: Guitar, Vox. Playing live this Friday night at Tonic with Lightning Bolt Also Saturday at the Parking Lot, 28-10 Queens Plaza, Long Island City w/Lightning Bolt, Aa, Parts & Labor, USAISAMONSTER and more (show starts 3pm). www.afrirampo.com | | 1:46:02 (Pop‑up) |
| Harvey Milk | Greensleeves | The Singles | Playing live here coming up August 2nd! | | |
| Major Stars | Black Road | 7" | | * | |
| 3puen | She A Robot | She A Robot | | | 2:44:20 (Pop‑up) |
| Conrad und Gregor Schnitzler | 3 | Conrad Und Sohn | | * | 2:47:02 (Pop‑up) |
| True West | Lucifer Sam | | | | 2:51:42 (Pop‑up) |
| The Long Blondes | Giddy Stratospheres | The Long Blondes | | * | 2:56:59 (Pop‑up) |
<-- Previous playlist
| Back to
Brian Turner playlists
|
Next playlist -->
RSS feeds for Brian Turner:

Playlists feed |

MP3 archives feed
| Email
the Program Director
|
Other WFMU Playlists
|
All artists played by Brian Turner
|
---
Listen on the Internet
|
Contact Us
|
Music & Programs
|
WFMU Home Page
|
Support Us
|
FAQ
Live Audio Streams:
Pop-up
|
128k AAC
|
128k MP3
|
32k MP3
|
32k Windows
---