2003 AUGUST 20 #232
American Standards - My Bathroom Is A Private Kind Of Place
The 1960s produced a pair of classic songs about the need for solitude in one"s own special place. Brian Wilson was able to tell his secrets "In My Room,' a lovely tune that is justly famous. In 1969 another song explored this theme, but it was never quite so well known. This song, a kind of clueless cousin to Wilson"s hit, is "My Bathroom Is A Private Kind Of Place.' It"s from the "The Bathrooms Are Coming,' an industrial-show musical produced for the American Standard Company to extol the glories of their wonderful plumbing fixtures. Despite the unpromising subject matter, the song was surprisingly well done with a sophisticated arrangement, excellent production and recording, and a Broadway-quality performance. Best of all, it has touchingly earnest lyrics about that magical place, the bathroom. "The only place where I can stay making faces at my face … My bathroom, my bathroom is much more than it may seem, where I wash and where I cream, a special place where I can stay, and cream, and dream … I'm free, I'm free …" In our Age of Irony it"s hard to imagine anyone singing those lines with a straight face but the singer, whoever she is, gives a heroic performance, sounding as if she really means it. Maybe she did. Actually, come to think of it, I believe I"ll go take a nice long soak in the tub now.
- Palomino Royalle
TT-3:11 / 3.7MB / 160kbps 44.1khz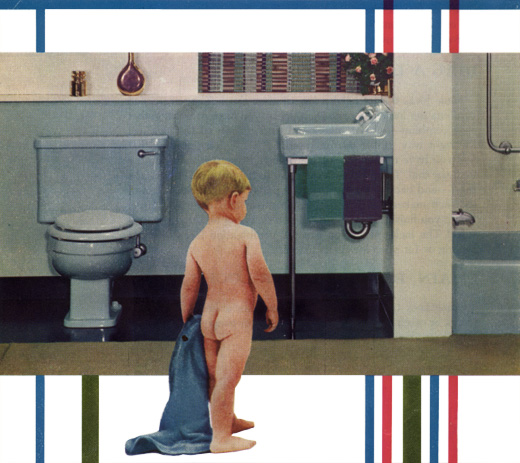 Jonathan Ward writes:
What a classic - Palomino is right. Truly one of the most amazing industrial musicals out there, and worth searching out as "My Bathroom" is just one standout cut. The whole shebang was written by an industrial show veteran named Sid Siegel, who wrote many other shows, including ones for Standard Oil and Encyclopedia Brittanica. The notes on the jacket are worth quoting in full:
"The Bathrooms Are Coming premiered a new decade of bathroom fixtures born out of exhaustive human and product research by American-Standard. The story began with the introduction of a mythical Greek goddess Femma, the epitome of all women's attitudes, reflections and desires and the leader of all women's movements. In the play Femma is called upon by other women to start a bathroom revolution - "Join the fight for bathroom safety, Femma...the fight for beauty and luxury. We need freedom from bathroom oppression. Join the fight for better bathrooms."

And so it was that Femma led the story. It began with a declaration that "plumbing" is a feminine business, showing a profile of the "woman of the 70s", and the case for change against the status quo. She carried the audience through the Cornell research, to a view of markets in terms of people. Then, the Revolution unfolded in terms of new attitudes, new programs. Then one by one, the real stars of the show were revealed - Economy Wall Surround, Proximatics, Ultra Bath, Bone and Spectra 70."
Stormy Hunter writes:
This selection certainly brings a smile and a chuckle. About thirty years ago, my cousin Phil (who was about 4 years old at the time) was with his mother in a department store. He kept tugging her sleeve and saying "I have to go to the bathroom!" Upon verifying that little Phil knew where it was, she sent him to go by himself. About ten minutes later, a very angry store manager broke the news to mom. Phil had used one of the display toilets!