2003 APRIL 23 #113
The Castle Park High School Band and Chorus - Hotel California
I love school band albums. But not all albums are worth buying and taking home. But every once in a while there is an album that just screams at you to take them home. This album was one of them.
I found this album at an AmVets Thrift Store in Escondido, Ca. for only a buck! It"s a four-disc gatefold album of music from the Castle Park High School Band and Chorus. The first three discs are filled with your standard school band music while the fourth disc is my favorite one. It features the band and chorus doing awesome renditions of "Hotel California', Stevie Wonder"s "Sir Duke', and Creedence Clearwater Revival"s "Proud Mary'. I have played this track over and over again for my friends, now I would like to share it with the rest of the world!
Castle Park High School is located in Chula Vista, Ca. in San Diego county. Their mascot is the Trojan and you can visit their website at:
http://www.suhsd.k12.ca.us/cph/index.htm
- Zeb Navarro (znavarro@cox.net)
Host, "Oldies and Oddities' http://www.geocities.com/oldiesandoddities/
KKSM, San Diego, Ca.
TT-5:03 / 7MB / 192kbps 44.1khz
from the LP "Castle Park High School 1976-1977' (Good Vibrations, #GV-103)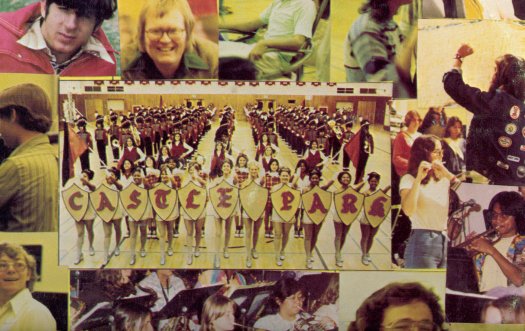 (Image courtesy of Zeb Navarro)