Everyone who pledges $60 or more to my show will automatically get this slammin' CD with rare, rocking + totally exclusive live trax from bands who have played live on the Cherry Blossom Clinic! Call WFMU toll-free, 1-800-989-9368, or pledge online between 3pm and 6pm on March 14th. Check this tracklist:

1. DIRTBOMBS - Love Is Like A Rollercoaster
2. ELF POWER - Drugstore
3. JASON LOEWENSTEIN - Codes
4. DISHES - Shotgun
5. ELECTRIC EEL SHOCK - Japanese Meets Chinese in the USA
6. COBRA VERDE - Modified Frankenstein
7. GELATINE - Gelatine
8. LOST SOUNDS - What'd I Say
9. MODEY LEMON - You Bug Me
10. MEANS - Hearts
11. SOUL JUNK - Sweet To My Soul
12. RAH BRAS - Gary Howard (Freak Like Me bootleg cover)
13. TRACY + THE PLASTICS - Myth of the Front
14. SUPERCHUNK - Rainy Streets
15. INSOMNIACS - Forever
16. GLANDS - Straight Down
17. YEAH YEAH YEAHS - Rich
18. COACH WHIPS - Look Into My Eyes When I Come
19. CHINO - Home
20. SECONDS - Not About Love
21. CLOSET CASE - I Can't Believe I Just Said That
22. STROKES - NYC Cops
23. TIGER MOUNTAIN - Love Is Simple
24. X27 - Feeling Asthmatic
25. PEELANDER-Z - S.T.E.A.K.
26. MUSCULAR CHRISTIANS - I'm Not Gay
27. NIKKI SUDDEN - Fortune Of Fame




WEEKLY GRAND PRIZES ON THE CHERRY BLOSSOM CLINIC!


To pledge and be eligible for these grand prize drawings, call WFMU toll-free, 1-800-989-9368, or pledge online between 3pm and 6pm on March 14th. You must pledge at least $60 to be eligible for a Grand Prize (and don't forget you'll automatically get the CBC premium described above, plus a WFMU t-shirt and a WFMU button)! Make sure you specify that your pledge is for the Cherry Blossom Clinic and indicate which Grand Prize Drawing you want to be part of! Thanks for supporting WFMU and the Cherry Blossom Clinic!



LAURA FROM SUPERCHUNK'S BOOTS! (BETWEEN 3 AND 6PM NY TIME ON MARCH 14 ONLY! Listen online at wfmu.org)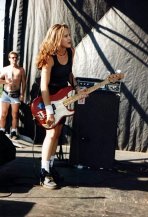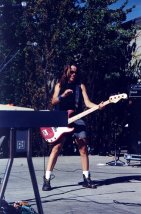 Laura Ballance has graciously donated the blue Doc Martens boots she's worn almost the whole time she's been in Superchunk to the Station of the Nation to help with our fundraising marathon! And she autographed them, to boot! I'll be giving them away as one of my marathon grand prizes on Friday, March 14! The boots will be given to someone who pledges $60 or more to WFMU between 3pm and 6pm on March 14th. PLEASE NOTE THAT THIS IS NOT AN AUCTION!! You don't have to have deep pockets to have a chance to get these boots, but by pledging you are making a commitment to support WFMU whether you get the boots or not! But even if you don't get the boots you'll get all kinds of other cool stuff, including the Cherry Blossom Clinic Sessions CD mentioned above with an exclusive live Superchunk track! Everyone who pledges $60 or more to the Cherry Blossom Clinic will get this CD, plus other WFMU swag!



High-quality clothing and housewares with the exclusive Cherry Blossom Clinic logo! Pledge $60 or more during my show on March 14 and you could win all this cool one-of-a-kind stuff! YOU'LL GET ALL 5 OF THESE ITEMS IF YOU WIN!
| | |
| --- | --- |
| Cherry Blossom Clinic Nightshirt -- white, made from superfine combed cotton baby rib. Special details include 1/2" binding on neck & sleeve with 1" bottom hem. 1-size (but really best for sizes 0 to ~10 - v. stretchy.) | |
| Cherry Blossom Clinic Baseball Shirt -- features a sporty, relaxed fit. Special details include contrasting collar and sleeve with a 3/4" neck binding and 1" hemmed sleeve. size XL, dark forest green sleeve with white body | |
| Cherry Blossom Clinic Apron -- perfect for greeting your significant other when s/he comes home! Waist-length canvas-like apron. NOTE THAT THE ACTUAL COLOR OF THE APRON YOU COULD WIN IS NOT BLUE, IT'S NATURAL (like an off-white/bone color)! | |
| Cherry Blossom Clinic Pillowcases -- 2 white cotton pillowcases with the CBC logo! (The logo isn't this big on the real pillowcases!) | |


JOY DIVISION BOX SET (MARCH 14 ONLY!)
Heart and Soul is an incredible 4CD box set put out by the folks at Rhino Records! Disc One includes the entire landmark debut album Unknown Pleasures plus rare outtakes, compilation cuts, singles, and flexi-disc versions. Disc Two collects more singles and rarities and houses the whole of Closer, Joy Division's second and final album, released three months after lead singer Ian Curtis' suicide. Disc Three collects many of the group's hard-to-find recordings, including their seminal first EP, An Ideal For Living, demos, Peel Session takes, and radio session cuts, most of which have never before been released in the U.S. Finally, Disc Four captures the manic energy and power of Joy Division live, culled from four different concerts -- tracks previously unavailable in the U.S.




(and in case you were wondering about the Grand Prizes from week #1....) POWERHOUSE TATTOO GIFT CERTIFICATE! (already given away)


Wow! Pledge $60 or more during my show on March 7 and you could win a $50 gift certificate you can use toward the tattoo of your choice at POWERHOUSE TATTOO in Montclair, NJ! Stumped for ideas on what tattoo to get?? Ask Ken Freedman! Har! Thanks to Diane Farris for the donation!


OK, how kool are the peeps at Kill Rock Stars?? They put together this amazing prize pack with a KRS Video (has clips from Deerhoof, Jad Fair, Elliot Smith, Bonfire Madigan, Slumber Party, Sleater Kinney + more! Wow!), a tshirt (orange, with Sleater-Kinney on the back and a kitty cat on the front), the Bangs' Call + Response EP, Comet Gain's Realistes cd (one of my best faves of 2002!), and the Arkansas Heat CD by the Gossip! If you pledge $60 or more during my show on March 7 you can be entered in the drawing to win all this great loot!