December 10, 2018: Rex Sorgatz, author, "The Encyclopedia of Misinformation"

Listen to this show: MP3 - 128K |

Pop‑up player! | Add or read comments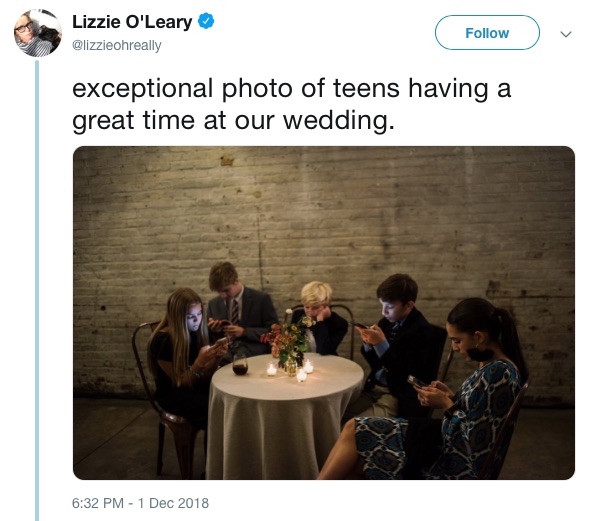 This week:
Rex Sorgatz, author of "The Encyclopedia of Misinformation."
•
The Encyclopedia of Misinformation
, published by Abrams
• Rex on Twitter: @
fimoculous
• See also:
Operation Infektion
, NYT documentary series on Russian disinformation (i.e., 1980s AIDS hoax surfaced first in an Indian newspaper known to be fed pieces by the KGB... starting on a path eventually leading to Dan Rather).
• See also:
John Podesta Is Ready to Talk About Pizzagate
(Rolling Stone, Dec 9, 2018)
•
The Internet Really Has Changed Everything. Here's The Proof
(by Rex Sorgatz, Wired, April 2016)
Recent News
• Taking notes from Zuck's high-five in hurricane-ravaged Puerto Rico,
Twitter CEO Jack Dorsey is facing backlash for encouraging people to visit Myanmar, where social media may have helped fuel a mass genocide
(today, Dec 10, Business Insider)... enthusing about his meditative stamina, his heartrate tracked on his Apple Watch (worn during meditation, naturally) - nothing about
anything else
that might be going on in Myanmar. Also: Kim-Mai Cutler
writes
: "I love that @jack did a 10-day Vipassana retreat and also his product and company are literally the most antithetical experience in the entire world to everything that Vipassana retreats stand for."
•
British Member of Parliament publishes 250 pages of damning internal Facebook documents that had been sealed by a US court
(Dec 5, Boing Boing): "They show Facebookers at the highest level -- up to CEO Mark Zuckerberg and COO Sheryl Sandberg -- conspiring to trick Android users about how much data was being gathered by an update to the Facebook app; to give certain companies 'whitelisted' access to user data beyond the access the company had disclosed to its users; to explicitly productize 'friends' data; to use a battery-monitor app to covertly gather data on which other apps users had installed; and anti-competitive targeting of partners' apps."
• "We will never sell your data" is definitely snappier than "we will never sell your data, but we might enter into commercial arrangements in which we swap your data for other things of value without explicitly telling you." -
Nick Confessore
•
Google reveals new security bug affecting more than 52 million users
(today, Dec 10, Washington Post): "Google Plus could have allowed third-party apps and developers to gain access to 52 million users' personal information without their permission." The previous estimate was half a million (
WSJ, Oct 8
).
.....just in time for tomorrow's hearings, with Google CEO Sundar Pichai on the hot seat with the
House Judiciary Committee
! (And the timing does serve Google well, as they need a relatively benign distraction right now).....
•
Everything you need to know about Google's controversial China plans in advance of Tuesday's congressional hearing
(today, Dec 10, Recode): "a growing area of concern from both the political left and right: Google's previously secret plans to build a censored search engine in China." Project Dragonfly.
•
Your Apps Know Where You Were Last Night, and They're Not Keeping It Secret
(today, Dec 10, NYT): Another blockbuster article from the Times, which will probably be as influential as
Delay, Deny and Deflect
(about Facebook malfeasance) from Nov 14. Excerpt:
[Someone] leaves a house in upstate New York at 7 a.m. and travels to a middle school 14 miles away, staying until late afternoon each school day. Only one person makes that trip: Lisa Magrin, a 46-year-old math teacher. Her smartphone goes with her.

An app on the device gathered her location information, which was then sold without her knowledge. It recorded her whereabouts as often as every two seconds, according to a database of more than a million phones in the New York area that was reviewed by The New York Times. While Ms. Magrin's identity was not disclosed in those records, The Times was able to easily connect her to that dot.

The app tracked her as she went to a Weight Watchers meeting and to her dermatologist's office for a minor procedure. It followed her hiking with her dog and staying at her ex-boyfriend's home, information she found disturbing. . . .

The database reviewed by The Times — a sample of information gathered in 2017 and held by one company — reveals people's travels in startling detail, accurate to within a few yards and in some cases updated more than 14,000 times a day.
The twist? That was just the database of one company. There are at least 75 such companies that maintain such surveillance databases. "These companies sell, use or analyze the data to cater to advertisers, retail outlets and even hedge funds seeking insights into consumer behavior..." Companies like IBM are heavily invested (IBM just bought the Weather Channel app for guess-what-purpose). Smaller players are, too, like Tell All Digital, a Long Island-based ad agency hired by personal-injury attorneys to send ads to people using their phones in emergency rooms.

...and Apple "recently shelved plans that industry insiders say would have significantly curtailed location collection."
Ready to throw away your iPhone or Android smartphone?
Listen to my interview last week with my friend Brian
, on how he did that. (Actually he returned his iPhone to the store. More environmentally friendly than throwing the iPhone away.)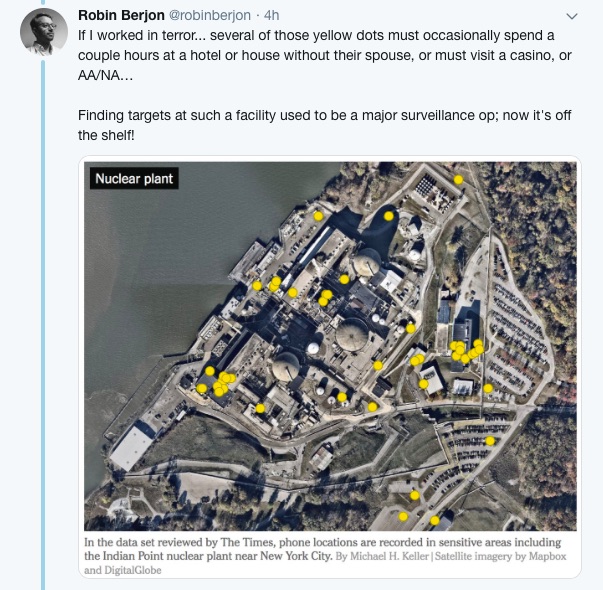 Source: Robin Berjon's post, which is inside this thread about the NYT story.
•
The Comprehensive Guide to Quitting Google
, by Lifehacker (Nov 8). See also
nomoregoogle.com
and
deletefacebook.com
.
•
Good security tips in the wake of the Marriott data breach
(over half a billion people got hacked! your Starwood account number, your address, phone number, email address, passport number, dates and times of your reservations, and credit card information.)... these tips from Brian Krebs on Dec 1.
....and a closing thought......
•
End the Innovation Obsession
(Dec 7, NYT, by David Sax, our
May 14 show
guest): "This mind-set equates innovation exclusively with invention and implies that if you just buy the new thing, voilà! You have innovated! ... [But] reflective innovation requires courage, because it calls into question the assumption that newer is necessarily better."
- - -
PODCAST: Subscribe to the Techtonic podcast