Order and disorder in a freeform haze of terribly-played guitars, shorted-out electronics, found audio detritus, strange sounds from strange lands all around. Psych-punk-junk, collage, even pop. Lots of in-studio live performances to boot.

May 16, 2017: w/ live set from BORZOI

Listen to this show: | Add or read comments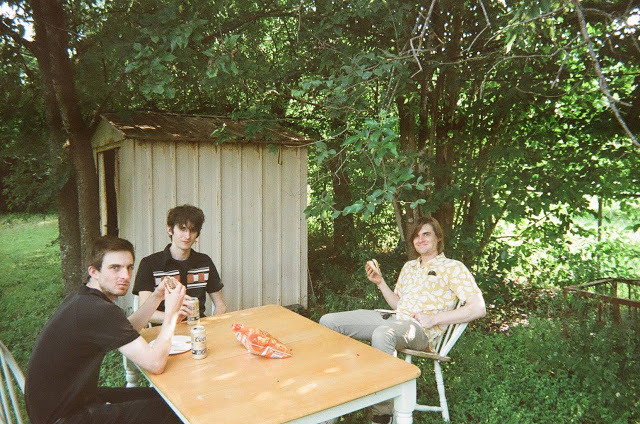 Borzoi from Austin, Texas live on the show today!
| Artist | Track | Album | Label | Comments | New | Approx. start time |
| --- | --- | --- | --- | --- | --- | --- |
| Scorpions | Leave Me | Cerebral Sounds of Brain Records 1972-1979 | Brain / Universal / Vertigo | 8CD Brain box! | * | 0:00:00 () |
| Thomas Jefferson Slave Apartments | My Mysterious Death | Bait and Switch | Onion/American | | | 0:04:32 () |
| Pustostany | Wszystko Co Stałe | 2012 | Oficyna Biedota | | * | 0:08:29 () |
| Baxter Stockman | Halkoja | Haul | Full Contact | | * | 0:10:12 () |
| Didaktische Einheit | Ich Bin Deutsch | Various: Zersetzung: Spin Age Blasters 2017 | No Label | | * | 0:13:19 () |
| Storm Bugs | Portapak | Certified Original and Vintage Fakes | Snatch Tapes | | * | 0:14:36 () |
| Kraus | Why Oh Why | Grip the Moon | No Label | | | 0:16:02 () |
| Tackle | Grondman | 12" | A Colorful Storm | | * | 0:35:01 () |
| Oh Long John Sabbath | | | | | | 0:26:43 () |
| Ken Sims Wins | | | | | | 0:26:47 () |
| Watchmojo.com | 10 Weirdest Music Genres | | | | | 0:32:40 () |
| Sax Ruins | Buppahairodazz | 16/8/16 | Otoroku | | * | 0:44:38 () |
| Tropical Trash | Early Wish | 7" | Sophomore Lounge | | * | 0:49:27 () |
| Playboy | Celebration | 12" | Negative Jazz | | * | 0:51:33 () |
| Borzoi | Live in the WFMU Studios | engineered by Dave Mambach | | In what Brian hopes to be the kickoff of a series of live guests named after Russian dogs, today's program welcomes the trio known as Borzoi out of Austin, Texas. Kicking up a blitzkreig of noise combined with a more subtle leaning towards hooks, the band's fast and furious squall has made itself evident on 7" singles on Pau Wau and most recently 12XU Records. See them live May 20th at Pet Rescue, on a bill with Language and Rathaus. Lineup: Rhys Woodruff, Taylor Browne, Zach Wood. Setlist: The South Is Risen / A Prayer For War / Lizard Men of the Third Reich / Beneath the Boardwalk / Warheads / Big Pink / The Tonsure Twist / Desert Rose / Millapede. You can download this set on The Free Music Archive. | | 1:00:54 () |
| Borzoi | WFMU Interview | | | | | 1:28:56 () |
| 13th Floor Elevators | Rollercoaster | Sign of the 3 Eyed Man (10 CD box) | International Artists | | | 1:35:26 () |
| Allen Page | Dateless Night | Various: 50s Rock On the Moon | Moon | | | 1:40:07 () |
| Tewolde Redda | Milenu | Eritrea's Guitar Pioneer: Singles 1970-73 | Domino Sound | | * | 1:43:55 () |
| Kendra Smith / David Roback / Keith Mitchell | Grains of Sand | Fell From the Sun | Serpent | RIP Keith Mitchell | | 1:53:57 () |
| Monitor | Pavilion | Monitor | World Imitation | | | 1:59:29 () |
| Foodman | 19/10/16 Encore | 19/10/16 | Otoroku | | * | 2:04:21 () |
| John Wynne | Anspayaxw | Various: Playing With Words | Gruenrekorder | | * | 2:10:52 () |
| N1L | Sleep Architecture | Ikea Zen | UIQ | | * | 2:11:23 () |
| Alvarius B vs. Abdel Baqu Byro | Excerpt | In Cairo | Nashazphone | | * | 2:17:08 () |
| Tass II | 174 Seconds For You | Various: Zersetzung: Spin Age Blasters 2017 | No Label | | * | 2:17:29 () |
| Anne Cessna & Essendon Airport | Lost in Madagascar | Various: Subnormal Girls Vol. 2 | Waiting Room | | * | 2:19:50 () |
| Tammy St John | Nobody Knows What's Goin' On (In My Mind But Me) | Various: Scratch My Back: Pye Beat Guirls 1963-1968 | Ace | | | 2:24:02 () |
| The Pin Group | Long Night | Go To Town | Superior Viaduct | | * | 2:25:58 () |
| Red Buckets | Something Else Again | Various: I'd Rather Be In Philadelphia | | | | 2:30:12 () |
| Wire | Heartbeat / Pink Flag | On the Box: 1979 | Pink Flag | | | 2:33:18 () |
| Big French | Hey Grandma | Stone Fish | Wharf Cat | | * | 2:40:36 () |
| Feature | Gatekeeper | Banishing Ritual | Upset the Rhythm | | * | 2:43:18 () |
| Tapiman | No Control | Hard Drive | Guerssen | | * | 2:47:12 () |
| Highway Robbery | Ain't Gonna Take No More | For Love Or Money | BMG | | | 2:50:53 () |
| Pugh & Nature | Slavsang | Various: The Essence of Swedish Prog | Premium Publishing | | | 2:54:51 () |