Brian Turner: Playlist from March 14, 2017
Order and disorder in a freeform haze of terribly-played guitars, shorted-out electronics, found audio detritus, strange sounds from strange lands all around. Psych-punk-junk, collage, even pop. Lots of in-studio live performances to boot.
<-- Previous playlist | Back to Brian Turner playlists | Next playlist -->
---

March 14, 2017: Marathon Week 2 w/co-host JOEL ST. GERMAIN

Listen to this show:

Pop‑up player! | Add or read comments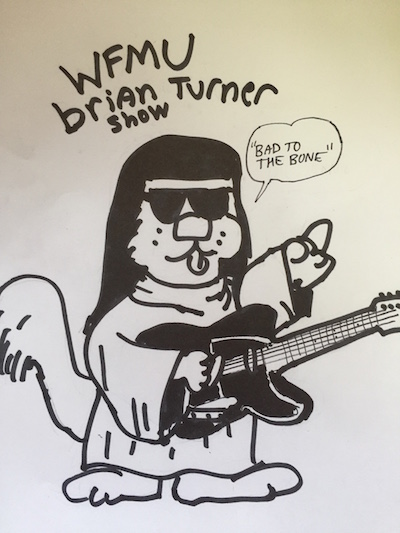 Marathon Week 2 today! All premium sized pledges ($75 and up) automatically get you BT's self-designed BAD TO THE BONE tee-shirt, as well as a WFMU tee, and gets you in the running for the show's grand prize at 6pm: A bona-fide distortion pedal from SONIC YOUTH'S studio closet, owned by and once subject to heavy jammery by LEE RANALDO. Lots of other prizes going up today too, so pledge and get in on it all!
(* = new)


| Artist | Track | Album | Label | Comments | New | Approx. start time |
| --- | --- | --- | --- | --- | --- | --- |
| Writhing Squares | Balloon To the Moon | In the Void Above | | LP on Siltbreeze our very first prize today. Call 1-800-989-WFMU or pledge at the playlist top to get in the running! | | |
| Fancy Rosy | Punk Police | | | | | |
| Smashchords | Hello There | | | | | 0:08:28 (Pop‑up) |
| Chrome Cranks | Little Johnny Jewel | | | | | 0:19:11 (Pop‑up) |
| Trad Gras Och Stenar | Var Vila | Djungeins Lag | | 2LP set is our prize right now! | | 0:31:18 (Pop‑up) |
| Killdozer | Sweet Home Alabama | Live here on the show 2008 | | | | 0:33:32 (Pop‑up) |
| The Jax | Jax Are Back | | | | | 0:39:15 (Pop‑up) |
| Sharevari on The Scene | | | | | | 0:41:44 (Pop‑up) |
| Soggy | Let's Go Together | Soggy | | LP reissue up for grabs rightnow!! | | 0:55:45 (Pop‑up) |
| Egor | Street | | | | | 1:00:01 (Pop‑up) |
| Faust | Live on the show & WFMU's Monty Hall 3/16 | | | | | 1:15:21 (Pop‑up) |
| John Bender | Street | Plaster Falling | | Superior Viaduct LP prize up for grabs now | | 1:25:48 (Pop‑up) |
| Ahoe-Ahoea | Icebusiness | True Love Never Dies | | LP up for grabs right now! | | 1:35:22 (Pop‑up) |
| Counter Intuits | Rocket Surgery | Monosyllabilly | | | | 1:38:29 (Pop‑up) |
| Sparks | This Town Ain't Big Enough For Both Of Us | | | | | 1:40:47 (Pop‑up) |
| Iggy Pop | Funtime / Tonight | Post Pop Depression Live at the Royal Albert Hall 5/13/16 | | 2cd + DVD {LUS the Jeff Gold giant TOTAL CHAOS: THE STORY OF THE STOOGES hardcover book are a prize together now! | | 2:01:34 (Pop‑up) |
| Naked City | TV Eye | Various: Rubaiyat | | | | 2:06:33 (Pop‑up) |
| Metal Boys | Sweet Marylin | Various: Les Punks | | | | 2:08:32 (Pop‑up) |
| The Clean | Point That Thing Somewhere Else (Live) | | | | | 2:12:50 (Pop‑up) |
| Vivien Goldman | Launderette | | | Resolutionary CD up for grabs now! | | 2:25:09 (Pop‑up) |
| Sonic Youth | Skip Tracer | Live WFMU 50th Anniversary Concert @ Battery Park | | | | 2:29:54 (Pop‑up) |
| Uniform | The Killing of America | Wake In Fright | | coming up live here on the show 4/4 | * | 2:34:01 (Pop‑up) |
| Stickmen With Rayguns | Two Fists | 1000 Lives To Die | | Live LP by these Texan thugs up for grabs too | | 2:37:14 (Pop‑up) |
| Borzoi | Desert Rose | 7" | 12XU | | | 2:46:12 (Pop‑up) |
<-- Previous playlist
| Back to
Brian Turner playlists
|
Next playlist -->
RSS feeds for Brian Turner:

Playlists feed |

MP3 archives feed
| Email
the Program Director
|
Other WFMU Playlists
|
All artists played by Brian Turner
|
---
Listen on the Internet
|
Contact Us
|
Music & Programs
|
WFMU Home Page
|
Support Us
|
FAQ
Live Audio Streams:
Pop-up
|
128k AAC
|
128k MP3
|
32k MP3
|
32k Windows
---