Scott Williams: Playlist from December 5, 2016
" I can't tell when you're telling me the truth."
- I'm not.
"How do I know anything you've told me is..."
- You don't.
<-- Previous playlist | Back to Scott Williams playlists | Next playlist -->
---
Upcoming events:
Tue. Jan 21st, Noon - 3pm: Scott Williams fills in for Feelings with Michele with one "L".

---

December 5, 2016

Listen to this show:

Pop‑up player! | Add or read comments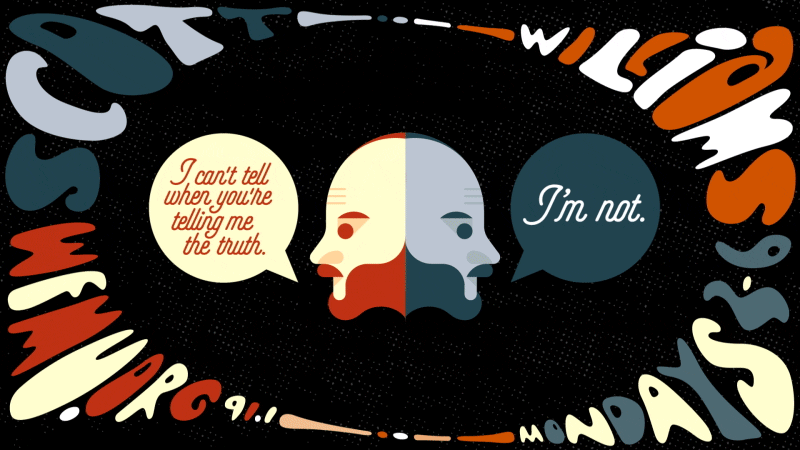 (* = new)


Artist
Track
Album
Label
Year
Comments
New
Approx. start time
Lemon Kittens
They Are Both Dirty
The Big Dentist
Illuminated Records
1981
Frog
Gelatin Babies #1
Frog 2
Rotorelief
*
0:11:03 (Pop‑up)
David Kenneth Nance
Caroline Says II
Berlin
David Kenneth Nance
*
0:15:27 (Pop‑up)
Joshua Burkett
Tr 2 (exc)
Owleavesrustling
*
0:19:29 (Pop‑up)
Warik
Nineteen
Warik's Tape
*
0:28:44 (Pop‑up)
Mor Thiam
Ayo Ayo Nene
Dini Safarrar (Drums Of Fire)
Jazzman
1973
0:31:29 (Pop‑up)
Washington Phillips
Take Your Burden to the Lord and Leave it There
Washington Phillips and His Manzarene Dreams
Dust to Digital
1927
0:37:17 (Pop‑up)
Jan Dukes De Grey
The List
Strange Terrain
Cherry Tree
1975-78/2010
0:49:32 (Pop‑up)
Bodenpersonal
Impuls-Schock
V/a, Now That's What I Call Music! 1980
Nick Name's 2016 WFMU Marathon premium
0:53:38 (Pop‑up)
Rob & Stefan
Tapped Into The Mainline
Manic Guitar Sessions
Albert's Basement
*
0:55:39 (Pop‑up)
Surface to Air Missive
My Stratocaster / I Call Me Us
AV
Leaving
*
0:57:50 (Pop‑up)
Ogre You Asshole
everythingsomethingnothing
everythingsomethingnothing
P-Vine
*
1:01:27 (Pop‑up)
Fabulous Diamonds
Untitled Tr 1
Fabulous Diamonds II
Chapter Music
2010
1:05:54 (Pop‑up)
N/a
"Frogs" film trailer
1972
1:17:39 (Pop‑up)
Led Zeppelin
Down By The Seaside
Physical Graffiti
Swan Song
1975
1:19:50 (Pop‑up)
Barış Manço
Balsultan
Estağfurullah...Ne Haddīmīze
Pharaway Sounds
1983
*
1:25:04 (Pop‑up)
79.5
Terrorize My Heart (45 Edit)
7"
Big Crown
*
1:29:09 (Pop‑up)
The Frogs
Bear
Hopscotch Lollipop Sunday Surprise
Scratchie
2001
1:40:54 (Pop‑up)
Thomas Leer
Soul Gypsy
Letter from America
Cherry Red
1982
1:44:06 (Pop‑up)
Le Car
Fony
Auto-Motif
Ersatz Audio
1998
1:49:14 (Pop‑up)
Kassem Mosse
Purple Graphene
Disclosure
Honest Jones
*
1:53:05 (Pop‑up)
Dow Jones & the Industrials
Malfunction
Can't Stand the Midwest 1979-1981
Family Vineyard
1:59:05 (Pop‑up)
Craig Leon
Nommo
Nommos
Takoma
1981
2:04:22 (Pop‑up)
Fossil Aerosol Mining Project
Napthol Impermanence
Revisionist History
Helen Scarsdale Agency
*
2:11:07 (Pop‑up)
L'Ensemble Rayé
Un Square Au Printemps
Comme Un Pinson Dans L'Eau
AYAA
2:22:39 (Pop‑up)
Rob Noyes
Oni
The Feudal Spirit
Poon Village
*
2:26:25 (Pop‑up)
Golden Hyaena
Valse de Kronink
7" floppy
Golden Soundsheets
*
2:34:16 (Pop‑up)
Snickers
You Know Why / Embassy / Correspondent
On the Hi-Fi Vol. 2 7"
Stimulus Progression
*
2:36:31 (Pop‑up)
Georgia
Ahola
All Kind Music
Palto Flats
*
2:42:30 (Pop‑up)
Zaïmph
Entropic Horror (exc)
Between The Infinite and the Finite
Yew
*
2:45:58 (Pop‑up)
Black Sabbath
Hand of Doom
Paranoid (Super Deluxe)
WB
1971
2:49:18 (Pop‑up)
<-- Previous playlist
| Back to
Scott Williams playlists
|
Next playlist -->
RSS feeds for Scott Williams's show:

Playlists feed |

MP3 archives feed
|
E-mail Scott Williams
|
Other WFMU Playlists
|
All artists played by Scott Williams
|
---
Listen on the Internet
|
Contact Us
|
Music & Programs
|
WFMU Home Page
|
Support Us
|
FAQ
Live Audio Streams:
Pop-up
|
128k AAC
|
128k MP3
|
32k MP3
|
32k Windows
---