Music without words, words without music, and combinations therein. The freeform soundtrack for working, shirking, or twerking.

If you would like to receive an email with the schedule of what's playing on the Give The Drummer Radio webstream each day, subscribe here. It's only one email per day; you can check out previous emails by clicking on "View Letter Archive" at that link before subscribing if you wish. Never miss a Drummer show (especially mine!) again!


November 15, 2016: Live music from BREANNA BARBARA!
Singer-songwriter Breanna Barbara was born in Edina, Minnesota and raised in Bradenton, Florida. She began writing and performing songs at house shows and bars in St. Augustine, Florida, then traveled around the north and southeast before settling in New York City. Her third album Mirage Dreams, released on No Roads Records, introduces a bold new voice steeped in occult blues (think of it as a Southern Gothic fusion of blues and psychedelia), with songs about losing a parent to an overdose and a New York full of empty clubs and sweaty, un-air-conditioned lofts; but also about falling in love and finding an artistic voice. Hear Breanna and her band live on the show today!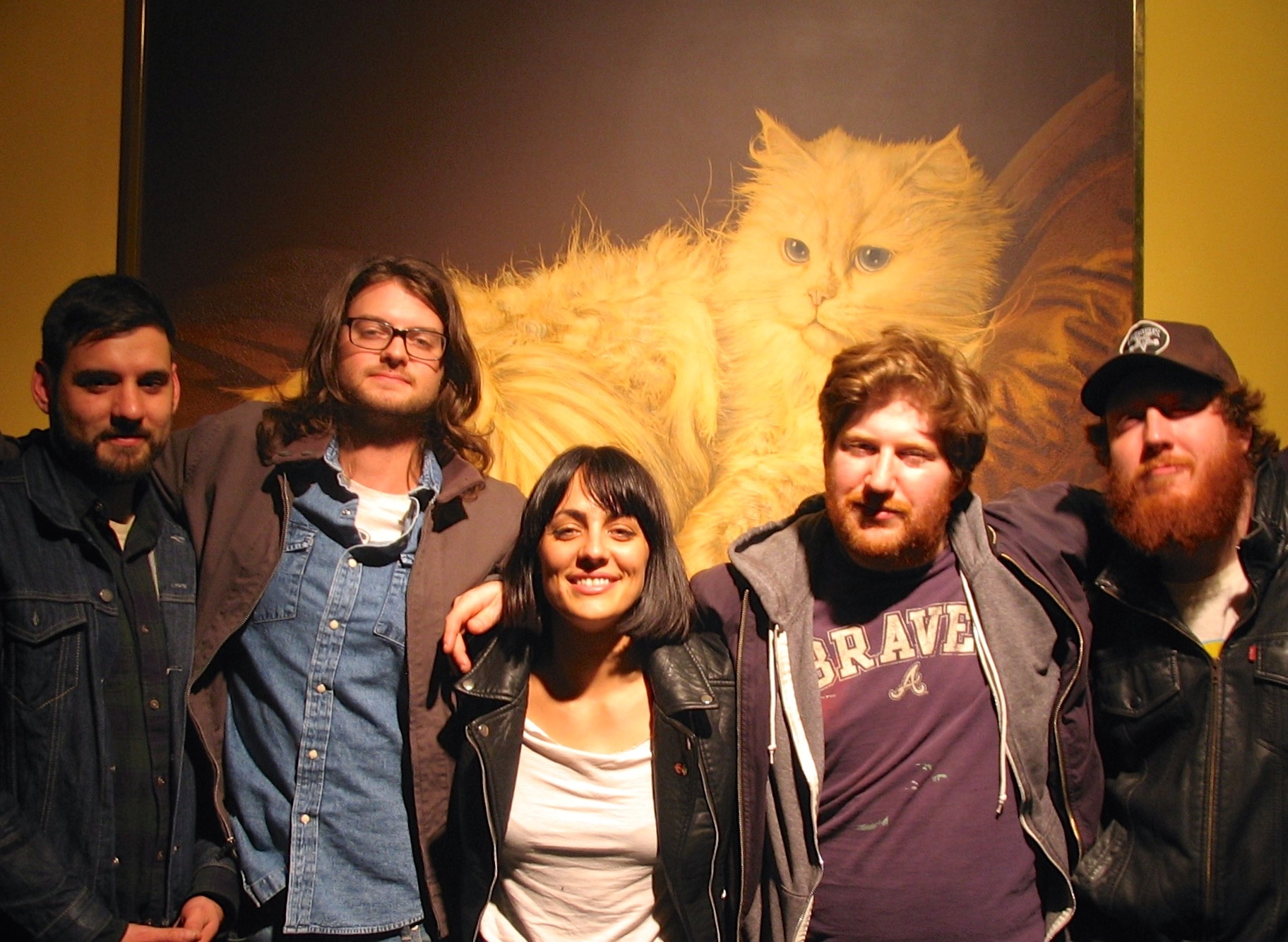 Peter, Evan, Breanna, Gabe, and Stefan

Listen to this show:
Artist
Track
Album
Label
Year
Format
Comments
New / Special
Approx. start time
Jonathan Kane
I Looked At The Sun
I Looked At The Sun EP
Radium / Table Of Elements
2006
CD
0:00:00 ()
Soft Gang
Are You Really Hurt?
Soft Gang
Sophomore Lounge
2016
LP
*
0:13:52 ()
Grimes
Easily
Art Angels
4ad
2015
CD
0:18:24 ()
Nada Surf
Are You Lightning?
Lucky
Barsuk
2008
CD
0:21:31 ()
Karyn Kuhl Band
The Stars Will Bring You Home
The Stars Will Bring You Home
self-released
2016
CD
0:27:02 ()
Chrysta Bell
Right Down To You
This Train
La Rose Noire
2011
CD
0:32:32 ()
Air
Sonic Armada
Le Voyage Dans La Lune
Astralwerks
2012
CD
0:37:31 ()
The Frightnrs
Gonna Make Time
Nothing More To Say
Daptone
2016
CD
*
0:42:53 ()
Gregory Isaacs
Should I
Gregory Isaacs Sings Dennis Brown
Ras / Sanctuary / BMG
2004
CD
A Dennis Brown cover.
0:46:08 ()
Andre Williams
What Now?
I Wanna Go Back To Detroit City
Bloodshot
2016
CD
0:49:53 ()
Southern Culture On The Skids
Slowly Losing My Mind
The Electric Pinecones
Kudzu
2016
CD
*
0:52:20 ()
Music behind DJ:
Low
Hatchet (Optimimi Version) (Wing edit)
Hatchet (Optimimi Version) / Breaker (Dub Plate) 7"
Sub Pop
2007
WAV
0:55:21 ()
Katrina and The Waves
Going Down To Liverpool
Katrina and The Waves
Capitol
1985
MP3
Originally released in 1982.
***
1:06:21 ()
Clair Marlo
Going Down To Liverpool
Behaviour Self
WildCat Recording Corporation
1995
MP3
A Katrina and The Waves cover.
***
1:10:47 ()
The Bangles
Going Down To Liverpool
All Over The Place
Columbia
1984
MP3
A Katrina and The Waves cover.
***
1:14:26 ()
Margo Price
Four Years Of Chances
Midwest Farmer's Daughter
Third Man
2016
CD
*
1:18:16 ()
Pavo Pavo
2020, We'll Have Nothing Going On
Young Narrator In The Breakers
Bella Union
2016
MP3
1:22:42 ()
Silver Apples
The Edge Of Wonder
Clinging To A Dream
Chicken Coop Recordings
2016
CD-R
*
1:28:44 ()
Monk Parker
Raining In Eva
How The Spark Loves The Tinder
Bronze Rat
2015
CD
1:32:42 ()
Nadja
Disambiguation
Desire In Uneasiness
Crucial Blast / Broken Spine
2008
CD
1:38:16 ()
Amy X. Neuburg
Insomniac
Residue
Other Minds
2004
CD
1:45:32 ()
Drakkar Nowhere
Higher Now
Drakkar Nowhere
Beyond Beyond Is Beyond
2016
CD
*
1:48:45 ()
Neko Case, k.d. lang, Laura Veirs
Down
case/lang/veirs
Anti-
2016
CD
1:54:11 ()
Music behind DJ:
Low
Hatchet (Optimimi Version) (Wing edit)
Hatchet (Optimimi Version) / Breaker (Dub Plate) 7"
Sub Pop
2007
WAV
1:57:14 ()

Breanna Barbara live on WFMU
Recorded November 12, 2016, engineered by Glenn Luttmann

Breanna Barbara: vocals, guitar
Peter Wilderotter: guitar
Stefan Mersch: bass
Evan Heinze: keyboards
Gabe Katz: drums


Breanna Barbara
Sailin', Sailin'
(Live on WFMU)
2016
WAV
2:03:05 ()
Breanna Barbara
Who Are You
(Live on WFMU)
2016
WAV
2:05:15 ()
Breanna Barbara
Where's My Baby
(Live on WFMU)
2016
WAV
2:08:52 ()
Breanna Barbara
Go Back
(Live on WFMU)
2016
WAV
2:14:25 ()
Breanna Barbara
Nothin' But Your Lovin'
(Live on WFMU)
2016
WAV
2:19:06 ()
Breanna Barbara
Mirage Dreams
(Live on WFMU)
2016
WAV
2:24:42 ()
Breanna Barbara
Daddy Dear
(Live on WFMU)
2016
WAV
2:28:35 ()
Breanna Barbara
You Got Me High
(Live on WFMU)
2016
WAV
2:34:45 ()
Barbara Manning
Damned Lucky
Under One Roof: Singles And Oddities
Innerstate
2000
CD
This song originally released in 1992.
2:39:01 ()
Babes In Toyland
Won't Tell
Redeux
Blank Recording Co.
CD
*
2:42:20 ()
Shonen Knife
Muddy Bubbles Hell
Super Group
Good Charemel
2008
CD
2:45:58 ()
The Mystery Lights
Too Tough To Bear
The Mystery Lights
Wick
2016
CD
2:50:22 ()
Music behind DJ:
Low
Hatchet (Optimimi Version) (Wing edit)
Hatchet (Optimimi Version) / Breaker (Dub Plate) 7"
Sub Pop
2007
WAV
2:53:31 ()