100% Whatever with Mary Wing: Playlist from June 21, 2015
Music without words, words without music, and combinations therein. The freeform soundtrack for working, shirking, or twerking.

If you would like to receive an email with the schedule of what's playing on the Give The Drummer Radio webstream each day, subscribe here. It's only one email per day; you can check out previous emails by clicking on "View Letter Archive" at that link before subscribing if you wish. Never miss a Drummer show (especially mine!) again!

<-- Previous playlist | Back to 100% Whatever with Mary Wing playlists | Next playlist -->
---
Upcoming events:
Sun. Jan 19th, 9am - Noon: Mary Wing fills in for Reggae Schoolroom

---

June 21, 2015: Live music from BIRDSTRIKING!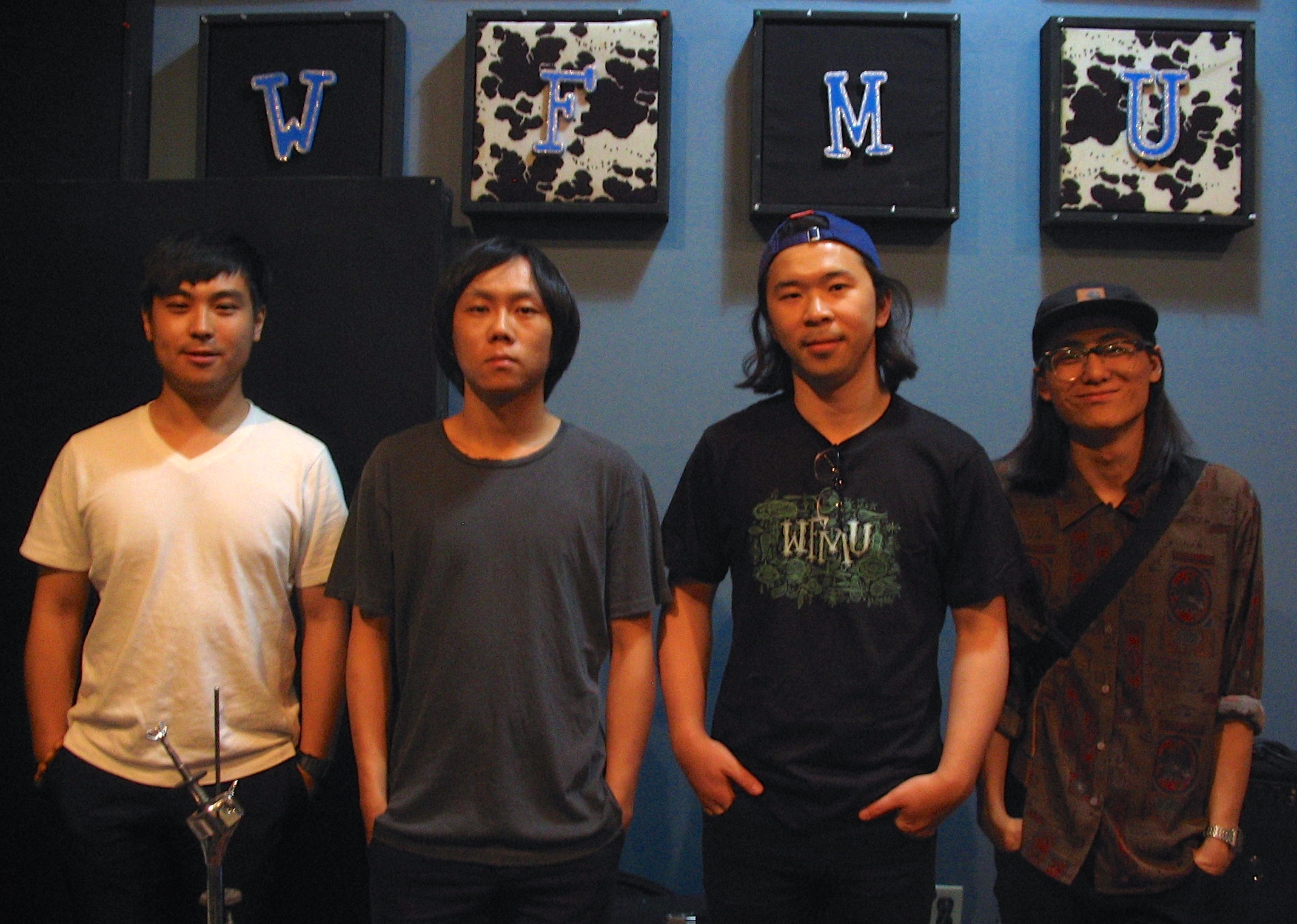 Left to right: He Fan, Monkey, Zhou Nairen, and Wen Yuzhen

Although
Birdstriking
's
debut 2012 LP
received limited distribution in China due to its socially critical lyrics, it gained a diehard following in the Beijing underground music scene. The record's mix of tuneful hooks, calculated psych-noise meltdowns, precision rhythmic structure, and brash lyrical frankness quickly cemented them as the frontrunner of a new generation of young Beijing rockers with an equal mix of heart, grit, and vision. Now on their first North American tour, coinciding with the official international release of their album on June 2, 2015 by A Recordings, Birdstriking brings the new sound of young China to WFMU; hear them at 1 am!
Listen to this show:

Pop‑up player!
(* = new, *** = "Three of a Kind" covers segment)


Artist
Track
Album
Label
Year
Format
Comments
New / Special
Approx. start time
In-Sone
Pré
self-titled
self-released
2014
CD
0:00:00 (Pop‑up)
Gary Numan
Engineers
The Pleasure Principle
Beggars Banquet
1998
CD
Originally released in 1979.
0:10:05 (Pop‑up)
Zombie Zombie
Illuminations
Rituels D'un Nouveau Monde
Versatile
2012
CD
0:14:06 (Pop‑up)
Ishraqiyyn
Balthassar : Melchior : Caspar
Secret Chiefs 3: Satellite Supersonic Vol. 1
Mimicry
2010
CD
Various artists.
0:19:51 (Pop‑up)
Go Home Productions
Cindy Byrdsong
Raymond Scott Rewired
Basta
2014
CD
Various artists.
0:26:21 (Pop‑up)
Turquoise Days
Blurred
The Minimal Wave Tapes: Volume One
Stones Throw
2010
CD
Various artists; this song originally released in 1984.
0:30:31 (Pop‑up)
Curve
Lillies Dying
Doppelganger
Charisma ‎/ Anxious
1999
CD
0:33:57 (Pop‑up)
James Pants
Designated Driver
Savage
Stones Throw
2015
CD
*
0:38:23 (Pop‑up)
Mazheri Singers
Palameni Mwebalecula (Come near, you who are suffering)
Zambia Roadside 2
St. Sharp Wood
2013
CD
Various artists; this song recorded on November 28, 1996.
0:40:17 (Pop‑up)
Luna
Mermaid Eyes
Romantica
Jetset Records
2002
CD
0:44:17 (Pop‑up)
Frank Bango
I'm Not Here
Touchy/Feely
Sincere Recording Co.
2013
CD
0:47:49 (Pop‑up)
Patterson Twins
I Need Your Love
Soul On The Real Side #1
Outta Sight
2014
CD
Various artists; this song originally released in 1976.
0:50:43 (Pop‑up)
Eleni Mandell
Who You Gonna Dance With
I Can See The Future
Yep Roc
2012
CD
0:53:52 (Pop‑up)
Delroy Wilson
Rascal Man
Trojan Jamaican Superstars Box Set
Trojan
1999
CD
Various artists.
0:56:52 (Pop‑up)
Barbara Morgenstern
Eine Verabredung
Fan No. 2
Monika
2010
CD-R
This song originally released in 2000.
1:00:19 (Pop‑up)
Music behind DJ:
Barbara Morgenstern
Eine Verabredung (wacked-out CD-R version)
Fan No. 2
Monika
2010
CD-R
1:04:16 (Pop‑up)



Birdstriking live on WFMU
Recorded June 14, 2015, engineered by Glenn Luttman

He Fan: vocals, guitar
Wen Yuzhen: guitar
Zhou Nairen: bass, backing vocals
Monkey: drums

You can download this live session at the Free Music Archive!


Birdstriking
People's Son
(Live on WFMU)
2015
WAV
1:13:42 (Pop‑up)
Birdstriking
Monkey Snake
(Live on WFMU)
2015
WAV
1:16:01 (Pop‑up)
Birdstriking
Magpie
(Live on WFMU)
2015
WAV
1:19:37 (Pop‑up)
Birdstriking
No More Rock And Roll
(Live on WFMU)
2015
WAV
1:25:32 (Pop‑up)
Birdstriking
25
(Live on WFMU)
2015
WAV
1:31:16 (Pop‑up)
Birdstriking
Hate Me? You Old!
(Live on WFMU)
2015
WAV
1:34:01 (Pop‑up)
Birdstriking
TV At 7
(Live on WFMU)
2015
WAV
1:37:43 (Pop‑up)
Carsick Cars
At The End Of The Day
You Can Listen You Can Talk
Maybe Mars
2009
CD
1:40:47 (Pop‑up)
Chui Wan
Beijing Is Sinking
self-titled
Maybe Mars
2015
CD
*
1:47:12 (Pop‑up)
Dear Eloise
The Stranger
Beauty In Strangers
Maybe Mars
2011
CD
1:54:52 (Pop‑up)
Boyz & Girl
New
self-titled
Maybe Mars
2011
CD
*
2:00:01 (Pop‑up)
Music behind DJ:
Ron Ayres
Friendly Persuasion
Friendly Persuasion
Richmond / London
1962
MP3
2:04:08 (Pop‑up)
Lou Reed
Perfect Day
Transformer
RCA
1972
MP3
***
2:19:01 (Pop‑up)
Susan Boyle
Perfect Day
The Gift
Simco Limited / Sony
2010
MP3
A Lou Reed cover.
***
2:22:45 (Pop‑up)
Duran Duran
Perfect Day
Thank You
Capitol
1995
MP3
A Lou Reed cover.
***
2:27:16 (Pop‑up)
Fathom Lane
Perfect Day
self-titled
Longplayer Records
2013
MP3
A Lou Reed cover.
***
2:31:06 (Pop‑up)
Mdou Moctar
Issusahid Elwaname
Afelan
Sahel Sounds
2013
LP
2:36:29 (Pop‑up)
Throwing Muses
Bright Yellow Gun
University
Sire
1995
CD
2:40:16 (Pop‑up)
P.J. Harvey
A Perfect Day Elise
Is This Desire?
Island
1998
MP3
2:44:00 (Pop‑up)
Detroit Grand Pubahs
Sandwiches (Original 2011 Version)
Sandwiches / Club Sandwiches - Part One 10"
Engineroom
2011
MP3
This song originally released in 2000.
2:46:59 (Pop‑up)
The Dominatrix
The Dominatrix Sleeps Tonight
Sleeps Tonight
Get On Down / Streetwise
2015
LP
On pink vinyl; originally released in 1984.
*
2:51:55 (Pop‑up)
Music behind DJ:
Ron Ayres
Friendly Persuasion
Friendly Persuasion
Richmond / London
1962
MP3
2:55:32 (Pop‑up)
<-- Previous playlist
| Back to
100% Whatever with Mary Wing playlists
|
Next playlist -->
RSS feeds for 100% Whatever with Mary Wing:

Playlists feed |

MP3 archives feed
|
E-mail Mary Wing
|
Other WFMU Playlists
|
All artists played by 100% Whatever with Mary Wing
|
---
Listen on the Internet
|
Contact Us
|
Music & Programs
|
WFMU Home Page
|
Support Us
|
FAQ
Live Audio Streams:
Pop-up
|
128k AAC
|
128k MP3
|
32k MP3
|
32k Windows
---