The Evan "Funk" Davies Show: Playlist from June 17, 2015
Every show starts with the '70s! We'll rediscover forgotten rockers, revisit unfairly maligned disco beats and replay power-pop favorites. Next: plenty of new releases, occasional live bands and more. Don't let the nickname confuse you.
<-- Previous playlist | Back to The Evan "Funk" Davies Show playlists | Next playlist -->
---

June 17, 2015: I'm back! Back in the New Jersey Groove! With a live set from COLD BEAT!

Listen to this show:

Pop‑up player! | Add or read comments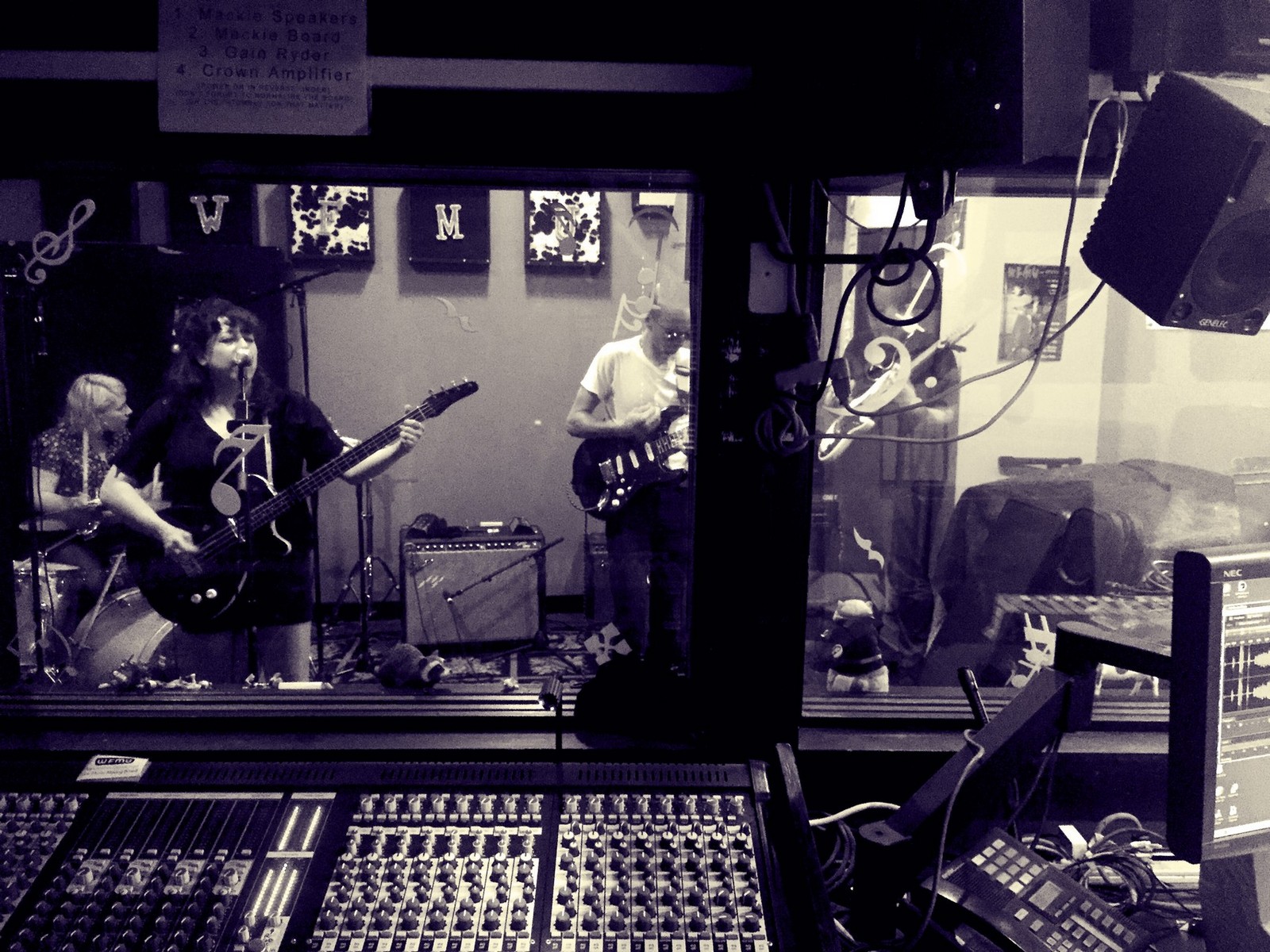 San Francisco's Cold Beat was started by Hannah Lew as an outlet for songs she'd been working on while playing in Grass Widow, but "didn't feel like Grass Widow songs." With that band on unannounced and indefinite hiatus, Lew completed those songs and continued writing on her own, releasing an EP in 2013 and the full-length album Over Me (Crime On The Moon) last year. Reviewers struggled to put the album's sound in a familiar box, describing it variously as "surf-rock," "post-punk," "punkish," "poppy" and (gasp) "new wave." Listen to their live set and decide for yourself!

Please take a moment to Like The Evan "Funk" Davies Show on Facebook, and follow me on Twitter! Thank you!

(* = new)


Artist
Track
Album
Label
Year
Comments
New
Approx. start time
ace frehley
new york groove
12" kiss solo album sampler
casablanca
1978
0:00:00 (Pop‑up)
the brothers johnson
ain't we funkin' now
blam!!
a&m
1978
last time I did my show we still had both Johnson brothers. RIP Louis.
0:02:50 (Pop‑up)
extnddntwrk
dirty soup
just tracks
fourth dimension
2014
Andrew Fearn, the music/beats half of Sleaford Mods
0:08:32 (Pop‑up)
los straitjackets
2000 light years from home
7"
norton
*
0:12:20 (Pop‑up)
the tubes
prime time
remote control
a&m
1979
0:14:50 (Pop‑up)
belle & sebastian
lazy line painter jane
cd ep
matador
1997
how I spent one of my three weeks off...
0:18:09 (Pop‑up)
starbreaker
the sound of summer
7"
chrysalis
1977
NOW IT'S OFFICIALLY SUMMER MOTHEREFFERS!!1!
0:24:01 (Pop‑up)

COLD BEAT live on WFMU
engineered by Mike Sin
Hannah - bass/vocals
Kyle - guitar/vocals
Jackson - guitar
Susie - drums

New album coming in September, but in the meantime pick up last year's Over Me on the Crime On The Moon label!

They've got a Tumblr, a Twitter, and a Facebook!
cold beat
rain
live on wfmu
0:38:29 (Pop‑up)
cold beat
wave
live on wfmu
0:40:22 (Pop‑up)
cold beat
outrunning shadows
live on wfmu
0:43:17 (Pop‑up)
cold beat
tinted glass
live on wfmu
0:45:19 (Pop‑up)
cold beat
uv
live on wfmu
0:47:33 (Pop‑up)
cold beat
broken lines
live on wfmu
0:50:20 (Pop‑up)
cold beat
am i dust
live on wfmu
0:52:51 (Pop‑up)
cold beat
worms
live on wfmu
0:56:29 (Pop‑up)
cold beat
osotw
live on wfmu
0:58:26 (Pop‑up)
cold beat
chat with efd
live on wfmu
1:00:51 (Pop‑up)
the pacifics
say you love me
say you love me 7" ep
mistkafer
*
1:10:19 (Pop‑up)
the sueves
liquid hounds
7"
hozac
*
1:11:40 (Pop‑up)
alex chilton
dalai lama
high priest
big time
1987
1:15:43 (Pop‑up)
michael shelley
jimmy's corner
jimmy's corner
confidential recordings
*
1:20:53 (Pop‑up)
john krautner
music is the thing
fun with gum vol. 1
burger
*
1:22:36 (Pop‑up)
little racer
montevideo
foreign tongues
papercup music
More about Little Racer
*
1:35:57 (Pop‑up)
young guv
crushing sensation
ripe 4 luv
slumberland
*
1:39:06 (Pop‑up)
gap dream
cold love
split 7" with hard time
burger
*
1:42:39 (Pop‑up)
matchess
the need of the greatest wealth
seraphastra
trouble in mind
*
1:46:10 (Pop‑up)
chris stamey
rocketship
euphoria
yep roc
*
1:51:27 (Pop‑up)
paul weller
saturn's pattern
saturn's pattern
warner bros/parlophone
playing this Saturday at Music Hall of Williamsburg; I've got a pair of tickets to give away shortly!
*
1:55:27 (Pop‑up)
kongas
africanism
best of cerrone productions
because
*
2:07:18 (Pop‑up)
prinzhorn dance school
reign
home economics
dfa
*
2:12:12 (Pop‑up)
patrick watson
good morning mr. wolf
love songs for robots
secret city
*
2:16:42 (Pop‑up)
hookworms
on leaving
the hum
weird world
2014
2:22:17 (Pop‑up)
great buildings
combat zone
apart from the crowd
columbia
1981
future members of the Rembrandts.
2:28:15 (Pop‑up)
roman cities
lose myself
the sharksleep sessions
roman cities
it's on Bandcamp
*
2:31:46 (Pop‑up)
daddy longlegs
motorcycle madness
rides tonight
norton
co-written with Carlos of Apache and The Cuts
*
2:41:42 (Pop‑up)
the muggs
fat city
straight up boogaloo
the muggs
*
2:44:41 (Pop‑up)
andy human & the reptoids
i got soul
s/t
s-s
*
2:49:27 (Pop‑up)
jeff hudson
sprung
tm
jeff hudson
of the Rentals and Jeff & Jane Hudson fame
*
2:52:12 (Pop‑up)
<-- Previous playlist
| Back to
The Evan "Funk" Davies Show playlists
|
Next playlist -->
RSS feeds for The Evan "Funk" Davies Show:

Playlists feed |

MP3 archives feed
|
E-mail Evan Davies
|
Other WFMU Playlists
|
All artists played by The Evan "Funk" Davies Show
|
---
Listen on the Internet
|
Contact Us
|
Music & Programs
|
WFMU Home Page
|
Support Us
|
FAQ
Live Audio Streams:
Pop-up
|
128k AAC
|
128k MP3
|
32k MP3
|
32k Windows
---