Nazario Scenario: Playlist from December 17, 2014
Two hours of rollicking delite: '60s jams, cartooniness, seriousness, sing-alongs, and Simpsons talk. P.dece.
<-- Previous playlist | Back to Nazario Scenario playlists | Next playlist -->
---

December 17, 2014: THEEEEEEE SIMPSONS TIME HOLIDAY SNACKTACULAR!!! featuring Nate K, Paul Bruno & Pat Byrne!!!

Listen to this show: | Add or read comments

......................................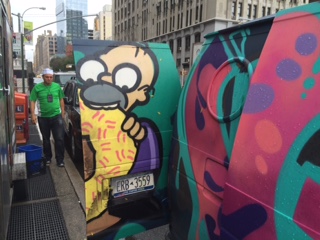 Artist
Track
Album
Year
Format
Comments
Images
Approx. start time
Yo La Tengo
Simpsons theme (live)
0:00:00 ()
The Party Posse
Drop Da Bomb
0:04:14 ()
Homer
Homer Face
0:05:41 ()
Burns & Smithers
See My Vest
Songs in the Key of Springfield
CD
0:07:16 ()
Homer, Lenny, Carl et al
Dental Plan mashup
YouTube
0:09:00 ()
Bart et al
Deep, Deep Trouble
The Simpsons Sing the Blues
CD
0:11:43 ()
Amanda, Nate, Pat, Paul
TALKING
0:17:31 ()
Sonic Youth
Simpsons theme
0:53:10 ()
McBain supercut
YouTube
0:54:37 ()
Rev. Lovejoy, Bart et al
In-A-Gadda-Da-Vida remix
YT
0:58:30 ()
Shary Bobbins, Bart, Lisa, Homer, Marge, Barney, Moe
Supercalifragilisticexpiali(annoyed grunt)cious Medley
Go Simpsonic with the Simpsons
CD
1:01:05 ()
Conan O'Brien, Hank Azaria et al
Monorail Song live
Simpsons live at the Hollywood Bowl
YT, Sept. 2014
1:07:01 ()
Shary Bobbins, Bart, Lisa, Homer, Marge
We're Happy With Things The Way They Are
Go Simpsonic with the Simpsons
CD
1:11:14 ()
Paul, Pat, Nate, Amanda
OMG SO MUCH TALKING
1:13:24 ()
Los Lobos
Simpsons theme
1:29:41 ()
The Many D'oh!s of Homer
A supercut of every time Homer says "D'oh!" in seasons 1-20
1:31:02 ()
Homer, Itchy, Scratchy
Poochie rap
1:34:56 ()
Alf Clausen
Who Shot Mr. Burns? Simpsons theme
1:35:40 ()
Simpsons Time!
ep 1: Simpsons Roasting on an Open Fire (writer: Mimi Pond)
1:36:53 ()
Bart, Homer
Simpsons Xmas
1988
Tracey Ullman short
1:57:41 ()
The Be Sharps
Baby On Board
2:02:21 ()
......................................
<-- Previous playlist
| Back to
Nazario Scenario playlists
|
Next playlist -->
RSS feeds for Nazario Scenario:

Playlists feed |

MP3 archives feed
|
E-mail Amanda
|
Other WFMU Playlists
|
All artists played by Nazario Scenario
|
---
Listen on the Internet
|
Contact Us
|
Music & Programs
|
WFMU Home Page
|
Support Us
|
FAQ
Live Audio Streams:
Pop-up
|
128k AAC
|
128k MP3
|
32k MP3
|
32k Windows
---