The Evan "Funk" Davies Show: Playlist from November 19, 2014
Every show starts with the '70s! We'll rediscover forgotten rockers, revisit unfairly maligned disco beats and replay power-pop favorites. Next: plenty of new releases, occasional live bands and more. Don't let the nickname confuse you.
<-- Previous playlist | Back to The Evan "Funk" Davies Show playlists | Next playlist -->
---

November 19, 2014: Annual show dedicated to my high school friend Jim McIntyre, aka Jimmy Mack

Listen to this show:

Pop‑up player! | Add or read comments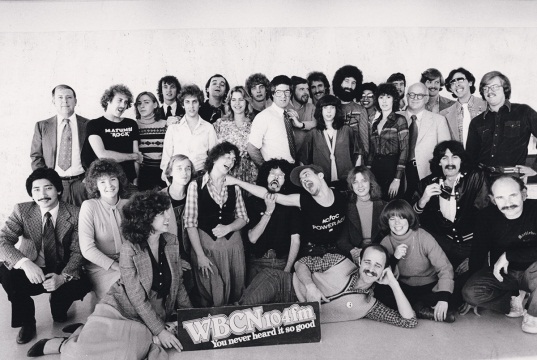 Click for a larger image. (Photo via)
Back in October 2006 I dedicated my first show on the regular WFMU weekly schedule to Jim McIntyre, a/k/a Jimmy Mack, who was one of my best friends in high school. That's him kneeling just to the right of center in the photo above, wearing the AC/DC Powerage t-shirt, along with the rest of the staff of WBCN/Boston back in 1978 or so. Jimmy started working there while we were in high school, and before long his passion, dedication and enthusiasm earned him the position of Music Director at the station.

Jimmy was the person who turned me on to a TON of new music that was coming out at the time -- Cheap Trick, The Dictators, The Ramones, The Stranglers, Ultravox, and Television are just a few of the bands that I first heard of because of my friendship with Jimmy. Imagine being in your teens and having a friend turn you on to just ONE of those bands. Now increase that impact tenfold, or more, and you start to get an idea of the importance of Jimmy's friendship. OK, not every band he turned me on to was super-cool -- he gave me the first couple of Foreigner albums, for instance -- but still, Jimmy had a great ear for cool music that wasn't yet -- or, sometimes, ever -- part of the mainstream.

Fortunately for me -- and for you -- that excitement and passion for discovering and sharing new music was matched by his generosity. Nearly every time I saw him he'd present me with a bag of extra (or rejected) promo records from his WBCN job. Many of those records remain favorites of mine to this day.

In the summer of 1985, Jimmy learned he had AIDS. A year later he passed away, at the age of 25. As you can see from the obituary that ran in the Boston Globe he was as generous with his time as he was with records. Regrettably I had lost contact with Jimmy by this time, and didn't hear of his passing until a few years later.

In the fall of 2006 I dedicated my first weekly show on the regular WFMU schedule to Jimmy. I wanted to acknowledge his impact on my life, and especially on my own musical tastes. Since then I've dedicated one of the first shows of the WFMU fall schedule to him, since his influence is never too far from what you hear me play on my show. Thanks for taking a moment to read about him, and thanks for listening to WFMU.
Social Media Promotion Alert!
While you're enjoying this program please take a moment to
Like The Evan "Funk" Davies Show
on Facebook and
follow me
on Twitter! Thank you.
(* = new)


Artist
Track
Album
Label
Year
Comments
New
Approx. start time
cheap trick
heaven tonight
heaven tonight
epic
1978
0:00:00 (Pop‑up)
willie loco
dirty eddie
7"
somor
1978
0:04:20 (Pop‑up)
the motors
love and loneliness
tenement steps
virgin
1980
0:07:04 (Pop‑up)
girlschool
hit and run
hit and run
stiff
1981
0:11:39 (Pop‑up)
foreigner
double vision
double vision
atlantic
1978
0:15:23 (Pop‑up)
nervous eaters
loretta
7"
rat
1977
0:18:14 (Pop‑up)
the stranglers
down in the sewer
iv rattus norvegicus
a&m
1977
0:20:37 (Pop‑up)
j.c. satan
italian summer
7"
trouble in mind
*
0:39:58 (Pop‑up)
games
little elise
7"
hozac
*
0:43:14 (Pop‑up)
dave and the mistakes
what i do on stage (gonna pay my way)
s/t 12" ep
sonet spotlight
1980
0:46:33 (Pop‑up)
mr. payday
first world problems
music explosion
polanco
2014
0:49:23 (Pop‑up)
the fauntleroys
suck my heart out with a straw
below the pink pony
plowboy
*
0:52:35 (Pop‑up)
phoaming edison
delusion 6
7"
self-released
*
0:59:05 (Pop‑up)
chris butler
easy life
easy life
future fossil
*
1:04:00 (Pop‑up)
sloan
you've got a lot on your mind
commonwealth
yep roc
*
1:08:58 (Pop‑up)
charlie
she loves to be in love
lines
janus
1978
1:12:21 (Pop‑up)
cliff hillis
just one more
song machine
tallboy records
*
1:16:37 (Pop‑up)
the juan maclean
here i am
in a dream
dfa
*
1:29:08 (Pop‑up)
k.s.b.
misaluba
va-horse meat disco iv
strut
2014
1:34:46 (Pop‑up)
afrika bambaata & timezone
well / alright
everyday people: the breakbeat party album
planet rock
*
1:41:14 (Pop‑up)
mucca pazza
all out of bubblegum
l.y.a.
leather bus records
*
1:45:06 (Pop‑up)
eyelids
abby's friends
854
jealous butcher
*
1:52:51 (Pop‑up)
outrageous cherry
priceless thing
the digital age
burger
*
1:55:28 (Pop‑up)
the associates
kissed
7"
situation
1981
1:59:09 (Pop‑up)
nude beach
i can't keep the tears from falling
77
don giovanni
*
2:05:16 (Pop‑up)
hookworms
retreat
the hum
weird world
*
2:15:47 (Pop‑up)
the blind shake
pollen
breakfast of failures
goner
playing at Cake Shop this coming Tuesday, and live on Joe Belock's Three Chord Monte on Monday Dec. 1
*
2:21:35 (Pop‑up)
the cheap vibes
in my veins
no way out
not aloud
2014
2:25:40 (Pop‑up)
wings
junior's farm
venus and mars
hear music/concord
new 2CD/1 DVD reisssue
*
2:30:07 (Pop‑up)
b. bumble and the stingers
bumble boogie
nut rocker
ace
1995
orig 1961
2:34:08 (Pop‑up)
the limiñanas
migas 2000
i've got trouble in mind: 7" and rare stuff 2009/2014
trouble in mind
*
2:36:15 (Pop‑up)
ultimate painting
ten street
s/t
trouble in mind
*
2:42:46 (Pop‑up)
autobodies
johnny cash in the attic
bodywork 7" ep
self-released
*
2:46:11 (Pop‑up)
ultravox!
life at rainbow's end
s/t
island
1976
2:49:33 (Pop‑up)
the pool
pool
333+
anodize
new CD collection, orig 1984
*
2:53:54 (Pop‑up)
<-- Previous playlist
| Back to
The Evan "Funk" Davies Show playlists
|
Next playlist -->
RSS feeds for The Evan "Funk" Davies Show:

Playlists feed |

MP3 archives feed
|
E-mail Evan Davies
|
Other WFMU Playlists
|
All artists played by The Evan "Funk" Davies Show
|
---
Listen on the Internet
|
Contact Us
|
Music & Programs
|
WFMU Home Page
|
Support Us
|
FAQ
Live Audio Streams:
Pop-up
|
128k AAC
|
128k MP3
|
32k MP3
|
32k Windows
---