The Evan "Funk" Davies Show: Playlist from October 22, 2014
Every show starts with the '70s! We'll rediscover forgotten rockers, revisit unfairly maligned disco beats and replay power-pop favorites. Next: plenty of new releases, occasional live bands and more. Don't let the nickname confuse you.
<-- Previous playlist | Back to The Evan "Funk" Davies Show playlists | Next playlist -->
---

October 22, 2014: LLOYD COLE live in the studio PLUS a live set from THE #1s!

Listen to this show:

Pop‑up player! | Add or read comments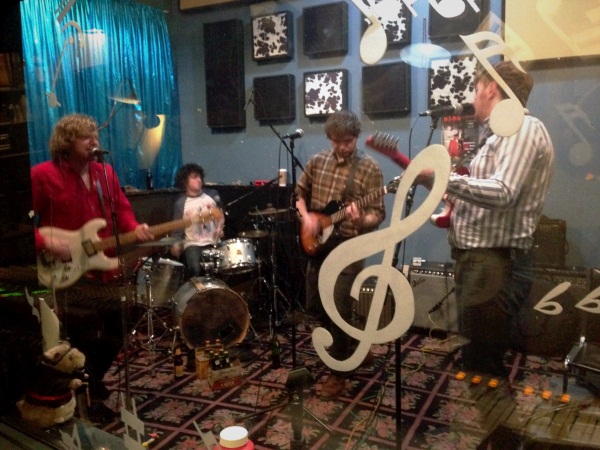 It's week FOUR of WFMU's Silent Fundraiser and Mascot Contest, and I've put together yet another special show that demonstrates how awesome WFMU is (and hopefully to motivate you to pledge your support).

30 years to the month after the release of Rattlesnakes, English-by-way-of-Western-Massachusetts singer/songwriter Lloyd Cole stops by WFMU to play some songs, talk about his latest album, and even take part in Singles Going Steady Week! That album, Standards (Omnivore), comes out in the USA this month; it is, as Lloyd himself says, "a rock record" made up of 10 original tunes and one cover.

PLUS! An almost literally last-minute addition to the show: Dublin power-punkers The #1s! Comparing them to the Undertones is almost too easy, but it's true. If you like your punk poppy and your power-pop punky then this is the band for you! Catch them Thursday night at Hank's Saloon, Friday at the Delancey, and Saturday at the Irish Arts Center!

Now, because this is a SILENT fundraiser I won't be talking about it much at all during my show which means I'm depending on the written word to convince you to PLEASE PLEDGE! We're asking for your help so we can outfit our recently opened performance space, Monty Hall, with some key audio gear and an instrument backline so that having a show in Monty Hall doesn't disrupt the station's live recording studio.

If you've already pledged, THANK YOU! Your support is greatly appreciated. If not, P L E A S E P L E D G E N O W !

Make sure you tune in next week for a live set from Ultimate Painting! And please take a moment to Like The Evan "Funk" Davies Show on Facebook and follow me on Twitter! Thank you.!


(* = new)


Artist
Track
Album
Label
Year
Comments
New
Approx. start time
the normal
warm leatherette
7"
mute
1979
Lloyd's single
0:00:00 (Pop‑up)
the clash
complete control
7"
cbs uk
1977
Lloyd's single
0:07:05 (Pop‑up)
subway sect
ambition
7"
rough trade
1978
Lloyd's single
0:08:52 (Pop‑up)
prefab sprout
lions in my own garden: exit someone
7"
candle
1982
Lloyd's single
0:12:30 (Pop‑up)
the only ones
another girl, another planet
7"
cbs
1978
Lloyd's single
0:14:30 (Pop‑up)
robert palmer
johnny & mary
7"
island
1979
Lloyd's single
0:17:30 (Pop‑up)
lloyd cole
rattlesnakes
live on wfmu
0:36:13 (Pop‑up)
lloyd cole
kids today
live on wfmu
0:37:55 (Pop‑up)
lloyd cole
women's studies
live on wfmu
first-ever acoustic performance of this song!
0:49:18 (Pop‑up)
lloyd cole
are you ready to be heartbroken?
live on wfmu
0:55:03 (Pop‑up)
sheila e
a love bizarre
12" single
paisley park/wb
1985
Lloyd's (12") single
0:58:42 (Pop‑up)
the pop group
she is beyond good and evil
12" single
radarscope
1979
Lloyd's (12") single
1:05:06 (Pop‑up)
lloyd cole
it's late
live on wfmu
1:14:22 (Pop‑up)
lloyd cole
perfect skin
live on wfmu
1:16:20 (Pop‑up)
lloyd cole
period piece
standards
omnivore
*
1:22:20 (Pop‑up)
roxy music
the numberer
7"
island
1972
1:25:36 (Pop‑up)
shocking blue
roll engine roll
7"
metronome
1970
1:28:46 (Pop‑up)
basse wickman
cynical girl
7"
epic
1983
1:32:10 (Pop‑up)
chicory tip
what's your name
7"
cbs
1972
1:34:30 (Pop‑up)
the sound laboratory
21st century girl
7"
exit
1969
1:41:17 (Pop‑up)
the sweet
hellraiser
7"
rca
1973
1:43:51 (Pop‑up)
geordie
electric lady
7"
emi
1973
1:46:35 (Pop‑up)
fanatics
tu ne peux pas toujour savoir ce que tu veux
7"
epic
1981
1:50:02 (Pop‑up)
patrik fitzgerald
trendy
backstreet boys 7" ep
small wonder
1978
1:53:04 (Pop‑up)
landscape
einstein a go go
7"
rca
1981
1:54:02 (Pop‑up)
suzi quatro
48 crash
7"
odeon
1973
1:59:18 (Pop‑up)
plastic bertrand
stop ou encore
7"
cbs
1980
2:03:03 (Pop‑up)
holly & the italians
youth coup
7"
virgin
1981
2:06:58 (Pop‑up)
red squares
lollipop
7"
columbia
1967
2:09:55 (Pop‑up)
twinn
smile (laugh & talk)
7"
bell
1974
2:12:47 (Pop‑up)


live set from THE #1s!
engineered by Superstar Mario Santana

‎Seán Goucher - guitars/vocals
Eddie Kenrick - guitars/vocals
Cian Nugent - bass/vocals
Conor Lumsden - drums/vocals

See them live at Hank's Saloon on Thursday, Cameo Gallery Friday afternoon, The Delancey Friday night and the Irish Arts Center Saturday!

Album out now on Deranged Records

You can (and should) like them on Facebook.
the #1s
i wish i was lonely
live on wfmu
2:19:49 (Pop‑up)
the #1s
sixteen
live on wfmu
2:21:17 (Pop‑up)
the #1s
boy
live on wfmu
2:23:53 (Pop‑up)
the #1s
long way to go
live on wfmu
2:24:23 (Pop‑up)
the #1s
tell me why
live on wfmu
2:27:41 (Pop‑up)
the #1s
oddity
live on wfmu
cover of The Clean song!
2:31:05 (Pop‑up)
the #1s
lie to me
live on wfmu
2:32:16 (Pop‑up)
the #1s
heartsmash
live on wfmu
2:35:46 (Pop‑up)
the #1s
favourite game
live on wfmu
2:39:31 (Pop‑up)
the #1s
sharon shouldn't
live on wfmu
2:42:50 (Pop‑up)
secret service
10 o'clock postman
7"
sonet
1979
2:49:31 (Pop‑up)
eddie & the hot rods
writing on the wall
7"
island
1976
2:52:36 (Pop‑up)
the rubettes
tonight
7"
polydor
1974
2:55:17 (Pop‑up)
<-- Previous playlist
| Back to
The Evan "Funk" Davies Show playlists
|
Next playlist -->
RSS feeds for The Evan "Funk" Davies Show:

Playlists feed |

MP3 archives feed
|
E-mail Evan Davies
|
Other WFMU Playlists
|
All artists played by The Evan "Funk" Davies Show
|
---
Listen on the Internet
|
Contact Us
|
Music & Programs
|
WFMU Home Page
|
Support Us
|
FAQ
Live Audio Streams:
Pop-up
|
128k AAC
|
128k MP3
|
32k MP3
|
32k Windows
---