Every show starts with the '70s! We'll rediscover forgotten rockers, revisit unfairly maligned disco beats and replay power-pop favorites. Next: plenty of new releases, occasional live bands and more. Don't let the nickname confuse you.

September 4, 2013: PAUL HUMPHREYS from OMD live in the studio!

Listen to this show:

Pop‑up player! | Add or read comments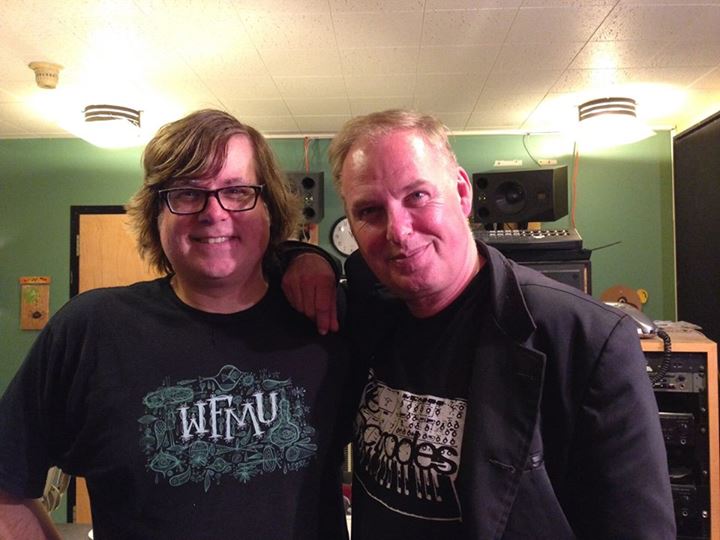 I've been a fan of Orchestral Manoeuvres In The Dark for about 35 years, so it was truly a delight to host Paul Humphreys at the WFMU studios for tonight's show! We played a bunch of OMD music and talked about the past, present and a teeny bit of the future of the band. Also discussed: Mellotrons, laptops, Genesis (briefly), and other topics. Use the links below (or the one above) to listen to the show, and share it with your friends!

Social Media Promotion Alert! While you're listening, please take a moment to Like The Evan "Funk" Davies Show on Facebook and follow me on Twitter! Thank you.
Artist
Track
Album
Label
Year
Comments
New
Approx. start time
soulful dynamics
chiribiri
7"
decca
1974
0:00:00 (Pop‑up)
rip rig & panic
you're my kind of climate (7"version)
i am cold
cherry red
new CD resissue; orig 1982
*
0:02:45 (Pop‑up)
algebra suicide
tonight
feminine squared
dark entries
vinyl reissue; orig 1982-85
*
0:05:02 (Pop‑up)
tv ghost
five colors blind
disconnect
in the red
*
0:07:27 (Pop‑up)
john foxx & the bellbury circle
empty avenues
empty avenues
ghost box
*
0:11:57 (Pop‑up)
gap dream
chill spot
7"
burger
returning triumphantly to the show on Oct 9!
*
0:15:05 (Pop‑up)
the wrong words
say something
everything is free
trouble in mind
next week's live guests!
*
0:19:01 (Pop‑up)
orchestral manoeuvres in the dark
electricity
s/t
virgin
1979
CD reissue; orig 1979
0:42:26 (Pop‑up)
orchestral manoeuvres in the dark
almost
7"
dindisc
1979
flip side of the "Electricity" single
0:45:43 (Pop‑up)
omd
night cafe
english electric
bmg
2013
0:49:23 (Pop‑up)
orchestral manoeuvres in the dark
stanlow
o.m.d.
epic
1981
1:12:17 (Pop‑up)
orchestral manoeuvres in the dark
pretending to see the future (live version)
flexi-disc
dindisc
1981
Flexi-disc from Smash Hits magazine
1:18:05 (Pop‑up)
omd
the future will be silent
english electric
bmg
2013
1:21:34 (Pop‑up)
orchestral manoeuvres in the dark
souvenir
7"
dindisc
1981
1:36:57 (Pop‑up)
orchestral manoeuvres in the dark
joan of arc (maid of orleans)
architecture & morality
virgin
1981
1:41:21 (Pop‑up)
orchestral manoeuvres in the dark
enola gay
7"
dindisc
1980
1:44:15 (Pop‑up)
omd
kissing the machine
english electric
bmg
2013
co-written with Karl Bartos of Kraftwerk
2:06:10 (Pop‑up)
orchestral manoeuvres in the dark
radio waves
dazzle ships
epic
1983
2:10:52 (Pop‑up)
orchestral manoeuvres in the dark
abc auto industry
dazzle ships
epic
1983
2:24:33 (Pop‑up)
orchestral manoeuvres in the dark
telegraph
dazzle ships
epic
1983
2:26:05 (Pop‑up)
omd
stay with me
english electric
bmg
2013
lead vocal by Paul
2:28:54 (Pop‑up)
omd
metroland
english electric
bmg
2013
2:48:21 (Pop‑up)
orchestral manoeuvres in the dark
of all the things we've made
dazzle ships
epic
1983
Paul's choice - one of his and Andy's favorites
2:55:35 (Pop‑up)