Brian Turner: Playlist from March 12, 2013
Order and disorder in a freeform haze of terribly-played guitars, shorted-out electronics, found audio detritus, strange sounds from strange lands all around. Psych-punk-junk, collage, even pop. Lots of in-studio live performances to boot.
<-- Previous playlist | Back to Brian Turner playlists | Next playlist -->
---

March 12, 2013: Marathon Week #2 w/co-host BRYCE

Listen to this show:

Pop‑up player! | Add or read comments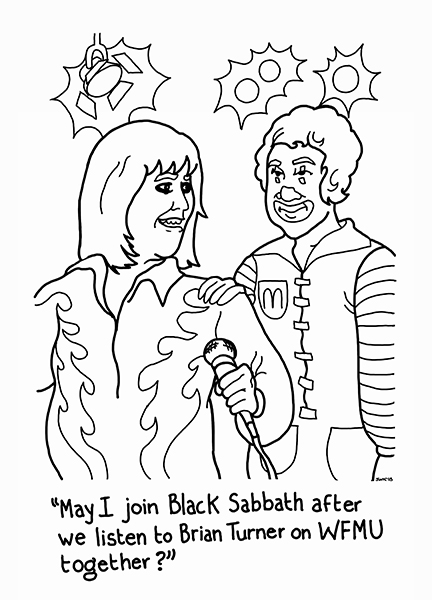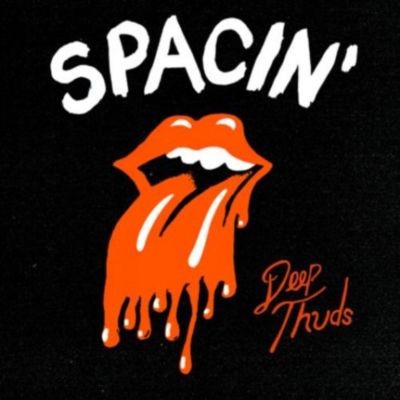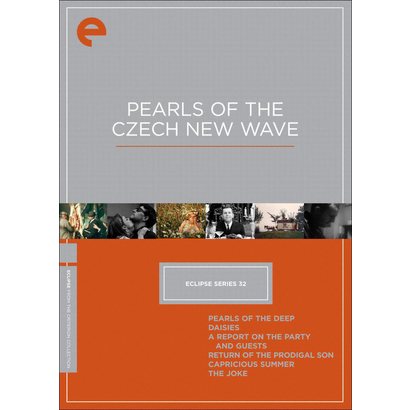 Special Jim Krewson-designed tee available only on this marathon show! $75 pledge and up. Also giving away the banned-cover, outta print Spacin' LP, and this Pearls of the Czech New Wave 4DVD box + Black Orpheus on Criterion as a Grand Prize!
(* = new)


| Artist | Track | Album | Comments | New | Approx. start time |
| --- | --- | --- | --- | --- | --- |
| Bridget St John w/Kevin Ayers | If You've Got Money | | | | |
| Can | Deadly Doris | The Lost Tapes box | Our first prize up for grabs! | | 0:03:49 (Pop‑up) |
| Red Transistor | Not Bite | 7" | | | 0:17:26 (Pop‑up) |
| Metz | Do You Wanna Party | Metz | | | 0:28:49 (Pop‑up) |
| Bill Orcutt | Star Spangled Banner | 7" | | * | 0:34:52 (Pop‑up) |
| Rotomagus | Fighting Cock | The Sky Turns Red: Complete Anthology | 2LP vinyl prize up for grabs now!~ | | 0:43:16 (Pop‑up) |
| Watts Little Angel band | Land of 1000 Dances | 7" | | | 0:47:06 (Pop‑up) |
| Stormtrooper | I'm a Mess | 7 | | | 0:48:30 (Pop‑up) |
| The Ex | Shouting at the Moon | Live here on the show 2006 | | | 0:59:27 (Pop‑up) |
| Legendary Pink Dots | Soft Toy | Live here on the show 2010 | | | 1:15:04 (Pop‑up) |
| Ateg Ould Syed | I Ensijab | Various: Wallahi Le Zein! | | | 1:20:06 (Pop‑up) |
| Ennio Morricone | Cannibal | | | | 1:22:35 (Pop‑up) |
| Phil Collins | Interview album | for Cheri Pi | | | 1:35:57 (Pop‑up) |
| Sprung Aus Der Volken | Es Wird Noch Mal | | | | 1:36:16 (Pop‑up) |
| Cirith Ungol | Frost and Fire (demo) | | | | 1:37:49 (Pop‑up) |
| Rocket From the Tombs | Down In Flames/Final Solution | Live here on the show 2003 | | | 1:41:33 (Pop‑up) |
| Spacin' | | | Richie LP -- outta print version w/Rolling Stones tongue! | | 2:11:37 (Pop‑up) |
| Mike Jones | Reckless Policies | | | | 2:11:14 (Pop‑up) |
| M Osman & Orkes Nirwana | Kisah Disampang | Various: Pop Yey Yeh: Psychedelic Rock from Singapore and Malaysia | CD prize up for grabs now! | | 2:20:58 (Pop‑up) |
| Afida Es & Siglap Boys | Jangan Goda | | | | 2:22:02 (Pop‑up) |
| Rajah Ahmad & Dengan Dendang Irama | Oh Ya Ya | | | | 2:22:18 (Pop‑up) |
| Swell Maps | Helicopter Spies | Jane From Occupied Europe | | | 2:24:42 (Pop‑up) |
| Frost Giant | Black Hearted Woman | | | | 2:29:01 (Pop‑up) |
| Steel and Skin | | | | | 2:48:40 (Pop‑up) |
<-- Previous playlist
| Back to
Brian Turner playlists
|
Next playlist -->
RSS feeds for Brian Turner:

Playlists feed |

MP3 archives feed
| Email
the Program Director
|
Other WFMU Playlists
|
All artists played by Brian Turner
|
---
Listen on the Internet
|
Contact Us
|
Music & Programs
|
WFMU Home Page
|
Support Us
|
FAQ
Live Audio Streams:
Pop-up
|
128k AAC
|
128k MP3
|
32k MP3
|
32k Windows
---